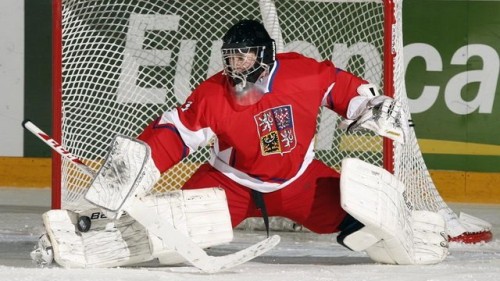 Tuesday marks the official day that Washington Capitals' 2014 second-round draft pick, Vitek Vanecek, and first-round pick, Jakub Vrana, signed their names on their three-year entry-level contracts with the team.
The 18-year-old Czech Republic Native, Vanecek, was the first European netminder to be selected in the 2014 draft(39th overall). According to NHL Central Scouting, Vanecek was ranked eighth among all European goaltenders available in this year's draft. Last season he posted a 2.64 goals against average and a .921 save percentage with Bili Tygri Liberec of the Czech Republic's under-20 league.
Vanecek also represented the Czech Republic at the 2014 IIHF U18 World Championship, with a 4-2-0 record with a 2.74 GAA and .897 save percentage, he definetely helped achieve his team's silver hardware.
Contrary to popular belief, Vanecek will not be playing in the ECHL in the upcoming hockey season, instead he is scheduled to play in the Czech Republic on assignment under his NHL contract. As he is 18 and playing over in Europe, his contract will not count against the 50 contract limit.
13th overall pick, Jakub Vrana, who already appears to be a fan favorite following his Development Camp debut, had two goals and one assist in 24 games with Linkoping of the Swedish Hockey League last season.
Vrana also racked up 25 points in 24 games with Linkoping's team in Sweden's junior league. Not to mention the 10 points in seven games to help the Czechs win the silver medal at the 2014 IIHF World Under-18 Championship. He also represented his country at the 2014 IIHF World Junior Championship. Busy boy.
The current plan is for Vrana to be loaned to Linkoping for the 2014-15 campaign, but that very well may change prior to the start of the season.
"With the players that we sign, the players that we draft, you have to be in total sync. So far, so good on that. I think that's a good move in a positive direction to have the organization all signing from the same songbook." Capitals majority owner, Ted Leonsis stated.
After Tuesday, I have to agree with Leonsis. I am impressed with what the new management is doing thus far. Fingers crossed they continue on the same page in terms of who they're signing and so forth.
I'd say Tuesday was a pretty productive day for the Capitals organization!