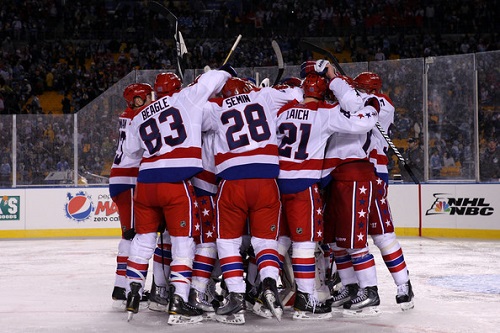 After 3 years of waiting deliberately for a Winter Classic, as promised by NHL commissioner, Gary Bettman, the Washington Capitals and fans can rest easily knowing that they are officially on deck to host one of the traditional outdoor events. Ted Leonsis, Capitals' owner, announced at their fan convention on Saturday morning that the organization will be hosting next season's Winter Classic on January 1, 2015.
"The excitement of the Bridgestone NHL Winter Classic continues to grow, and bringing the 2015 event to the D.C. area will write another chapter in the game's great history of entertainment," NHL Commissioner Gary Bettman said. "We are looking forward to being in Washington with the Capitals' great fans."
The Capitals captured a 3-1 victory over the Penguins in the 2011 Winter Classic at Heinz Field in Pittsburgh. That year's Classic marked the first time participating teams were featured on HBO's "24/7" series in a run up to the game. It was also the first night game in Winter Classic history.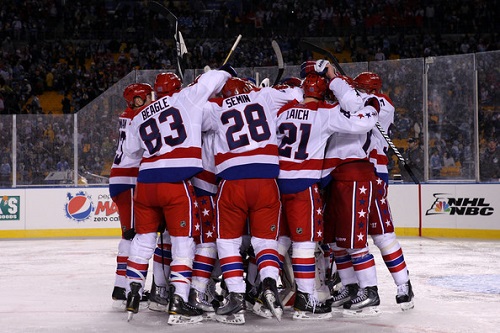 The site for the game as well as the opponent will be announced at a future date. It will also mark the second time the Capitals will play in a Winter Classic.
CSN Philadelphia's Tim Panaccio tweeted Friday morning that the Bruins and the Flyers were the favorites to play in the 2015 version of the annual outdoor game. He wasn't alone in thinking either the B's or Flyers would be the opponent, either.
I am told the Flyers and Bruins were the leading candidates to meet Caps in 2015 Winter Classic in Washington

— Tim Panaccio (@tpanotchCSN) September 20, 2013
As mentioned, NBC and HBO will have say in opponent. Bruins haven't had outdoor game since 2010 and bring good ratings.

— Ted Starkey (@TedStarkey) September 20, 2013
Also worth noting the two Winter Classics involving the Flyers were the two lower rated of the series. Could be a factor for NBC.

— Ted Starkey (@TedStarkey) September 20, 2013
As always, the Winter Classic will take place on New Years Day. There are also four more outdoor games scheduled for the 2014-2015 hockey season; two in New York, one in Chicago and one in Los Angeles. Not to mention the Heritage Classic which will feature the Vancouver Canucks and the Ottawa Senators in Vancouver.
2015 seems like a long time to wait, doesn't it? If you really think about it, it's only a season away. But in the meantime, we have this season's Winter Classic to look forward to which will highlight the Detroit Red Wings and the Toronto Maple Leafs in an exciting showdown on New Years Day at the University of Michigan's stadium in Ann Arbor, Michigan.
CSN Philadelphia's Tim Panaccio tweeted Friday morning that the Bruins and the Flyers were the favorites to play in the 2015 version of the annual outdoor game. He wasn't alone in thinking either the B's or Flyers would be the opponent, either. Neither teams are strangers to the Winter Classic. In fact, the Bruins and Flyers played against each other in the 2010 Winter Classic at Fenway Park, and Philly hosted the game in 2012 against the New York Rangers at Citizens Bank Park. Newsmax Headlines Lawrence Lindsey: No Taper This Year Author: Income Inequality Will Crash Economy Poll: 62% Don't Understand Obamacare Exposing the Truth About Electronic Cigarettes NASA Doctor: These 5 Foods Kill Your Brain 10-Second Trick Boosts Testosterone WSJ: Bernanke's Decision 'Failure of Nerve' Should Obamacare Be Defunded? Vote Now The Most Incredible Field Goal Ever The Most Incredible Field Goal Ever 43 Hottest Pics Of Ronda Rousey 43 Hottest Pics Of Ronda Rousey Reaction To AJ Lee Reaction To AJ Lee's "Pipe Bomb" Promo Mickie James Explains Why She Left WWE Mickie James Explains Why She Left WWE 20 Most Inappropriate Athlete Names In Sports History 20 Most Inappropriate Athlete Names In Sports History 10 Dumbest Players in the NFL 15 Athletes You Should Be Scared Of 25 Greatest Athletes Turned Actors 20 Athletes Who Scored Movie Star Girlfriends 10 Female Athletes Who Could Play in the NFL Scoreboard BOS DET 7:00 PM Live Blog NHL Odds Video More Headlines Report: Florida State Trying to Stop Fan From Selling Shirts Depicting Jameis Winston as Jesus (Photo) Report: Florida State Trying to Stop Fan From Selling Shirts Depicting Jameis Winston as Jesus (Photo) Shane Victorino, Will Middlebrooks Excited to Capture AL East Crown as Celebration Extends to Twitter Shane Victorino, Will Middlebrooks Excited to Capture AL East Crown as Celebration Extends to Twitter Koji Uehara's Strikeout Clinches Red Sox' AL East Title, Kicks Off Huge Celebration at Fenway (Video) Koji Uehara's Strikeout Clinches Red Sox' AL East Title, Kicks Off Huge Celebration at Fenway (Video) Peyton Manning Will Attend Friend Todd Helton's Last Home Game When Rockies Take on Red Sox at Coors Field Peyton Manning Will Attend Friend Todd Helton's Last Home Game When Rockies Take on Red Sox at Coors Field Alex Rodriguez Breaks Lou Gehrig's 75-Year-Old Record With 24th Career Grand Slam (Video) Alex Rodriguez Breaks Lou Gehrig's 75-Year-Old Record With 24th Career Grand Slam (Video) Andy Reid Gives Rather Awkward Interview With Sal Paolantonio After Win Over Eagles (Video) Andy Reid Gives Rather Awkward Interview With Sal Paolantonio After Win Over Eagles (Video) NESN Team Dale Arnold John Beattie Andy Brickley Tom Caron Mike Cole Zack Cox Jamison Coyle Jenny Dell Ricky Doyle Dennis Eckersley Jack Edwards Jamie Erdahl Anna Fogel Peter Gammons John Henry Leah Hextall Luke Hughes Doug Kyed Charlie Moore Marcus O'Mard Don Orsillo Adam Pellerin Jerry Remy Jim Rice Jen Slothower Alison Smith Ben WatanabeRead more at: http://nesn.com/2013/09/report-bruins-flyers-favorites-to-face-capitals-in-2015-winter-classic/