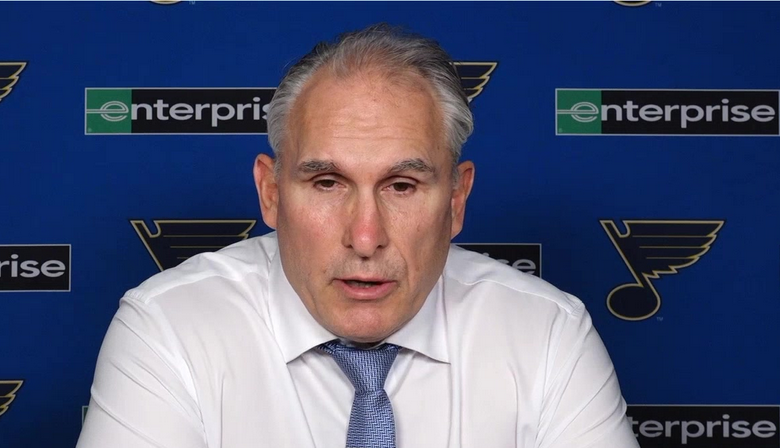 Following a 3-2 overtime loss to the Vancouver Canucks on Thursday, St. Louis Blues head coach Craig Berube let his top players have it.
"A lot of our best players not doing their job," Berube said.
Berube didn't mince words when asked why. "I'm not sure; you'll have to ask them, Jim.
They don't seem to care about the team, do they? "He stated.
Berube said star forwards Robert Thomas and Jordan Kyrou weren't good enough in a game that saw the Blues blow a late lead, and suggested they learn from Alexey Toropchenko, one of the few players who drew praise from the frustrated coach.
"Our best players don't play with any passion, no emotion and no inspiration at all," Berube said. "They don't play inspired hockey. You cannot play in this league without emotion, grit, being inspired. They're getting paid lots of money and they're not doing the job. End of story."
Kyrou and Thomas are St. Louis' leading scorers this season, but they were held scoreless on Thursday and were a combined minus-3.
Toropchenko questioned the Blues' level of effort as well.
"Even if we are not in a playoff spot, I will do everything because it's a hockey game," he said, per NHL.com's Lou Korac. "This is NHL. You are not playing in a beer league or something. You need to show something, you need to show character and be strong everywhere, play from your heart."
With 56 points on the season, the Blues are effectively out of the Western Conference playoff picture, and management signaled their intent to plan for the future by trading core veterans Vladimir Tarasenko and Ryan O'Reilly earlier this month.
St. Louis will return to the ice on Saturday to face the Pittsburgh Penguins.