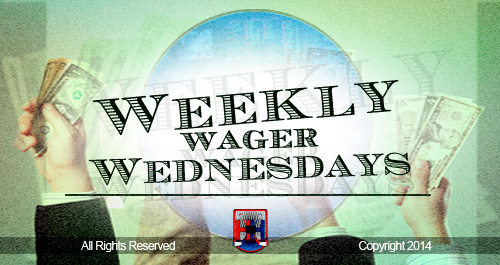 Well I couldn't have started off the WWW segment on anymore of a sour note than going 0-3 last week in my picks with all of them coming down to the wire.
I was going to look to get myself over the .500 mark but tonight's Leafs vs. Sens game has been postponed due to today's earlier attack in Parliament Hill, Ottawa.
That means only three games tonight and here are my picks:
Philadelphia Flyers vs. Pittsburgh Penguins
Iggy's Pick: Penguins
Here's Why: The Flyers just got shutout in Chicago last night and it's clear the team has issues defensively aside from the fact they just don't have the team all-in to get their early season woes turned around. The Pens are well rested and have the home crowd to support them all the way. It's not necessarily going to be an easy victory but all advantages point Pens on this one tonight.
Washington Capitals vs. Edmonton Oilers
Iggy's Pick: Caps
Here's Why: Hopefully I learned my lesson last week by the let down of picking the Oilers and that's exactly why I'm not picking them tonight. The Caps are playing to win and the Oilers either put up big goose eggs or have big offense bursts from time to time. It's a game the Caps can earn free points to keep them undefeated in regulation and atop the metropolitan division standings.
Buffalo Sabres vs. Anaheim Ducks
Iggy's Pick: Ducks
Here's Why: Really a no brainer here since the Ducks routed the Sabres 5-1 last time these two met this season and it should be more or so the same tonight. The Ducks are on home ice and far better team offensively if not best in all other categories too.
Fanduel is a tad trickier with the announcement of the postponed Leafs/Sens game. I had to consider matchups and came up with this lineup for tonight's contests: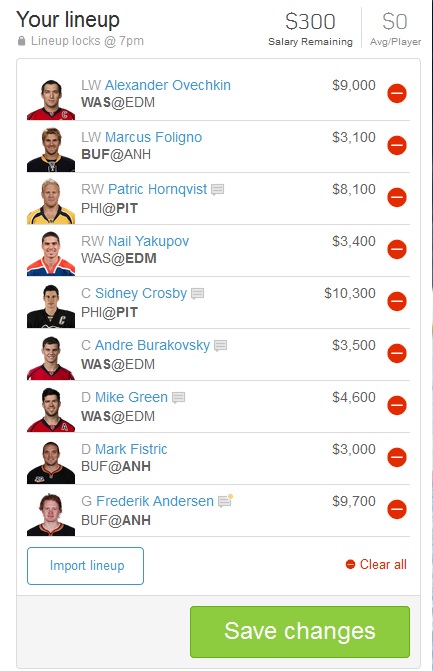 Not loving it but also not hating it. A tad more superstar oriented than I normally like to go but I see it literally paying off with good efforts from most of these guys tonight.