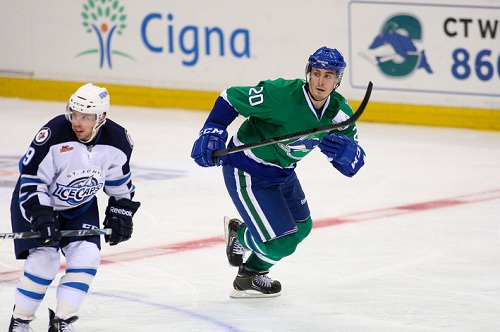 It hasn't been the best season for the Connecticut Whale. For a franchise that has only missed the AHL Playoffs once in its existence (1997-98 was their first season), 4th in your division and 12th in the conference isn't where you want to be around early January. But with the end of the NHL lockout on the horizon, some on the roster will get a chance to start a new season on the big club. Here are the players that could factor in to the Rangers shortened season in 2013:
Chris Kreider – LW – 33 GP – 5G, 7A, -6
Not the numbers you'd expect from someone who ranked 3rd in playoff goals for the Rangers last spring. That being said, most rookies don't burst on to the scene the way Kreider did. There's bound to being growing pains with a younger player, but Kreider will also have a much better supporting cast when he returns to MSG.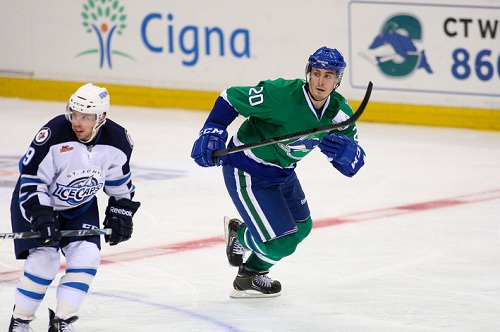 Chad Kolarik – RW – 34 GP – 14 G, 14A, 0
He's not a lock to be called up, but he'll be among the first players to travel down from Hartford if need be. He ranks 2nd on the Whale in scoring with 28 points. What he lacks in size (5'11" 185 lbs), he makes up for in speed. He could provide some quickness on the bottom two lines if John Tortorella chooses to go in that direction.
Matt Gilroy – D – 34 GP – 6G, 9A, -16
The Rangers top 5 defensemen are locked in (Girardi, McDonagh, Staal, Del Zotto, Stralman), but the 6th spot is up for grabs. If Tortorella wants more toughness on the blueline, he'll go with Stu Bickel. If he wants a balanced, experienced defenseman, Steve Eminger is the pick. Gilroy is a puck-moving defenseman and is averaging about a 1/2 a point a game for the Whale. He'll have to get the -16 plus/minus down if he wants significant minutes.
*Whale C Kris Newbury is leading the team in scoring with 29 points (10G, 19A), I don't see him getting called up beyond a random game here and there. He serves his purpose at the NHL level, but isn't a long term option.
Considering how JT Miller played for Team USA in the World Junior Championships, I'd be remised if I didn't at least mention him. While it's unlikely that JT Miller will see any significant action for the Rangers this season, injuries can always change that. Miller was an alternate captain and finished the tournament with 9 points in 7 games (2G 7A). If nothing else, he's another young, two-way forward Rangers fans can get excited about along with Chris Kreider.