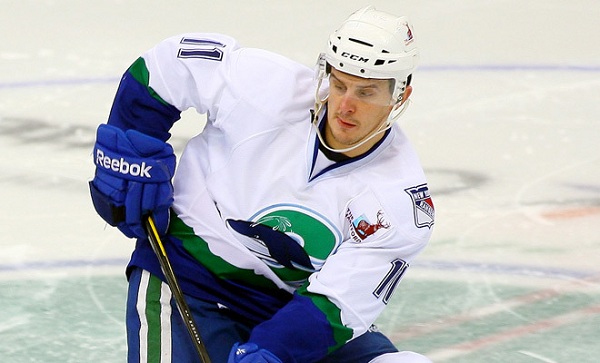 With no resolution in sight between the NHL and NHLPA, New York Rangers fans will have to head to the Nutmeg State to get their fix of Rangers hockey. The red, white, and Broadway blue are replaced with the green, white and blue of the Connecticut Whale. The 2012-13 AHL season opened this past Friday and the Whale are off to a less than desirable 0-2 start. The Bridgeport Sound Tigers avenged their 2011-12 opening round playoff sweep with a 6-4 win thanks to a five-goal 2nd period in the season opener. On Sunday night, the Whale faced another division champion from the 2011-12 season, but lost to the St. John's Ice Caps 3-2 after having the lead twice. If you're like me, you're going to follow the NHL affiliate of your favorite team because you need some form of hockey in your day to day life. Here is a cheat-sheet of some players of the players to keep an eye on that you'll likely be seeing with the big club one day (if they haven't already made the trip to MSG):
LW Chris Kreider – The Boston College product needs no introduction. This is his first season with the Whale, but he's not short on big game experience. 5 goals and 2 assists in 18 Stanley Cup playoff games without any prior NHL experience is pretty impressive for someone who reached legal drinking age 6 months ago. Being part of an Eastern Conference Finals playoff run should give him the confidence to have a big season at the AHL level.
C JT Miller – The Rangers 1st round pick in the 2011 will be playing his first full season with the Whale, but it won't be his first game with them. After notching 27 goals and 45 assists (regular season & playoffs) for the OHL's Plymouth Whalers, the 19 year old joined Connecticut for 8 AHL playoff games and tallied 1 assist. In the 2012 World Junior Championships, he had 2 goals and 2 assists in 6 games before Team USA was eliminated.
RW Chad Kolarik – There was some speculation that the AHL veteran was on the verge of making the Rangers roster for the 2011-12 season. A torn ACL during training camp shut the Pennsylvania-native down for the season. Speed was a big part of his game, and we'll see if he still has the same wheels after the injury and a year off.
RW Christian Thomas – The son of former NHL veteran Steve Thomas (he and Pops are the only father-son combo in OHL history to have 50 goal seasons) was the Oshawa Generals leading scorer last season with 67 points (34 goals 33 assists). While this was a big dip in production from his previous season with Oshawa (54 goals, 45 assists), Thomas is still considered a valuable prospect because of his speed. His name was thrown around during the Rick Nash trade talks.
LW Ryan Bourque – The 21 year old son of hockey legend Ray Bourque had 14 points in 69 regular season games for Connecticut last season. He was used primarily in a defensive forward role for the Whale last season, but will be expected to increase his offensive output in 2012-13.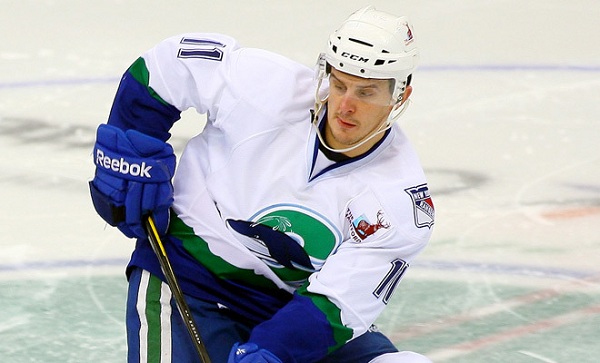 C Kris Newbury – Newbury was tied for 10th in the AHL in scoring last season (25 goals 39 assists) while amassing 130 penalty minutes. He's off to a good start in 2012 with three goals in two games. Newbury is one of the Whale's leaders, and has spent 18 games with the Rangers over the past two seasons.
D Dylan McIlrath – The big club has a deep blue line, but they lack a physical, intimidating presence besides Stu Bickel. Meet Dylan McIlrath. The 10th overall pick in the 2010 draft is 6'5″ and 210lbs. He always plays with an edge and he's shown some minor offensive ability during his WHL days.