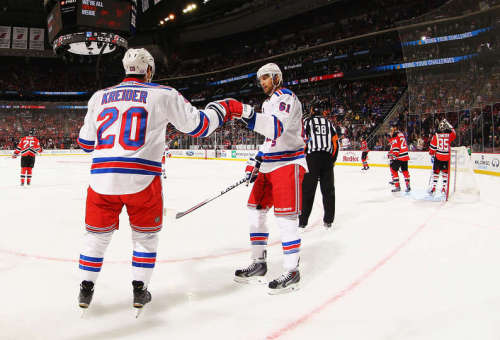 It was just over a week ago that the New York Rangers had lost three of their first four games to start the season. A shootout win against one of the league's worst teams (Carolina), a home shutout (San Jose), and a come-from-behind road-win against a division foe (New Jersey), and all is right in midtown Manhattan again. It would be too easy to say that the reason for the turnaround is that the early season rust has shaken off (although that's probably the case with Henrik Lundqvist's performances getting better), but there are also some tangible reasons for the improved play.
The Top Line Is Set For Now
-Rick Nash is obviously off to a good start (eight goals and one assist), and Chris Kreider is more than chipping in with two goals and four assists. The Blueshirts are currently without their top line center (Derek Stepan should be back in a couple of weeks), and the guy who is holding the spot warm is rookie Kevin Hayes. Hayes scored his first NHL goal in their victory over the Sharks, and he's doing what needs to be done on that line. To expect anything more out of a rookie would be foolish, but the fact that he's meshed with Nash & Kreider already is a good sign. It's not an easy line to defend either, considering the average size is 6'4" and 220lbs.
Good Things Come in Small Packages
-The first line seems like a bunch of giants compared to the second line. Derick Brassard (who is generously listed at 6'1") centers Martin St. Louis and Mats Zuccarello, for an average size of 5'9" and 185 lbs. For what they lack in size, they make up for speed and playmaking ability. St. Louis has a goal and five assists, while Brassard has three goals and one assist thus far. While some prefer a balanced approach, Head Coach Alain Vigneault opts for his two lines to give opposing teams drastically different looks.
Matt Hunwick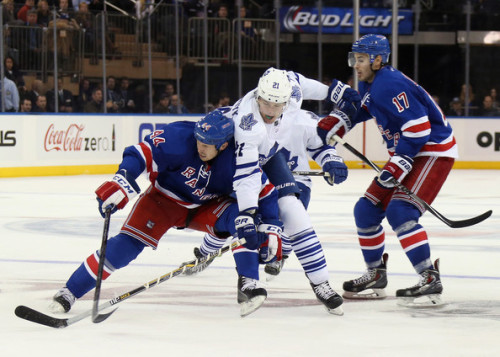 -When Dan Boyle went down with a broken hand in the second period of the Rangers season, the Rangers had two options to fill the void left on the third pairing (since Kevin Klein moved up to Boyle's spot on the second pairing): Matt Hunwick or Mike Kostka, both off of whom were off-season acquisitions. Hunwick got the first chance, but after Mike Kostka looked awful in his chance to prove himself against the Islanders, Hunwick has been a rock on the third pairing with John Moore. Ryan McDonagh, Dan Girardi, and Mark Staal are all going to get the bulk of the minutes, but Hunwick has been a reliable presence on every shift he gets.
The Rangers have been off since Tuesday, and their schedule picks up again Saturday night in Montreal in an Eastern Conference Finals rematch. After that, the Rangers have a stretch of nine of eleven games at Madison Square Garden. November is the busiest month of the Rangers season with fifteen games in thirty days (March has fifteen in 31 days), so it's important that they take advantage of all of the upcoming home cooking.