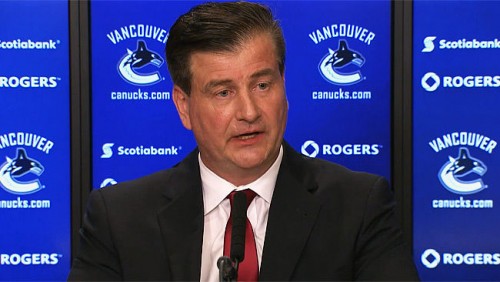 Last Friday, Trevor Linden officially introduced Jim Benning as the Vancouver Canucks' new General Manager. The two of them answered questions from the media, giving Canucks fans the first taste of what they can expect going forward (transcribed below).
Benning appears eager to create a 4-line team, one that has contributors spread out all over the roster. Benning also demonstrated a willingness to continue the "rebuild on the fly" mentality, stating he wishes to make the playoffs as soon as possible. The "rebuild on the fly" requires youth injections into the lineup here and there, and Benning confirmed he's looking to do so, but at the appropriate time (in other words, not inject youth for the sake of injecting youth, but when the prospects are ready).
Benning said a lot of things that impressed me, but actions speak louder than words. Benning's first test will be at the 2014 NHL Draft, an area of the Canucks organization that struggles. With the 6th overall pick, Benning has a chance to draft a high-potential player, one that can make an impact for the Canucks for a long time. One thing Canucks fans must show is patience, as one questionable move may pay off in the future, or be the first move of many in a process Benning has.
Transcript of Benning and Linden's conference:
Linden: Thanks everyone for coming, this is kind of a bi-monthly occurrence, it seems. But this is a great day. I am pleased to officially welcome Jim Benning as the new General Manager for the Vancouver Canucks. When I started this process 6 weeks ago, I created a profile and a skillset that I felt was the right one for the candidate in this role. I wanted someone with experience, someone who is an exceptional talent evaluator, a leader, a hard worker, with a proven track record. Overall, I wanted a builder, with similar views that could help us set-up the Vancouver Canucks for the next decade and beyond. Jim checked all those boxes, plus he is a Western-Canadian guy, and a member of the Vancouver Canucks' alumni, which is a great bonus.
What really became apparent during our interviews is how much we connected on our vision, and our values of how we see winning organizations in the National Hockey League. We will compliment each other well, Jim's skillset will also fit extremely well with the rest of our Hockey Operations group including, Laurence [Gilman], Lorne [Henning], and Stan [Smyl]. We will hit the ground running, as they say, and our work starts immediately, with the NHL Combine next week, as we have the 6th overall draft pick, and I am excited to have this man with our organization to make that draft pick. On behalf of the Aquilini family, our team, all the Canucks fans out there, I welcome Jim, his wife Ronda, and their entire family, back to Vancouver and the Vancouver Canucks.
Benning: My family and I are very excited to come back to Vancouver, it's a great hockey market, the fans are passionate, and we're really happy to come back here. I am grateful to the Aquilini family and Trevor for the opportunity to be the next General Manager of the Vancouver Canucks. I would like to thank the Jacobs family, Charlies Jacobs, Cam Neely, Peter Chiarelli, for letting me be a part of the Boston Bruins organization for the last 8 years. From my Buffalo days, I would like to thank John Muckler, who gave me a chance to get into the business and taught me about team building, Don Luce, Rudy Migay, and the late Jack Bowman, who mentoring me on scouting. As Trevor said, when we went through the interview process, we felt a connection as to the type of players we want to build around and to be a part of the team going forward, so when he asked me to take the job, I was more than excited. It's a great day for my family and I, and we're really happy to be here.
Questions begin.
Q: Trevor, you talked about the process and having a real focused list out, was Jim the guy you wanted from day one?
Linden: Obviously I had a list of people who I felt could meet that criteria, I had a focused list, I would say. I didn't have the luxury of a lot of time, because I felt it was imperative that I identify the right person as quickly as possible. The candidate list changed over time, due to various circumstances, but I think you don't really know until you sit down with that person, and spend multiple hours digging into areas you feel are really critical to that profile. So I can't say that he was the guy I wanted, because I hadn't spoken to Jim for 25 years. I mean we played together in '88-'89 season, but I hadn't spoken to him in a long time and I have to say, after the first interview, I really felt that we did share a lot of the same visions and values of what it takes to win, and win consistently and sustainable winning.
Q: Jim, how long have you been waiting for this moment to run a hockey team? I know it runs in the family, and you've paid your dues as a hockey executive, but even right after your playing days, did you want to be a GM one day?
Benning: I started from the ground up, I started as a part-time scout, then I went to a full-time scout, and then Director of Amateur Scouting, and then Director of Player Personnel, to Assistant GM, so I learned every step of the way. I feel like at this point I'm ready, I have a good foundation on what I think it takes to build a winning team. I've paid my dues, but I was happy every step of the way, but I'm grateful for the opportunity today.
Q: Jim, when John Tortorella addressed us in what proved to be his exit meeting with us, he was pretty critical of the team. He felt from day one it was stale, that it needs a change, maybe even an influx of youth. I don't know how much time you've had to evaluate what you've seen here, I know you did a webcast earlier today, saying you kind of like what's in place, what do you see with this roster?
Benning: I like our core players. Our core players, I feel, are high character people, so I'm happy with that part of it. We need to get back to what we're good at, and this organization needs to play an up-tempo, fast skating, skilled game. Before last season, this team had almost an relentless attitude about them, that they were going to skate, and wear teams down, and to score. For whatever reason, that didn't happen last year, but I'm hoping that with Trevor, we hire the right coach for this group and we can recapture that going forward.
Q: Quick follow up, there are a number of No-Trade Clauses on this club, are you willing to have those conversations with players in terms of building the kind of team that you both want?
Benning: Yes, when I talked to Trevor, we gotta do what's right for the organization. If we feel that we need to approach a player about waiving his No-Trade Clause, we are willing to do that.
Q: Jim, you may have just touched on this, but Trevor's mentioned a couple of times, you guys shared the same vision when you guys met, would you share with us what your vision is?
Benning: Our vision is, we want to become a four line team. You watch the playoffs now, the final four teams have four lines that contribute. So we want our third and fourth lines to have an important role in the team winning, so we want these guys to be an important part of the team, and we got some work to do, maybe, in getting to that point, but we want to be a four line, six D, complete team.
Q: Questions for both gentlemen, Trevor will there a further review of the organization? And I'm speaking specifically of Lorne Henning and Laurence Gilman.
Linden: I think that obviously Jim is going to shape this organization with his experience. We have certainly some important decisions to make from a personnel standpoint, a hockey personnel standpoint, but also we need to evaluate that we have the right pieces in place in the Hockey Operations department. I feel, since I've been here, really strongly about the people in place, and I think that Jim's skillset is a great fit for that group. I think ultimately, with Jim coming in, he's going to have his own beliefs and Ideas, and we're going to work to achieve that vision.
Q: Is there such a thing as a Boston method, or is it simply identifying good players, putting people in positions in succeed, which is the template for every successful organization?
Benning: I never heard of the Boston model before I came out here, to be quite honest. Our goal is to make the playoffs every year, because by making the playoffs, we have a chance at winning the Cup. From there, we want to start integrating young players into the lineup, that was what we did in Boston, and that is what we're going to try to do there.
Q: Jim, when you look at the roster, and the current personnel for the Canucks, what's missing here with this team?
Benning: I would like to see a little more physicality in the third and fourth lines. I'm not talking about fighting, but I'm talking about between the whistles, like getting in on the forecheck, hitting, playing with grit, to take some of the heat off the first two lines. They're skilled guys, let them play, but when the third and fourth line play, let's get some offensive zone time, and spend some time in the other team's end.
Q: Do you see prospects here that are NHL ready, could be NHL ready next year?
Benning: I really like Bo Horvat. I think he's a player that is going to be an important guy around here for us going forward. Vancouver is playing in maybe the toughest division in the league, and to win our division we're going to have to go through the LA's, the Anaheims, and the San Jose's. They're big, heavy teams, so when we talk to our scouting staff, one of our mandates is lets try to get a little bit bigger, let's get a little more rugged, so we can play both styles. We can play a skilled, skating style when need be, but when it's a rugged, physical game, we can play that style of game too.
Q: You have the scouting background, there hasn't been a lot of success here at the draft in the past 7, 8 years. Will you make significant changes there?
Benning: We're going to give these guys direction, I'm going to communicate to these guys what we want, what we think a Vancouver Canucks player should be. I'm going to work with them. I'm going to get out and see games. I'm going to be a part of that group, I'm going to try to make that group better. That's what the plan is. I know some of the guys on that staff, and they're excellent people, and they've worked hard for this organization for a long, long time. I'm not going to sit up here today and promise any changes, I'm going to get to know the rest of the guys, and then we're going to make an assessment.
Q: Trevor, were the Bruins concerned about Jim's knowledge about their draft strategy, is that what made this a longer process?
Linden: Actually, I'm surprised this wasn't a longer process. It actually moved quicker than I thought it would. For us to having this press conference today, and having Jim join our organization today, and being able to be a part of it next week, actually I was surprised. My feeling was maybe a shared situation, which would not have been ideal. I talked to Cam [Neely] yesterday, and thanked him for their cooperation. I know it's not an easy situation to have someone knocking on your door wanting to talk to someone who's important to your organization, but a good group of people there, wanted to see Jim, who worked extremely hard in his career, to get an opportunity. So for us to be at this stage, looking back four weeks, five weeks ago, I'm really pleased to be sitting here in this spot today, and being able to move forward from here.
Q: Jim, I know you're quite busy over the next few days, but when you plan to sit down and talk with Ryan Kesler about his future, and what are your thoughts on him as a player overall?
Benning: Well, he's a warrior. He comes to the rink every night and plays hard. He's a good skater, he's a big body guy, he's physical. I'll sit down with him, I think Trevor's talked with him, but I'll sit down with him and get to know him, get to know his thoughts, and make decisions based on that. I'll try to speak with him sometime next week.
Q: Jim, Trevor's mentioned that he's open for a "career coach," is it important for you to have a coach that has previous head coach experience in the NHL?
Benning: I don't think so, but we want a coach that's won at all different kinds of levels, but whether or not he has head coaching experience is not a big factor, but we want a coach that has won at all different levels.
Q: Pittsburgh fired their GM at the end of last week, and it opened up another job for a General Manager. Did it cause you to act with any more urgency or speed to try to get Jim into your organization before Pittsburgh has a chance?
Linden: I wanted to go through a process that was detailed and work through that process to make sure I was turning over every rock and make sure I understood everything, and really doing a comprehensive search. Having said that, I was still thinking in the back of my mind that if I do identify someone who I feel has the right skillset, I have to act quickly, as Washington was in the same boat. It wasn't so much Pittsburgh's situation, it was more the fact that if I felt like the right guy was there, I has to make that decision decisively. At the end of that day I'm happy, because I feel that might have been a factor.
Q: Jim, Trevor said you hadn't spoken in 25 years, so I imagine he's changed a little bit since you've seen him with the Canucks, so I'm wondering does that relationship, that familiarity with Trevor, even if it's been arms length, is that a factor at all in why you took this job?
Benning: Trevor was a teammate 25 years ago, but when I interviewed with Trevor, I thought we shared the same values and principles. I felt good, he's cut from the same cloth I am, he's gonna work hard, he's going to do everything he can to make this organization successful. So I wanted to tie myself with somebody who shared the same thoughts and beliefs that I did.
Q: Part of the recent institutional memory of the Vancouver Canucks is a deep dislike for the Boston Bruins, are you going to be able to channel some of that, now that you are a Vancouver Canuck?
Benning: No, I learned a lot when I was in Boston, so I have a lot of great memories. Now that I'm in Vancouver, my hearts going to be in Vancouver, I'm going to do everything I can to make this team successful. It's a different style of team in Boston, but that doesn't mean that the recipe for building a team is going to be any different. It is what it is.
Q: Trevor, just to clarify, were there any other interviews, formally or informally, with other candidates?
Trevor: A few, yup. Other candidates? Of course
Q: Jim, we obviously know that one of your strengths is identifying young talent, you mentioned that you want to get into some Junior rinks, sometimes we see GM's not pound the pavement as much when they get the GM role. How important is it for you to still make time, to see with your own eye, the talent that is out there?
Benning: I think it's very important. I think maybe that's why Trevor hired me, because the draft is very important for us going forward, because we get to add 7 players to our organization every year. You have to work a little bit harder, because you're with the team, but between Trevor and me, we're going to share that responsibility. We're going to be about hard work, we're going to work hard to get this thing in the right direction.
Q: In terms of the guys you surround yourself with, how important for you is the numbers game, the salary cap, etc. How important to you is someone like Laurence Gilman, really good at managing the cap?
Benning: Those guys are part of our management team. They all have unique skillsets, and I'm looking forward to working with them. We're going to be a team here. We're going to ask our players to be selfless, to play hard for another, and us as a management team are going to be the same way.
Q: Jim, I'm not sure if you're aware, but goaltending always seems to be a hot topic in Vancouver. What's your thoughts on the current goaltending situation of the goaltending situation in the organization?
Benning: I thought Eddie Lack, for his first year, had a great year. He's going to come to training camp and hopefully he gets to the next level. Jacob Markstrom has always been a very good, young goaltending prospect. When I talked to Trevor about it, he talked to [Roland Melanson], he's excited about him as a prospect, working with him, and thinks he can get him to where we need him to be. So, as for right now, I'm just going to trust their opinion on that.
Q: Jim, earlier you mentioned getting better in a hurry. Earlier you mentioned getting better in a hurry. How many changes do you expect to meet that goal, and how does Free Agency and trades factor in?
Benning: Well ,we're going to sit down over the next couple days and talk about the roster, try to figure out ways to improve it. We've talked briefly about it, but we haven't gone into detail about the roster and what to do about it.
Q: What makes you believe that you can turn things around quickly?
Benning: I believe in our core players. They're high character people. When Trevor did the exit interviews with them, they felt bad about what happened last year. We're going to try to help them out by adding more depth to our roster, playing 4 lines, hire the right coach. Some of the players for whatever reason just didn't have a good year last year. It's a good team, a talented team, I feel confident that these guys are going to have a good year last year.
Q: How open are you to things such as advanced statistics?
Benning: We're going to look at everything and anything that we think can help us get better, but my feeling is until you can quantify courage and character, analytics don't help much on the amateur side of things. On the amateur side, it's different leagues, high school leagues in different parts of the country, the competition level is different.
Love Reading About Hockey?

Subscribe to keep up-to-date with the latest and most interesting hockey news!
| | |
| --- | --- |
| | We hate spam just as much as you |