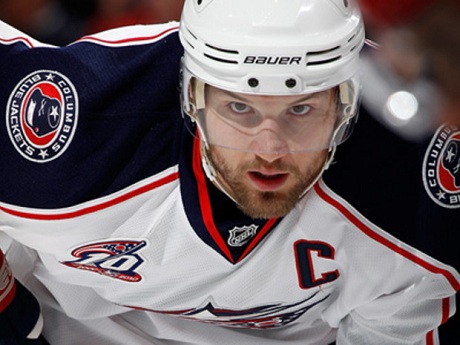 With the trade deadline upon us, a majority of the rumours have been circling around Rick Nash. The Columbus Blue Jackets captain is arguably the most valuable players avalible at the deadline since Ilya Kovalchuck in 2010. Columbus has struggled all year and is a virtual gurantee for the 30th spot in the standings. But Nash is one of the bright spots and most valuable players on this team which is why trading him is not far fetched. He would help any of the contending teams that inquire about him but the main question remains. How much does a player of this caliber cost? In my first post for HOHM, I will attempt to clarify Nash's value to the teams most likely to get him.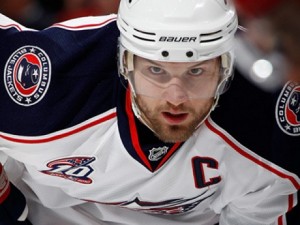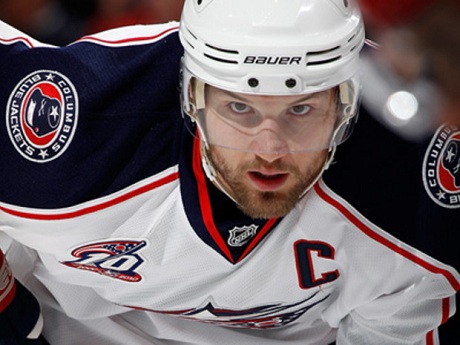 Boston Bruins:
The defending champs are not the front runners for Nash but their name has come up a few times. They would benefit from his size because Nathan Horton is out with a concussion and is not near returning. They also have lots of prospects that would intrest the Blue Jackets. Last years first round pick Dougie Hamilton is a highly touted defenceman while Jordan Caron is a young power forward. But Boston's most valuable playr is back up goalie Tukka Rask. Though Rask is good enough to be an NHL starter, the Bruins held on to him knowing Tim Thomas at age 37 does not have many years left. A trade that includes Rask, their first overall pick this year with both Caron and Hamilton would be able to get the Bruins Rick Nash. That is a steep price and it appears the Bruins to have chosen to keep Rask. It just goes to show how much Nash is going to cost.
New York Rangers:
In my opinion, the Rangers have the best chance of getting Nash. They have been contenders all season and they play in the Easter Conference which is where Nash has indicated he would prefer. The Rangers can aquire big name players as shown when they signed Brad Richards this summer, but they may not have the assets Columbus wants in return. The Rangers most popular trade assets are all defenceman and players they would like to keep. Michael Del Zotto and Ryan McDonagh have both emerged this season as steady two-way defencemen while prospect Tim Erixon has the potential to be a strong NHL player for many years. If the Rangers want to get Nash they would need to offer either forwards Derek Stepan or Brandon Dubinsky with one of the three above defencemen along with their first pick this summer in order to be on the Blue Jackets radar. I think Erixon and Stepan are the most expendable but they are still good, young players that have the potential to be stars.
San Jose Sharks:
The Sharks are another team that I don't think have a strong chance of getting Nash, but their name has come up so it is possible. Though they told the press that Logan Couture will not go back in return, I can not imagine a trade of this magnitude not having him in it. He is by far the most valuable forward in the Sharks system and would fit perfectly on the rebuilding Blue Jacket team as a young leader. The other player Columbus should ask for is Marc-Edouard Vlasic who has six years of NHL experience at age 24. The Sharks would need to offer both of these guys and at minimum a third round draft pick to get Nash. I cannot imagine the Sharks blowing this big of a whole into their roster but stranger things have happened.
Toronto Maple Leafs:
The Leafs fell lower on this list when the Blue Jackets added Jack Johnson because a majority of their assets are defencemen, but there is an outside chance. However, Leafs fans should be afraid of adding Nash after what happened to Dion Phaneuf when he went into their hockey mad city. He hasn't played as good since. Since it appears Jake Gardiner is the only Leaf defenceman safe, it is possible that Luke Schen goes to Columbus for Nash but they would need to give up a forward too. Prospects such as Nazem Kadri, Greg McKeg and Joe Colborne have the most upside and at least one would need to be included. An interesting twist would be if the Blue Jackets include Steve Mason in the trade in exchange for James Reimer. Either way, Nash is to big of a player for the Leafs to add now and so they should be out of the running.
Vancouver Canucks:
After losing to the Bruins in the Stanley Cup final last season, the Canucks have been trying to get bigger. Nash would imporve that greatly. The Canucks are a deep team with many assets that can be added to this trade. Between back up goalie Corry Schneider, forwards Cody Hodgson, Jordan Schroeder and Mason Raymond or defenceman Chris Tanev the Canucks have many pieces availible without greatly changing their main roster. If Vancouver offers Raymond, Schneider, Schroeder and their second or first round pick, the Blue Jackets should part with their captain. That trade would turn the Canucks into a contending team and would greatly boost the rebuild in Columbus.
Any team would want to have Rick Nash on their team but with the price so high, most teams are not bothering with him. If Nash does not get traded Monday, he should be moved at the draft when Columbus tries to get as many draft picks as they can. This story has certainly become one of the more interesting rumours of the season and it will be exciting to keep watching it unfold.