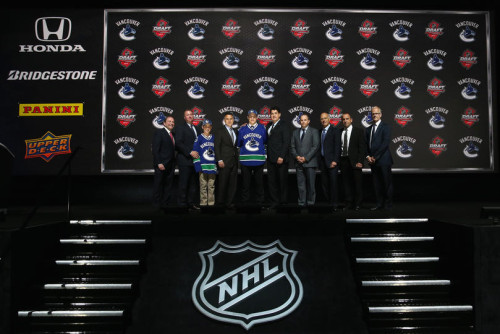 On June 27th, the 2014 NHL Draft kicks off and the future stars in the league get drafted to their new teams. The Vancouver Canucks own the 6th overall pick, their highest draft pick since drafting the Sedin twins in 1999. With such a crucial transitional period coming up for the Vancouver Canucks, a new front office and soon-to-be new coach, picking the right player come June 27th is all but necessary.
So what is the right path for the Canucks? In short, there are two options; trade their 6th overall pick or use it, but it is much more complicated than that.
1. Move up
As with every draft, rumours are flying around with reckless abandon. Florida Panthers GM Dale Tallon, who possesses the 1st overall pick, has been rumoured to be looking to move the top spot. Whether or not there is any truth behind these rumours, the Vancouver Canucks have been linked to possibly trying to move up into the top spot. Tallon is rumoured to favor prospect Nikolaj Ehlers, who is projected to be drafted in the neighborhood of the 6th overall pick, while a possible 1st overall pick is Vancouver's very own, Sam Reinhart. In theory, this seems to be a perfect match. Tallon gets his guy, and the Canucks get the opportunity to start of the Benning-era with the top pick in the draft.
But of course, the largest barrier remains to be overcome; the price. While the chance to pick 1st in the NHL Draft does not come around often, it's not necessary to overpay for a weak draft such as this one. The rumoured price that Florida is asking price is defenseman Chris Tanev + 6th Overall Pick for their 1st Overall Pick.
2. Trade Ryan Kesler
The Kesler trade rumours have started up again, and one team rumoured to be interested, the Anaheim Ducks, hold a high pick with the 10th overall pick they obtained from the Ottawa Senators. While it is obvious the Canucks are not ready to contend, trading Kesler will establish that they are rebuilding, on the fly or not, and acquiring the 10th overall pick in a Kesler trade would be huge. The time to trade Kesler is now, before his game begins to sharply decline and his value falls. The Canucks are not equipped to win at this time, and with the structure of this year's draft, many of the players that would be available at 6th overall could potentially be available at 10th.
3. Stay pat at 6th
Of course if nothing works out for the Canucks, they still have their 6th overall pick. Though there are temptations of picking first this year, the 6th pick will still garner a high pick. The general sense is that the top five picks/prospects consist of (in no particular order) Sam Reinhart, Sam Bennett, Aaron Ekblad, Michael Dal Colle, and Leon Draisaitl. Though there are still several prospects that many can envision a top 5 team picking instead, to keep things easy we will assume these five will be off the table when the Canucks step up to the podium. So who should the Canucks pick instead?
William Nylander
Based on purely skill and potential, Nylander has the greatest chance out of the following prospects to sneak into the top five. He possesses high end offensive talent, Nylander  has quick hands and feet that make him dangerous offensively. He has great top-end speed, a strong burst and elite vision. He can distribute the puck like few other his age. An intelligent player, he out-thinks opponents regularly. He may just end up being the top point producer in the NHL from this draft, but the knocks on Nylander are his lack of size, defensive game that needs work, and the fact that he has played overseas for past few years. With Nylander, the Canucks have an opportunity to grab an elite offensive talent to lead their team in the future.
Nick Ritchie
Ritchie is a prototypical power forward with an impressive blend of size, skill and strength. He skates well for a big player and has agile feet. He bulls his way around the ice and has an impressive, erratic shot. He is not afraid of a fight, nor is he afraid to take over the game offensively. Worst case scenario, Ritchie's offensive game doesn't translate and he sticks around as a bruising bottom-six player. Can the same be said for other prospects such as William Nylander? Of course, many people point to other power-forward draft failures such as Raffi Torres, Mike Ricci, Hugh Jessiman, and shy away from Ritchie. The concern is that in the juniors, power-forwards get such high point totals because they are simply bigger than everyone else, but in the NHL that changes. No longer will people be able to rely on just their strength to bully past defensemen like Shea Weber. With the Canucks being in such a big, tough division, maybe Ritchie would be the right pick at 6th to join other large forwards, Zack Kassian, Bo Horvat, and Brendan Gaunce.
Jake Virtanen
Virtanen is a heads-up player who thinks the game well and is willing to get his nose dirty. He has slick hands, a dynamic shot and a strong stride that makes him dangerous. Virtanen is quite possibly the fastest skater and possibly has the quickest shot in the whole draft. He is a physical player, and is also from British Columbia. The knock on Virtanen is that he is not much of a playmaker, and needs to expand on his vision to be a successful offensive player. In addition, he recently got shoulder surgery and that may scare away a few teams. Jake has many of the tools, but does he have the toolbox?
Nikolaj Ehlers
Ehlers is an explosive player who can beat even the quickest defensemen wide with his speed. He plays on his off wing and creates chances with sharp cuts to the middle complemented by an explosive wrister. He's equally good with the puck and can handle it both at top speed and in traffic. He's had his speed compared to that of Pavel Bure and his style of offensive play compared to Peter Forsberg – something which scouts may well use to further back their opinions of Ehlers as being one of the most dynamic players in this year's draft. He has voiced his want and need to gain size, particularly to about 185-190lbs, so he knows exactly what he needs to work on, where his goals lie, and how he will get there. He has an absolute laser of a wrist shot; an accurate rocket that he snaps off at top speed. With Ehlers, the Canucks can draft a Dane to join Jannik Hansen and Nicklas Jensen, and probably outscore both of them combined.
Other
Of course, there are still plenty of prospects the Canucks can pick at #6. The Canucks could pick a prospect like Brendon Perlini, who possesses plenty of size at  6'3″, 205 pounds. A smooth skater, but the concern is he may have simply been a benefiter of linemate Carter Verhaeghe's career year. Or the Canucks could pick an offensive dynamo like Robby Fabbri, who while undersized at 5'10", has some of the best feet in the entire draft. He uses his speed and mobility to be shifty and elusive but is also willing to play physical. His hands are skilled, he shows some creativity on the ice and has a quick shot release.
As you can see, there are plenty of good options for the Canucks come the draft, it's just a matter of making the best choice. With a new GM and President, this is an opportunity for the Vancouver Canucks to show that new management means business. Whether they make a trade, make a questionable pick, or a safe one, Vancouver fans can only hope that management knows what they are doing.
Love Reading About Hockey?

Subscribe to keep up-to-date with the latest and most interesting hockey news!
| | |
| --- | --- |
| | We hate spam just as much as you |