Featured
Wheelchair Incident Results in Criminal Charges for Carson Briere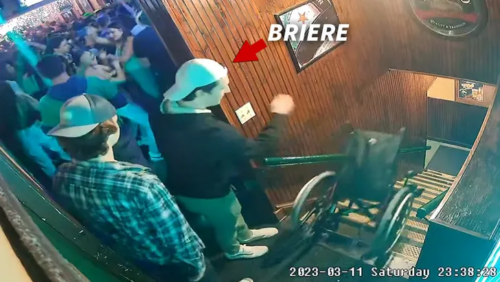 Carson Briere, the son of former NHL star and current interim Philadelphia Flyers GM Danny Briere, has been charged with criminal mischief after being caught on camera pushing an unoccupied wheelchair down a flight of stairs just over a week ago. The incident occurred at a party in Pennsylvania honoring Mercyhurst University, where Briere plays hockey.
Briere has been charged with one count of criminal mischief and one count of disorderly conduct in connection with the incident, according to USCHO.com. Patrick Carrozzi, a member of Mercyhurst's lacrosse team, has also been charged.
I usually don't post anything serious on my twitter but something happened Saturday night and just can't stomach the thought of this kid getting away with it. In the video below is a @MercyhurstU student and is currently on the @HurstMensHockey team. Carson Briere. pic.twitter.com/kWWlEYEc7V

— julia (@juliazukowski) March 14, 2023
The charges are "the second-degree misdemeanors of criminal mischief related to damaged property, criminal conspiracy to commit criminal mischief, and the summary offense of disorderly conduct," as explained by USCHO.com.
The reaction to Briere's actions was swift and vehement. Three student-athletes, including Briere, were suspended immediately and indefinitely until a full investigation could be completed. Following that, there will be an update. There is no word on when Briere will appear in court or whether the case will be resolved without him having to appear before a judge.