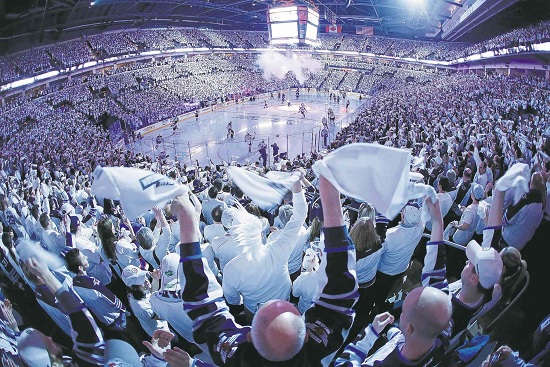 A question worth asking hockey fans: Without a vaccine, just how comfortable would you be returning to an NHL rink to watch a hockey game right now?
How many people would you cap attendance at, and how far would those people need to sit away from you, to give you sufficient ease to again spend your hard-earned dollars attending NHL action in person? (I guess the additional question here would be "where would daily case counts have to get to?" if that would play into your decision.)
As science has come to better understand the transmission of COVID-19, there have been wins and losses for teams that would like fans to return. A win would be that while the virus can spread through shared high-contact areas, that type of spread is comparably minimal. But aerosol droplets, which abound in plenty when you're chatting and say, cheering — those are a pretty big problem.
For a more updated look at the likelihood of spread, this article with visualizations is wildly helpful. In a nutshell, you don't want to be in an enclosed area with anyone for too long unless there's good ventilation. Arenas are huge open spaces (that can dial up ventilation), which seems like a big plus, but they're still closed indoor spaces, hence the question here: What sort of spaces and considerations would YOU require to go back?
With a Shortened Season, who loses the most?

Well, there's the obvious: fans lose, we know that. We lost when the 2019–20 season got paused and again when this season got delayed, and will lose yet again when this shortened campaign ends.
The players lose money, of course, and on a less material level, career records take a hit. The hype about Alex Ovechkin catching Gretzky in all-time goals was strong, and he probably needed a tailwind to actually do it. This little hiccup here might derail his hopes entirely.
Owners take a huge hit here, particularly with every game that's played without proper gate revenue. Individual teams lose the chance to jell and find themselves over a long season, and good teams like the Tampa Bay Lightning lose momentum. The networks lose live sports, those covering sports take a blow, and — look, it's all pretty bad, but it is what it is, and we're all in this together.
I guess it's impossible to quantify who's losing MOST, and the only conclusion that can be drawn is we all need proper hockey back ASAP.
The NHL's main goals for next season?
I think they're three-fold: bring in as much revenue as possible; try to appease (and further appeal to) NBC; and get back on track for 2021–22.
The revenue thing sounds obvious, but I don't think it's the same as in the NBA. There, they seem a little more willing to take some financial hit early (they're likely back Dec. 22nd) to play more games and get things back to normal (schedule-wise and beyond) as soon as possible.
With the NHL, on the other hand, it seems more important they bring in real dollars (and don't spend any putting on games in front of nobody) to keep everything afloat as they move towards brighter days.
We've heard rumors that they want to be done by the Olympics, as NBC also has the rights for that, so the season would likely have a hard end-point next July. Given they'll be renegotiating with NBC going into next season, you could see them trying to keep everyone happy there.
And of course, the league needs to get back to being a winter sport. It's mid-November, and once this election coverage dies down, boy, there'll be a lot of quiet nights in the depths of winter to come.
Now all we can do is sit and wonder who's going to win the 2020-21 Stanley Cup?
Love Reading About Hockey?

Subscribe to keep up-to-date with the latest and most interesting hockey news!
| | |
| --- | --- |
| | We hate spam just as much as you |