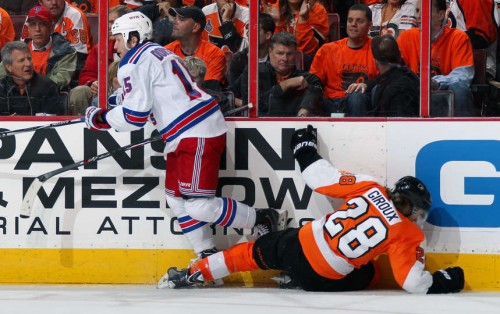 The first round Stanley Cup Playoff series between the New York Rangers and Philadelphia Flyers has had it's ups and downs for both teams. The Blueshirts currently have a 2-1 series lead, with the always-important Game Four coming up on Friday night. Here's a look at some storylines that have been prevalent through the first three games, and what to look for in the next couple of games:
The Officiating Stinks
This could be a complaint by any fan in any game and any sport. But there have been 34 penalties called in the first three games of the series (Eight penalties in game one, fifteen in game two, and eleven in game three). Twenty penalties have been called on the Flyers, while fourteen have been called on New York. There have been questionable calls both ways, and this series is being called very tight. How Wayne Simmonds was called for holding early in Game Two when Ryan McDonagh slashed him mere seconds after that "hold" boggles my mind.
The Dan Carcillo hooking call in the 3rd period of game three was another whiff. I get that it's Rangers-Flyers, and that the refs are trying to keep some semblance of control on the ice in a very physical series. But it is the playoffs, and handing out power plays left and right can alter the course of the series in a way it shouldn't be.
The Rangers Power Play is good
While 3 for 16 doesn't look like anything special on paper, the New York power play has looked good when they've gotten their opportunities. Gone are the days where a team could take penalties against the Rangers without fear of having to pay the price on the scoreboard (like it's been for most of the recent playoff runs). The Rangers top unit of Derek Stepan, Rick Nash, Martin St. Louis, McDonagh, and Brad Richards on the point have played cohesively. They move the puck well, and generate opportunities.
Martin St. Louis is coming in to form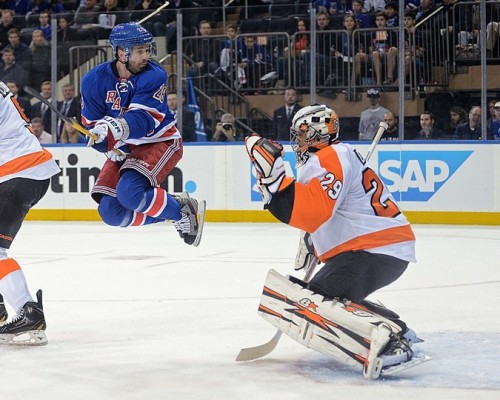 For all of the hype of him coming to the Rangers at the trade deadline (myself included), St. Louis was a bit of a dud during his nineteen game regular season tenure (one goal, four assists). In the first three games against Philadelphia, he's tallied two goals and three assists. Two of those assists have come on the power play, and he had the game winning goal in Game 3. If St. Louis gets back to producing at the rate he was before the trade, the Rangers offense becomes very scary.
Steve Mason Needs To Steal A Game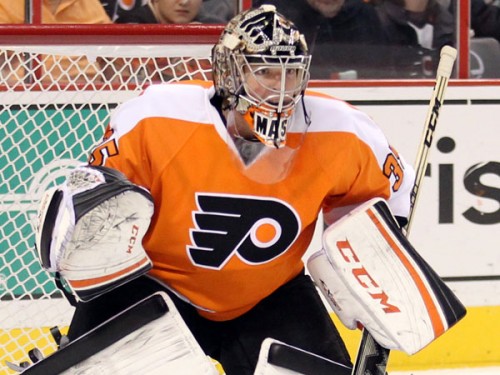 The Flyers curse in the crease is nothing new to Philly fans. It looked like it was going to strike again, when Steve Mason couldn't play in the first three games. While Ray Emery played well in game two, he was average in game one, and was yanked in game three. Mason had a strong regular season, posting a 33-18-7 record with a 2.50 GAA and a .917 save percentage. Considering that the Flyers offense has been sub par so far, Mason will need to steal a game to give Philly a chance.
The Flyers Offense Needs To Wake Up
Claude Giroux is an awesome player. There's no doubt about that, and his name being thrown around for the Hart Trophy is well deserved. But it's the playoffs, and it's natural for teams to key in on the opposition's top player. This series is no different, and the Rangers are very good at shutting down the opposition's best offensive weapon (only two assists for Giroux so far). If Giroux is being taken away, that means someone else has to step up.
The Flyers didn't have any thirty goal scorers this season (Simmonds had 29, Giroux had 28), so someone else will need to step up and start lighting the lamp. One of the Flyers strengths is that they have scoring depth (seven 20-goal scorers), but someone needs to kick it up a notch and make the Rangers focus their attention away from Giroux. If the Rangers offense continues to play the way they have, and no one else starts putting pucks behind Henrik Lundqvist, there may not be another game in the Wells Fargo Center during the 2014 playoffs after Friday night.