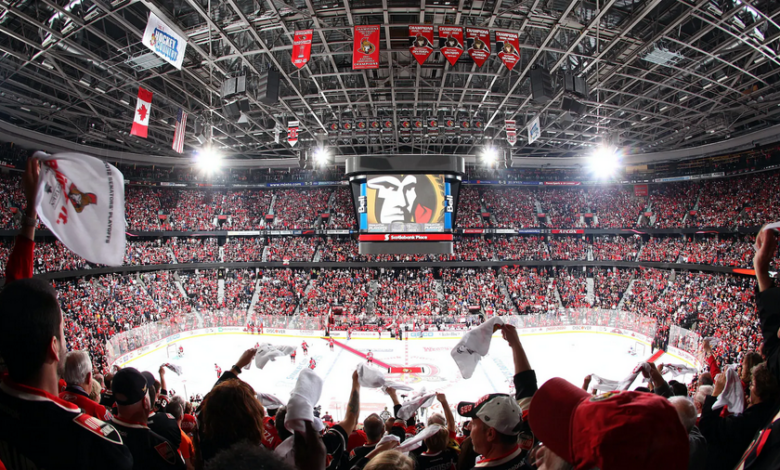 The sale of the Ottawa Senators has now entered its next pivotal phase.
As previously reported, the first round of bids for the franchise were due Monday to New York-based banker Galatioto Sports Partners (GSP), who are now sifting through the paperwork to determine if another round of bidding is required.
According to league sources, the NHL has received at least three bids for the Senators, with a fourth possible.
There could be more than we've been told, given that NHL commissioner Gary Bettman stated there were more than 15 groups granted access to the club's financials, but HOHM has only confirmed three.
These negotiations have now reached a critical juncture, and the NHL's headquarters would like to have the new owners in place by July 1.
Don't hold anyone to that deadline because it has always been a moving target throughout these negotiations.
Here's the bids that are believed to have been placed:
THE REMINGTON GROUP: The Remington Group, a Toronto-based real estate development corporation and one of the province's largest builders, has enlisted Vancouver-born actor Ryan Reynolds as a partner in a consortium that has submitted a bid and is determined to build a new rink at LeBreton Flats.
The bid is led by Remington Group president Christopher Bratty and several partners, but Reynolds would be the face of the Senators franchise and would play a key role in club decision-making. Maximum Effort, his Los Angeles-based production company, would also play an important role.
The Remington Group is a historic real estate firm led by Rudy and Jerry Bratty, longtime Toronto real estate moguls. Rudy's four sons — Matthew, Michael, Mark, and Chris — have recently taken over the business, and the company has played an important role in the redevelopment of the Markham community.
According to a source, the Remington Group has a vision of helping Ottawa elevate its place on the global stage, which will delight Mayor Mark Sutcliffe. This group appears to have a lot of weight behind it and is determined to bring the Stanley Cup home.
The group owns a small portion of the Seattle Kraken.
MICHAEL ANDLAUER: The Toronto-based billionaire and owner of the Andlauer Healthcare Group has been a long-term supporter of this process.
He's put together a group that could include Windsor real estate magnate Rocco Tullio, as well as Burlington-based Paul and Michael Paletta of Alinea Group Holdings. He's a part-owner of the Montreal Canadiens and the sole owner of the OHL's Hamilton Bulldogs.
Tullio owns the Oshawa Generals of the Ontario Hockey League and offered the late Eugene Melnyk $650 million (all figures in US dollars) for the franchise before his death.
We also learned that Farm Boy executive Jeff York was attempting to raise $100 million from a group of 20 local investors at $5 million each in order to participate in Andlauer's bid. Jean Pierre Poulin, the CEO of the Devcore Group, is one of York's capital-raising partners.
Andlauer has long been considered the frontrunner in this process. He has Montreal owner Geoff Molson's support, has represented the Canadiens at board of governors meetings, and has been attempting to sell his share of the club during the process.
THE KIMEL FAMILY: Toronto-based Harlo Capital and Harlo Entertainment Group's Jeffrey and Michael Kimel attempted to partner with Melnyk on his bid for LeBreton Flats.
The Kimel family is one of Southern Ontario's biggest real estate developers and also co-founded The Chase Hospitality Group, which notes it specializes in creating "culinary destinations".
In 2021, they sold a minority stake in the Pittsburgh Penguins to the Fenway Sports Group and hope to return to the NHL.
Michael Kimel recently founded OverActive Media, which invests in e-sports, and he previously served on the Penguins' management committee.
The Kimel family has the financial means to make this a reality, as well as the knowledge to help build LeBreton, but they are not alone.
There is also speculation that Neko Sparks, a Los Angeles-based producer, has formed a consortium and submitted a bid two weeks ago.
According to the company's website, Sparks Finance Group "will continue its foray into sports by pursuing a controlling interest in a pro sports team." Sparks is pictured below in front of a billboard ad at the Canadian Tire Centre, which is accompanied by a picture of a hockey player.
Neil Malhotra of Claridge Homes, André Desmarais of Powercorp, former Toronto Star executive Paul Rivet, and Patrick Dovigi, CEO of GFL Environmental are among those who have expressed interest, according to Postmedia.
Malhotra and Dovigi were thought to be serious, but they could have been part of another group or done their business quietly.
The discussions will intensify once the NHL and GSP have determined which groups will move forward in this process.