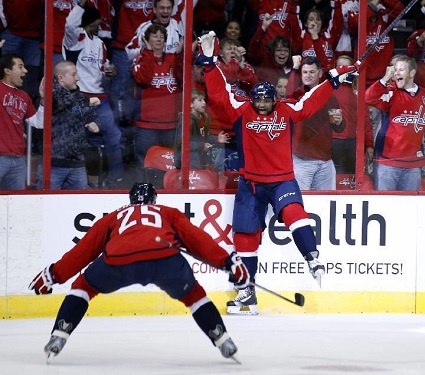 The beginning of this 2013-2014 season has been anything but consistent for the Washington Capitals (Except for the consistent need for OT in what seems like every game). The Caps have been dominating special teams without a problem, but lacking ability to produce much of anything in their 5-on-5 game.
Individual players have been stepping up to the plate to advance their team higher in the Metropolitan standings, while others, veterans included, have been sleeping on their millions of dollar contracts. Although it is early on in the season, here's a look at who's hot and who's not for the Caps thus far.
Hot: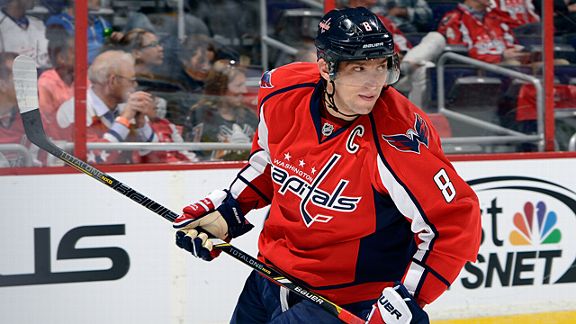 Alex Ovechkin: Obviously the Great 8 makes the first spot on the list.The Russian Machine has been the Caps' main weapon lately in terms of goal scoring with 14 goals in 19 games. Right now Ovi is tied for most goals on the season with St. Louis Blues center, Alexander Steen and the recently injured Tampa Bay Lightning center, Steven Stamkos, who will be out indefinitely with a broken tibia. At this rate, Ovechkin is on pace for a 60+ goal season to hopefully defend the Rocket Richard trophy. He also has 100 shots so far this season, which is 15 more than Zach Parise, who's next on the list. It's so good to see the captain back to his old scoring ways.
Nicklas Backstrom: This soft-spoken Swede is just an all around solid player, game in and game out for the Capitals. He's always scoring big goals; especially setting up the big goals for his teammates down low. Backstrom is currently tied for second with Pittsburgh Penguins' captain, Sidney Crosby, with 15 assists. Backstrom has played one more game than Crosby though. Nicklas is also one of the top players on the shootout leaderboard. He's 3 for 3 in the shootout with one SOGWG over the Minnesota Wild last Thursday. With Oates revamping the first line a bit, both Backstrom and Ovechkin are getting accustomed to playing with Martin Erat. Upon the line's creation when Ovechkin returned to the lineup on November 5th, the line has not cashed in a single even-strength goal. Backstrom, as always, has an optimistic outlook on his line and believes they just need more time to build chemistry. If the trio does not begin to find each other's stick on passes and contribute in the offensive zone, Oates may need to reevaluate his options at left wing.
Joel Ward: All I can say is, WOW. Wardo is on fire. Joel has the second most goals on the team(9) and the highest shooting percentage in the league with 29.0. Nothing has been stopping this guy from going straight to the net and scoring beautiful goals. This is a guy that plays with heart and motivation every time he steps skate on the ice and his statistics are right there to prove it. The Chimera-Grabovski-Ward line is one of the team's strongest at full strength and are constantly cycling the puck and taking every chance they get to light the lamp. Ward's line has more points in the last 12 games than almost all of the top lines for the leagues top-scoring teams. That's saying something.
Jason Chimera: Despite his worst offensive performance during last year's lockout-shortened season, Chimera has proved himself of being a whole new player on the left wing of Washington's offensive line. The Edmonton native and Capitals' veteran is having a career high season with 5 goals and 13 points thus far and is averaging 15:11 minutes in ice time per game. Not to mention, Jason signed a 2-year, $4-million contract extension last Friday with the organization which will secure him a spot until the 2015-2016 season. That's got to boost his confidence level a little more.
Honorable mentions:
Mikhail Grabovski- 6 G, 11 A
John Carlson-4 G, 3 A (Only other defenseman with one goal is Urbom)
Marcus Johansson- 2 G, 14 A
Not: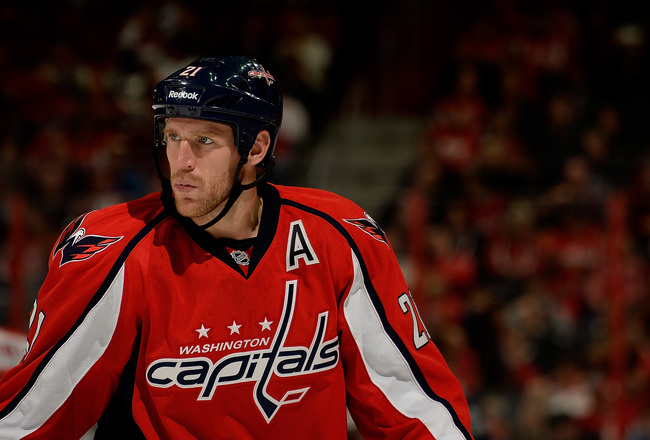 Brooks Laich: Laich is receiving top-six minutes, and none of us are quite sure why. The second-line center has recorded just two measly goals and four points 19 games into the season. The numbers just aren't quite adding up for a player carrying a $4.5-million cap hit. After suffering a groin injury which halted his season last year, the fans are glad to have him back in the lineup, to a degree. Brooks is one of the Caps' better men when it comes to face-offs but as of late, that hasn't been proving true. His faceoff percentage right now is .458; his worst since the 09-10 season and the second lowest of his career. Also, he is tied with Ovechkin for the worst plus minus on the team with -10. This is Laich's lowest plus minus rating of his career.
Mike Green: Yikes. Poor Green STILL hasn't netted his first goal of the season yet, and he's played in all 19 games. Oates needs to find something to do with Mike because at this point in the season, he's not worth the $6 million dollars. Oates calls Green's slump a "minor hiccup." I sure hope he's right because we all know how much potential Green has at both ends of the ice, and we hate to see our beloved Greeny struggle. Fingers crossed for his first sniper to come within the next few games!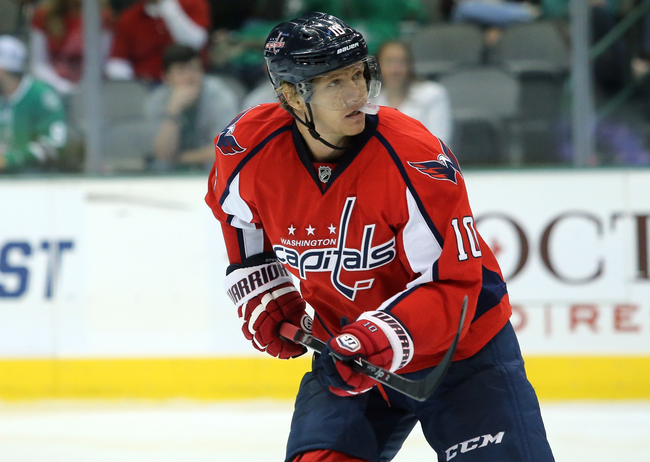 Martin Erat: After spending much of the beginning games of the season sitting on the fourth line, there's no excuse that the 32-year-old Czech Republic native has only scored one goal since being pushed up to the first line. He went the first seven games of the season without scoring a goal. General Manager, George McPhee decided to trade one of the organization's top Swedish prospects, Filip Forsberg for Erat back in April as the trade deadline was drawing near. Given Erat's $4.5-million cap hit, he needs to start producing more frequently or the first line will continue to struggle offensively.