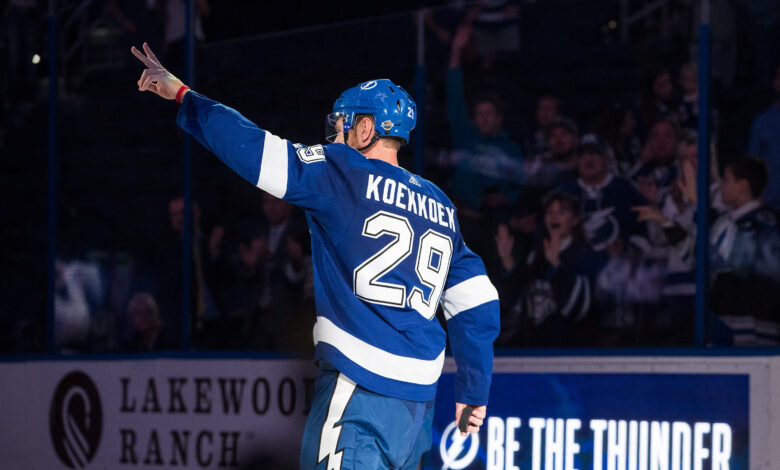 Like everyone else, professional hockey players experience anxiety. Both their own aspirations and their mental well-being are severely impacted by the high demands from management, fans, and the media.
The Tampa Bay Lightning selected Slater Koekkoek with the tenth overall pick in the 2012 NHL draft, and he struggles with anxiety every day.
Despite having potential, the defenseman endured years of silence as he battled crippling anxiety, which led him to give up on his NHL aspirations.
He released the following statement:
"I Left the game just over a year ago and thought I would share a little bit of my story throughout the next while In case someone else is feeling shame towards their anxiety. You are not alone.
I left the game because my life inside of it had gotten to a place that was unbearable and unhealthy towards my mental health.
I would say I played a majority of my professional games without the ability to eat much, if anything, the night before and the day of the games. Hockey Night in Canada on a completely empty stomach? Lets do this, I guess.
Anxiety shows up in all shapes and forms, one of the ways mine did was the inability to eat.
I would get comments from teammates saying "hey Kooks you know the meals are free" due to my weight dwindling, without them knowing the pain I was going through. I would hear from GMs and Coaches that I needed to put on weight if I was to battle in the corners with the elite of the league not to mention the energy needed to complete these tasks as well. That just put on increased pressure.
I would be asked to go for dinner with teammates on the road. Knowing I wouldn't be able to eat, I would isolate myself and usually walk the streets settling to discreetly bring takeout to my hotel room so nobody would know if I ate or not. I kept this in as much as I could my entire career. My dad had a nervous tummy growing up, I thought that is all had. But when being continuously scrutinized for my on ice performance it caused a downward spiral. A vicious cycle of needing to eat but physically being unable.
Be kind to one another because you never know what someone might be going through. And stop commenting on people's weight… it's friggen weird."
Slater Koekkoek discusses why he stepped away from the NHL. pic.twitter.com/IsdaUICi4E

— Jason Gregor (@JasonGregor) March 16, 2023
The stigma surrounding mental health is gradually fading as more and more athletes come forward and ask for assistance.
It's critical to keep in mind that everyone, regardless of status or level of achievement, can experience mental health concerns. Particularly for athletes, there are certain expectations and pressures that can be detrimental to their physical and emotional health.
In 126 regular season games for the NHL, Koekkoek amassed 22 points overall on the strength of 5 goals and 17 assists.