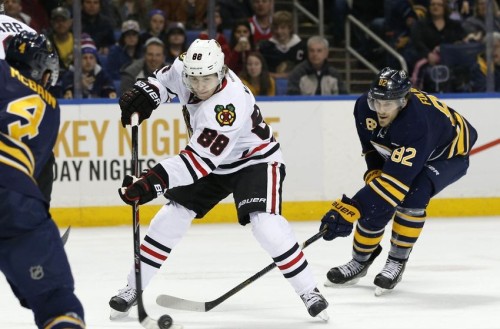 The Buffalo Sabres rebuild is virtually complete. All the pieces of the puzzle are in play and now it's up to the players to develop and prove their worth in the NHL. With the re-tooling and planning around Jack Eichel, Tim Murray has to be pretty hooked on his current group of players and one has to think that it would take one mighty large fish for him to budge.
Enter Patrick Kane. With one "Kane" already set to appear in blue and gold next season, rumors have picked up that the Chicago Blackhawks are taking calls in an attempt to ship their 26-year-old three time Cup winning forward out of town.
With the police investigating allegations brought against Kane in his home state Hamburg, N.Y. After his latest brush with police, the Blackhawks are reportedly ready to move on. While Kane has not been charged with a crime at this time, the Blackhawks had warned Kane to stay clear of negative bad situations and negative light.
5 teams have reportedly called the Blackhawks inquiring about their one-time franchise player in hopes of a "bargain deal." There is no confirmation that the Sabres were one of those five teams, but there's little chance that a conversation about Kane has not happened in all 29 front offices.
Regardless of what shakes down with Patrick Kane, it's important to remember that he is still a world-class talent who would instantly improve any team. For the Sabres, landing Kane would be a dream come true- however, the Sabres should stay clear.
No matter how much of a bargain the Blackhawks will give away Kane for, it's still not going to be cheap. Landing Kane would cost the Sabres some mix of Sam Reinhart, Jack Eichel, Mark Pysyk or Evander Kane, mixed with draft picks. Would you trade the potential of Eichel for the troubled but skilled Kane?
The price tag associated is going to cost the Sabres what they have been building for the last 3 years and hurt their prospect system. Reinhart, Eichel and Kane are all very young and talented players. Who's to say one of them doesn't develop into what Kane has been for the Blackhawks but with less off-ice trouble?
Apart from the prospects given up, the massive cap hit that Kane carries would literally cripple the Sabres moving forward. He still has 8 years left on his deal that see's him make $10.5 million in each of the next 8 seasons into 2023. Having the majority of the cap tied up in just one play would limit the Sabres ability to re-sign Eichel, Reinhart and Evander Kane when the time comes.
The Buffalo Sabres have brilliantly rebuilt their hockey team. They have all the pieces lined up and a young core that will grow together into something similar to the Blackhawks core. Acquiring Kane at this point in the game will only be a major blow to the moves they've already made and cripple the team in cap space moving forward. Not to mention his character and legal battles off the ice.
Love Reading About Hockey?

Subscribe to keep up-to-date with the latest and most interesting hockey news!
| | |
| --- | --- |
| | We hate spam just as much as you |