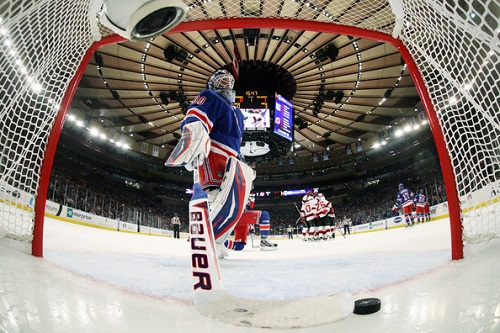 It hasn't been the best of season of Henrik Lundqvist's career. Actually, it has been the worst season of Lundqvist's career thus far. His 2013-14 record is below .500, his goals against average is closer to 3.00 than 2.00, his save percentage is too close to .900, and he only has two shutouts (none since Halloween) in 33 games played (heading in to the Rangers game against the Dallas Stars). It's no secret that the Rangers success over the past eight seasons has everything to do with Hank's stellar play. The Rangers go as he goes. So why shouldn't Rangers fans worry about Lundqvist even though we're past the halfway point of the season?
The first reason there isn't a cause for alarm yet – he's not in denial about his subpar play. When asked what has gone wrong with him this season in a radio interview this past week on 98.7FM ESPN Radio in New York with Michael Kay & Don LaGreca, Lundqvist said:
"I think it's a combination of a lot of things. When you play on top of your game, there's not only one thing you do right. You have to work really hard, focus the right way, there's so many things that go in to it. I think over the years I've managed to find a good balance. This year it's been a challenge to reach my full potential. It's been there a few games and I think the consistency has not been there. I think to turn around you just have to keep working hard and stay positive. I know it's right there. Sometimes for a goalie, it's just one save away. If you give up one goal too many in a game, it's the difference between winning and losing, and you don't feel so good about yourself. Sometimes you might think the problem is bigger than it is. It's just about cutting down maybe one mistake here or there, and things will look a lot better. I know it's there, it's just about me being able to be more consistent in how I play and making decisions out there. Slowly I feel like it's coming. I know it's not going to be one game for me to turn this season around. I'll take it step by step here, and every time you get an opportunity to play, I feel like it's a chance for me to help my team and get some points"
Sure, there are a few "playerspeak" lines in there, but the first step in any improvement process is acknowledging that there is a problem.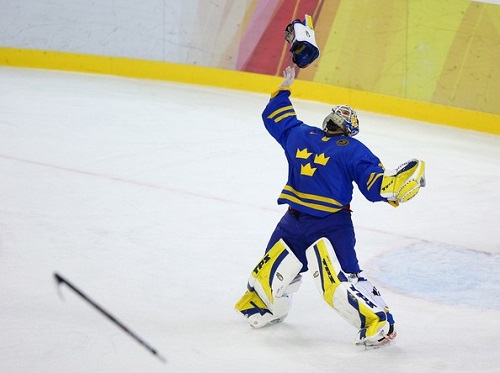 Another thing working in the Swedish goalie's favor is the Olympics. You may be thinking that the Olympics could be more detrimental than helpful because of the increased work load. For a guy like Lundqvist (who was a major reason why Sweden took home gold in 2006), representing his country will get the competitive juices really flowing. That's not to say he doesn't bring his best effort every night to the rink. But as any player will tell you, putting a sweater on with your country's name on the front kicks up the intensity to another level. Add Sweden's premature exit in the 2010 Olympics as a motivator in to the mix, and that raises the compete level even more. A strong performance in the two-week-tournament could carry back over to the States when the NHL season resumes. As for the increased workload, the Rangers have factored that in to how much he has played this season leading in to the Sochi games. The unexpected NHL-readiness of Cam Talbot helps as well.
One other thing to keep in mind is that the Rangers offensive production isn't helping the situation either. The Rangers are currently averaging 2.40 goals per game, which is a lower average than any full season in Lundqvist's career. Injuries up and down the Rangers line-up are certainly a contributor to that this season. It's been said many times during his career that the Rangers low goal production meant that Lundqvist had no margin for error. Having even less goal support than what he's been used to certainly doesn't help (although, I think the tide will turn in the Blueshirts favor now that they're finally getting healthy).
Back in October, there was the "unspecified injury" that could be used as a reason for his subpar play. Then there was his contract status beyond the 2013-14 season hanging over his head. That was taken care of pretty early in the season. Improving upon Sweden's previous Olympic performance is something I can see weighing on him as well as the 2014 Winter Games approach. But once the Rangers season resumes against Chicago on February 27th, there won't be any more reasons to pardon his performance this season. After the Penguins, it's a tight race for second place in the Metropolitan Division. The Rangers need Lundqvist to be the goalie of the past eight seasons in order to get in to the playoffs and make a run. If the 31-year-old netminder still isn't putting together consistently strong performances by early March, that's when I'll start to worry.