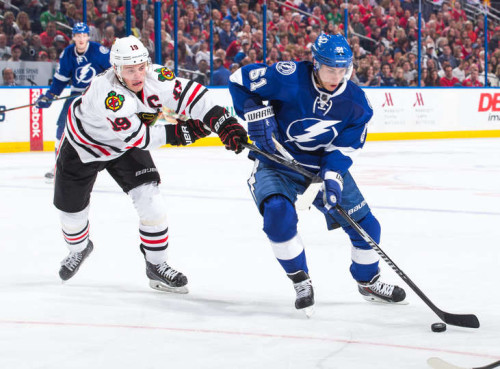 The 2015 Stanley Cup Final match-up features two teams that had a taste of everything in the playoffs. Both the Chicago Blackhawks and Tampa Bay Lightning have endured seven game series, both had dominant stretches in the second round, and both had shaky first round performances. Both Ben Bishop and Corey Crawford had rough starts to their playoff campaigns, but rebounded to make an impact on their respective team's long runs. The Blackhawks have experience on their side in every way, but the Lightning have the best performing line of the 2015 playoffs with the Triplets (Tyler Johnson, Ondrej Palat, and Nikita Kucherov, in case you've been under a rock). They split the season series (with Tampa getting a point in a 3-2 shootout loss back in November), but they haven't met since late February (a 4-0 Bolts victory). Here's the tale of the tape:
Forwards: As mentioned earlier, Tampa Bay has the best performing line in the playoffs, but the Hawks could easily rival that when they put Jonathan Toews and Patrick Kane together (with Brandon Saad flanking them). Steven Stamkos leads a group that is playing well from top to bottom for the Bolts, but it's Chicago that has better quality and depth throughout their four lines. The player to watch out for on the Hawks is Marian Hossa, who scored three times for Chicago in the Conference Finals, after only having one goal in the previous two rounds. The Lightning player to keep an eye on is Alex Killorn, who has registered at least a point in twelve of Tampa's twenty playoff games thus far. It's up to guys like Ryan Callahan, Brian Boyle, and Cedric Paquette to mimic Anaheim's physical presence to hamper the Hawks, while Andrew Shaw and Marcus Kruger will be seeing a lot of the Triplets and Stamkos.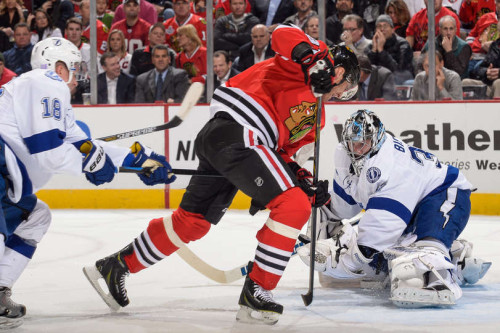 Goalies: The 6'7 Ben Bishop (12-8 / 2.15 GAA / .920 save percentage) is looking for his first ring in his first Stanley Cup appearance, while Corey Crawford (9-4 / 2.56 GAA / .919 save percentage) is looking for his third Cup (second as a starter) in his third appearance. Both goalies got off on the wrong foot (Crawford was pulled and benched in the first round, Bishop's subpar play almost led to their demise against Detroit), but both have had signature performances since then. I like Crawford better at the moment because he's been more consistent lately and seems locked in, while Bishop has had a couple of shaky outings recently (he let up five or more goals on three occasions last round), and wasn't tested much by the Rangers in game seven of the Eastern Conference Finals.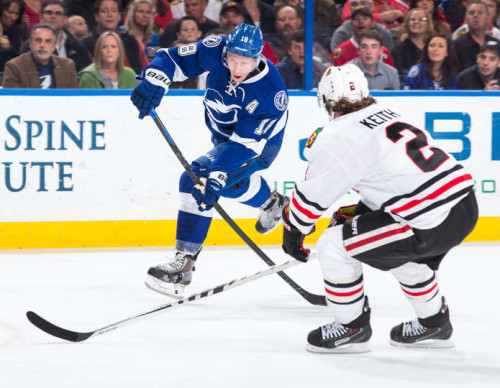 Defensemen: The injury to Chicago Defenseman Michal Rozsival earlier in the playoffs left Joel Quenneville leaning on his top pairing of Duncan Keith and Brent Seabrook even more than usual. Niklas Hjarmalsson and Johnny Oduya are a fine second pairing, but getting a reliable third pairing to eat some minutes has been an on-going issue. Jon Cooper has been dressing seven defensemen for the Bolts on most nights, led by the top pairing of Victor Hedman and Anton Stralman. Along with Hedman, Jason Garrison, Braydon Coburn, and Andrej Sustr provide the Bolts with size on the blueline, something that isn't as abundant among the Chicago rearguards. While Chicago's top guys are better than Tampa's (Keith is a Conn Smythe candidate), Tampa will have a better rested bunch towards the end of games. Considering Tampa has some speedsters, that could pose a problem for the Hawks late in a close game.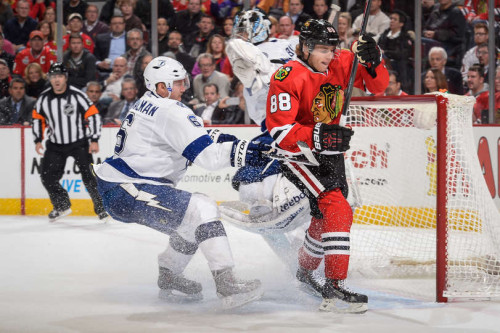 Special Teams: If either team can step up their special teams performance, that could provide the ultimate difference in the series. Neither power play has been great (Tampa is 16 for 72 – 22.2%, while Chicago is 10 for 51 – 19.6%), and both penalty kill units have been less than stellar (The Lightning PK has been successful 81.2% of the time while the Blackhawks have posted a 75.5% success rate). Considering the amount of fire power both teams have, the power play percentages for both could go up.
Pick – Chicago in Six: I like the Blackhawks not only because of the experience factor, but because they've been more impressive over the last two rounds than the Lightning. After letting Nashville hang around in the first round, the Hawks dominated Minnesota and were able to overcome the physical punishment the Ducks doled out for seven games. After the Lightning battled their way back in the first round, they played a Montreal team whose number they had all season, and beat a Rangers team whose offense was anemic for half of the series. If Tampa can take a 2-0 series lead, that would change things drastically, but if Chicago can steal home ice, Tampa won't see a seventh game.