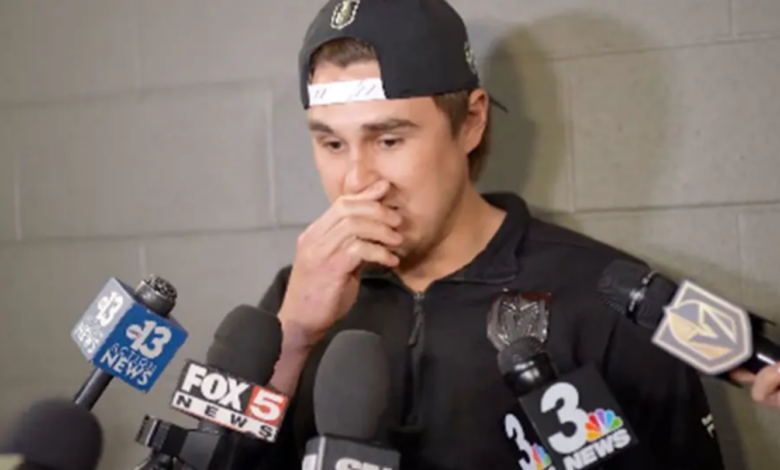 In case you missed it last night, ESPN broadcaster John Anderson made a bit of a joke when calling the highlights between the Vegas Golden Knights and Edmonton Oilers, saying that Golden Knights defenseman Zach Whitecloud has a name that's "great if you're a toilet paper."
Listen in:
During the Vegas-Edmonton highlight on SportsCenter, John Anderson jokes about Zach Whitecloud's name, saying it's a "great name if you're a toilet paper."

Whitecloud is the first Indigenous NHL player from the Sioux Valley Dakota Nation. pic.twitter.com/gngA1yg8wk

— Awful Announcing (@awfulannouncing) May 9, 2023
Leaving aside the lame dad joke, it seems like Whitecloud took this one rather hard.
Since he was born and raised on Sioux Valley Dakota Nation territory in Manitoba, where numerous of his friends and relatives still reside, Whitecloud is of course a proud member of the Sioux Valley Dakota Nation. In my opinion, "Whitecloud" is a fantastic last name that is far superior to any last name that sounds like plain old English that I have ever heard. Unfortunately, clowns like Anderson believe that making fun of things that aren't yet considered normal is necessary.
To his credit, Anderson did apologize for the harsh joke and spoke with Whitecloud directly about how damaging such insensitive jokes can be to Whitecloud and his community.
Whitecloud, very admirably I must say, addressed the entire situation with the media today and even teared up a bit at the end when saying, "it's time for everyone to learn."
Listen in:
🎥 Zach Whitecloud speaks on his pride for his heritage. 🧡 pic.twitter.com/3j5pIQT120

— z – Vegas Golden Knights (@GoldenKnights) May 9, 2023
This youngster has such heart. I am now a lifelong fan of his.
Although I don't find Anderson's poor joke offensive, I don't have the right to tell others what they should and shouldn't find offensive. Since Whitecloud has a very different life than I do, I will let him speak for himself regarding his feelings. However, I believe that he made a great point today, and Anderson undoubtedly paid attention to what Whitecloud had to say. Once more, this is a learning experience for everyone present, and having gone through it will have improved us all.