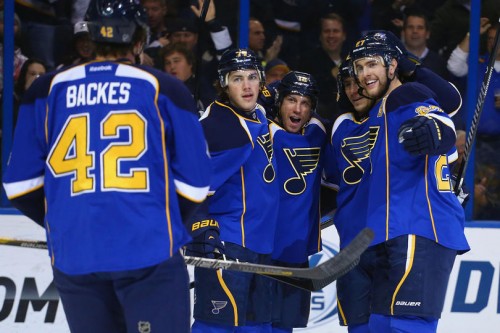 The Blues might have their work cut out for them, starting the playoff season against the defending champs, but when at full strength and their heads in the game, the St. Louis Blues can make history. In the mean time, enjoy a few awesome shots made by the boys in blue.
10. OSHIE KNOWS WHERE IT'S AT


This goal has to be included for the hilarity of the situation. Oshie's priceless face as he knows the puck went into the net is just great. No one knows what's happening or where the puck has gone until #74 Osh practically puts the ref's face in the net to see the hidden puck. Awesome.
9. SHATTENKIRK'S SLAPSHOT SIZZLES
The Blues manage to keep the puck in the Dallas zone long enough for #22 Shattenkirk to get a handle on the puck, taking a wicked slapshot and winning the game in OT.
8. JACKMAN STEALS THE CROWN
Barret Jackman comes out of nowhere to take the necessary shot and score the game winning goal against the L.A. Kings. The Blues take control of the ice and #5 Jackman conquers Quick in the last minute of the game.
7. BACKHAND FOR BERGLUND
#21 Patrick Berglund makes an awesome backhanded goal to tie the game. The Blues beat the Hawks in a shootout for the 6-5 victory.
6. TARASENKO GETS DIRTY
#91 Vladimir Tarasenko uses his exceptional skills to weave his way to the goal, letting rip a nasty wrist shot, tying the game against the Nashville Predators.
5. A QUICK MISTAKE & A GOAL FOR STEEN
Jonathan Quick makes a mistake and Steen capitalizes to win the playoff game against the Kings. It was a shining moment for #20 Steen and the Blues!
4. BACKES ON HIS BACK
Blues barrel into the Blue Jackets and #42 Backes swings a shot in while splayed out on the ice. The captain always comes through for his team.
3. TARASENKO FOR THE WIN
I know I've got Tarasenko on here twice, but his shots are so perfect, I could make a whole list of wrist shots and goals by the beloved Blues forward.
2. OSHIE, KING OF THE SHORTHANDED GOALS
Fan favorite T.J. Oshie is included on this list twice as well, as this is one of many shorthanded shots Oshie dumps into the back of an opponents net. Doing the bob and weave through the Lightning's defense, Oshie shoots and scores against former Blue, Ben Bishop.
1. SOBOTKA'S MAGIC MOVES
This goal takes the cake as it's nearly impossible to tell how it got in without watching the replay. #17 Sobotka sneaks around the goal, turns the puck, through the Oiler's legs, off the goalie and into the back of the net. It's just magical.
LETS GO BLUES!