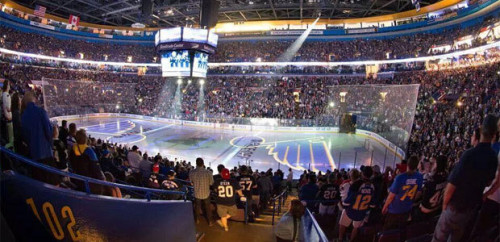 HOCKEY. HOCKEY. HOCKEY. IT HAS BEGUN.
And the St. Louis Blues make a few daring moves leading right up to their Opening Night. A few 2015-2016 Roster changes shake things up for everyone.
THIS IS OUR YEAR. IT'S OURS.
Sometimes it just gets so exciting, typing in ALL CAPS is necessary. Those who BLEED BLUE will understand.
After a Summer of surprises, losing T.J. Oshie and Barrett Jackman, to name a few, a fog of uneasiness set in around the Gateway Arch. St. Louis showed so much process in the regular season, setting records and taking titles. Once again, they failed to perform in the playoffs. We knew it was coming. The Changes.
Recently, the mix-ups continue. Chris Butler and Petteri Lindbohm were sent back to the AHL after exceptional performances last season, in favor of Joel Edmundson and Colton Parayko. Robby Fabbri also made the cut. These young players showed particularly great skills during the training camps over the Summer, enough so that Butler and Lindbohm were both put on the back burners. Fans will be interested to see how these gents perform in the show. It's a whole other world. Fabbri is on a nine fame trial, after which Hitchcock and staff will decide if Fabbri will stay on the Roster or head back to the OHL to further his skills.
The veteran Blue Notes seem to support the young players added to the various lines.
"It'll be different," said Bouwmeester. "It's a couple younger guys I guess, but I think it's good. Nowadays you look around and it's more than ever a young man's League. They've got to be excited, of course. It's good when you have fresh blood. That excitement kind of wears off on guys."
Perhaps the changes the Blues have made since the season ended tragically in the playoffs will make all the difference. St. Louis will need every line on point, their defensive players and offensive lines. Teams like Chicago, though I hate to say it, have strong lines and clearly know what it takes to win.
The Blues tied for fourth-fewest goals allowed with 197, not a bad stat, all thing considered. St. Louis will keep the same top-four defensemen as last season: Alex Pietrangelo, Kevin Shattenkirk, Jay Bouwmeester and Carl Gunnarsson. Another not so new addition includes Robert Bortuzzo, a sizable guy with the strength and grittiness typical of the Blues. With exceptionally skills veterans and a few young guns looking for a title of their own, St. Louis might be able to find their way back to the playoffs.
And it's not just the defense making changing. With frontrunner T.J. Oshie out of the pictures, a few lines have changed. David Backes remains Captain, and Alexander Steen will don the "A" for Opening Night. Patrick Berglund remains on injured reserve, while Scott Gomez and Scottie Upshall were signed to one-year deals after a successful show during camp. Gomez is a two-time Stanley Cup winner, and Upshall has had several successful stints with Florida, Columbus, Pheonix, Philalelphia and Nashville.
Kyle Brodziak also joined the Blues over the Summer, after several years with the Minnesota Wild. He too possessive the aggressive strength the Blues often look for in their players. Familiar faces and hometown favorites like Paul Stastny and Vladimir Tarasenko remain in the limelight. Jori Lehtera, Jaden Schwartz and Dimitrij Jaskin will return to similar lines this season.
And of course, last but certainly not least, the GOALIE SITUATION. Both Brian Elliott and Jake Allen are talented goaltenders, deserving of No. 1 Goalie positions in the NHL. To start the season, Hitchcock will be splitting the title between the two men, giving them each a chance to play their best. Neither goaltender seems to mind, nor are they surprised.
"[Allen] and I definitely want opportunites, but you're going to have to work to get them. That's what is fun about this game. Nothing comes easy. You've got to work for it and that's why it's so rewarding," Elliott stated, when asked about the shared responsibility.
Elliott seems to understand the game for all the players, not just the goaltenders. You've got to work hard for the opportunities, and that IS the fun of hockey. It's not easy. It's about sweat and blood and perseverance. The St. Louis Blues have all the pieces they need to win the damn thing. If they could only put it together, Lord Stanley will be waiting.