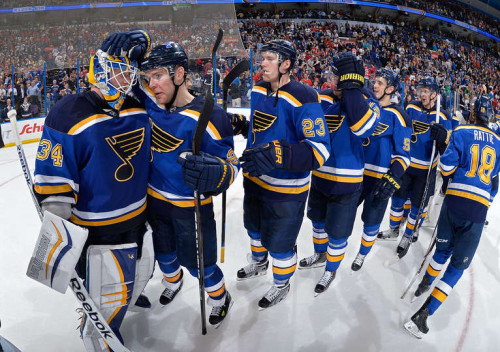 HEY DID YOU HEAR? THE ST. LOUIS BLUES ARE CENTRAL DIVISION CHAMPIONS!!!
BLUES FANS, UNITE!!!! GRAB YOUR GEAR, GRAB YOUR BEER. LETS GOOOOOOO!
Alright, I'm a little excited. Regular season is coming to an end and the Stanley Cup Playoffs start next week. With everything the Blues have accomplished this season, they DESERVE to be in the Playoffs. And it would be SO GREAT if we could make it, even to the second round this season. We have all the right elements-amazing goaltenders, aggressive offensive players, puck-playing skills, a commanding defense-IT'S ALL THERE.
Big names like Tarasenko and Steen are still day-to-day with their injuries, but you can bet they will be playing in the playoff games. Even so, the Blues beat the Blackhawks 2-1 without those top players. Again, WE'RE READY. Our biggest chance of losing to another top team is that third period slump. You know what I'm talking about. Something happens and the defense slips and the offense slacks, and the opposing team steals that moment to turn the game. It happens too often. The Blues NEED to keep that momentum to their very last second. No slacking. Teams like Winnipeg and Chicago have fast skaters with exceptional skills. We need to push our players to match them.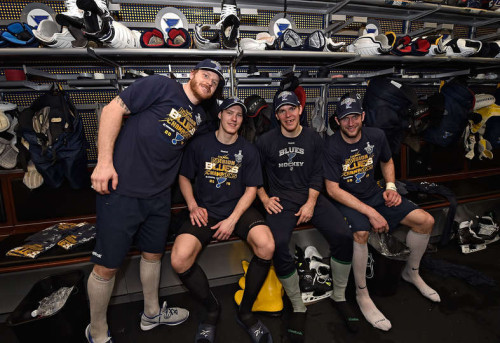 An area the Blues seem to have on lockdown is goaltending. Jake Allen has stolen the show the last three games he's been in goal, with a 1.01 goals-against average and a .964 save percentage. And yet, Allen remains humble. He takes his games one day at a time, ready to fill whatever role the team asks of him.
"You always want to play no matter what the situation, if it's playoffs, regular season or exhibition," Allen said. "You want to be on the ice and if that's needed, I'll be ready to go. If not I'll be ready in whatever role they need me to be in. Thats' what I've been doing, preparing all year for whatever they need me to do, either start or backup. We're both ready."
Not to be left out, Brian Elliott remains a consistently great goaltender for the Blues as well. And as much as I stand behind Elliott in goal, Allen has definitely proven himself to be cool under pressure. Hitchcock has a big decision ahead of him.