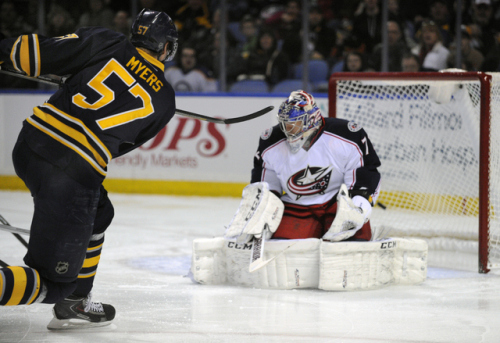 Who: Buffalo Sabres
Where: HSBC Arena, Buffalo, NY
When: 7:00PM
Know thine enemy: On paper, this is supposed to be a much-improved team. They brought back Matt Moulson, added Sam Reinhart, Brian Gionta, Andre Benoit, Andrej Meszaros and Josh Gorges. They'll be more competitive this year for sure and are clearly on the cusp of the vaunted youth movement Buffalo fans have been hoping for.
That said, compared to last year, there's a big dip in goal with Jhonas Enroth starting. Not to say Enroth is terrible, but he's no Ryan Miller (the good Ryan Miller, not the Ryan Miller that pooped the bed in St. Louis).
Up front, there's a little more pop with Moulson back in the mix, but Gionta isn't here for his offense and Reinhart is still just 18-years-old. Tapering expectations for that duo should start happening right now. Offensively, the two to watch are Chris Stewart and Drew Stafford. Both are in contract years, both are enigmatic power forwards with 25+ goal potential and both could find themselves in new cities by year's end. Tonight sets the tone for the kind of year they can expect to have and just how much money they can make (or lose) themselves.
About the Blue Jackets: Last season, the Blue Jackets were one of the surprises of the season. Led by breakout star Ryan Johansen, the team made a rush into the playoffs and gave the Pittsburgh Penguins a scare, securing the first two postseason victories in franchise history and giving us one of the more exciting first round matchups.
To begin the offseason, they kept the momentum going by taking R.J. Umberger, a disgruntled winger who wanted out of Columbus and had a bad contract, and trading him to Philadelphia for Scott Hartnell. Somehow, with little leverage, they took Umberger and improved on him for virtually the same contract price. Not a bad way to kick off the summer.
And that's where the good times end.
Johansen held out all summer, only recently agreeing to a new deal. That's fine and well, but missing all of camp and the preseason has him as a question mark to be in the lineup for tonight. His line mates, Boone Jenner and Nathan Horton, each have health issues that will keep them out for a while (Jenner has a broken hand, Horton has a degenerative back issue). Defenseman Ryan Murray, set to take on a bigger role this year, is on the injured reserve with a knee injury. To top that all off, center Brandon Dubinsky had abdominal surgery yesterday and will miss at least six weeks. The season hasn't even started yet and the Blue Jackets are hockey's version of The Walking Dead.
Still, they're going to be difficult to play against. The Jackets are a quality skating team that likes to hit, so the Sabres should be prepared for a physical contest. On top of that, they bring back former Vezina Trophy winner Sergei Bobrovsky (#1 Cop on the Force!), who is in a contract year and will be looking to parlay his performance into a sweet new deal.
The part where I predict things: This isn't a cop out, but I do want to say that it's incredibly difficult to predict opening night occurrences simply because we really don't know anything about either team yet.
Having said all that, this is going to be a low scoring game and I expect both teams to struggle to create offense early. The Jackets are down their top 50 scorers, it seems, and even with Johansen playing, one can't possibly expect him to be the same player he was last year. At least not right out of the gate.
This should be a physical battle; the Blue Jackets like the rough and tumble style and incorporate it into their game plan regularly. The Sabres got a bit more physical with the additions of Meszaros and Gorges on the back end, so they'll be no pushover in this department, either.
Expect a sloppy game with the goals coming from the muck and a relatively even defensive matchup. Offensively, Buffalo has the edge on paper simply because so many Blue Jackets are out of the lineup. Unless they find themselves shorthanded quite a bit, the Sabres should control the offensive possession game at least marginally more.
Score: 2-1 Sabres
Follow me on Twitter: @TwoPadStackRW