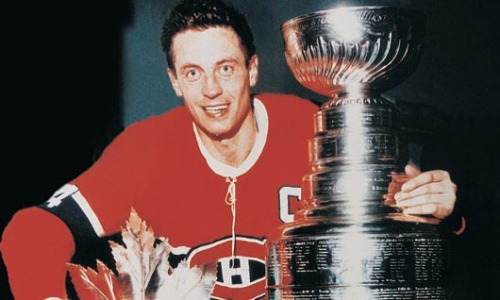 Welcome to Throwback Thursday! Each week, we'll take a look at a cool piece of history not only in the NHL, but in the hockey world in general.
This installment centers around the most storied franchise in hockey history and arguably one of the most storied in sports history period: the Montreal Canadiens. "Les habitants" have been around since 1909 (first with the National Hockey Association before moving to the NHL in 1917), acquiring the most Stanley Cup championships in league history with an astounding 24 and putting them second only to the New York Yankees in terms of North American professional sports.
Storied franchises are filled with storied players and the Canadiens are in no short supply of those. Maurice "Rocket" Richard, Georges Vezina, Jacques Plante, Doug Harvey, Bernie "Boom Boom" Geoffrion, Howie Morenz, Guy Lafleur and Patrick Roy are just a few of the names (and numbers) that fill the rafters in Montreal.
One of the biggest names in Canadiens history, center Jean Beliveau, required a little bit more of an effort to bring into le bleu, blanc et rouge.
Beliveau had come onto the team's radar at the age of 15, spotted by general manager Frank Selke. Selke tried to get the young star to sign a form that would not only ensure that he would play for the Canadiens, but would also set a specific start date and an agreed-upon salary for Beliveau. After Beliveau's father balked, Selke settled for getting the young pivot to sign a form which agreed that Beliveau would play for Montreal should he ever decide to turn pro.
As he became a star in Quebec's amateur leagues, he was called up twice for brief appearances by the Canadiens. Still, by 1953, he hadn't shown much interest in playing professionally, meaning the Canadiens would never get their prized pivot. So Selke got an idea – what if the QSHL, where Beliveau played, were to become a professional league? Beliveau would then be a pro and would be contractually obligated to sign with the Canadiens. Brilliant!
At the suggestion of Selke, the Canadiens bought the QSHL and converted it from an amateur league to a minor pro league. Subsequently, Beliveau was forced to join the Canadiens for the 1953-54 season. It worked out pretty well for both parties: Beliveau would score 507 goals and collect 1,219 career points on his way to an Art Ross Trophy (scoring title), Conn Smythe Trophy (playoff MVP), a pair of Hart Trophy's (league MVP) and 14 All-Star Game appearances. What did the Habs get out of it? Oh, just 10 Stanley Cup championships, including a record five-straight from 1955-56 to 1959-60.
People complain about the playing field being unfair between the rich and the not-so-rich of sports leagues these days. Imagine if one team bought an entire amateur league just to ensure they go one player who ended up helping them dominate for another 15 years. The HOT TAKES would be flying around like hot cakes!
The Canadiens were fortunate to be the pipeline for all of Quebec's great young players, but this instance just goes to show that it helps to be THE powerhouse in the sport. When you're on top, at least in those days, you could do whatever it took to ensure you stayed there.
Follow me: @2PSBlog