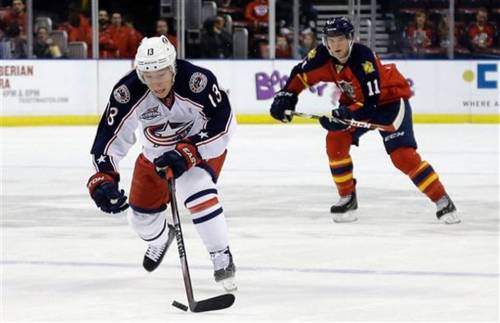 Welcome to "Three things", your recap-like-substance for Columbus Blue Jackets games. No one wants to read "this happened, then this happened" boring recaps, so instead of doing that, we'll look at three important things from the night's action and talk about those.
Let's get right into the Jackets roll on with their second win in a row, a 4-3 shootout win over the Florida Panthers.
Bobbin' and weavin'
How good was it to see Bob finally play up to his potential? He was a monster last night, stopping 52 of 55 shots, breaking the franchise record, in a game that could have gotten out of hand in the other direction if it weren't for his efforts. That's not even mentioning the four huge stops he made in the shootout to steal the win. I've said it before and I'll say it again: if the Blue Jackets don't want to join the hunt for McDavid, Bobrovsky is going to have to be the one to lead them out of the basement.
He's clearly got the ability to steal a game (as he did last night) and needs to play like a Vezina-caliber goalie if he wants to get paid like one. Efforts like that are what will get him paaaaaaaaaaaaaid.
That could have been bad
So not only did the Blue Jackets give up 55 shots in this one, they very nearly blew a 3-0 lead. And they did it in record time.
After Boone Jenner's third of the year made it 3-0 just :51 into the second period, it seemed locked up. But juts 2:03 later, Tomas Fleischmann scored. Then two minutes and change after that, Nick Bjugstad cut it to one. And just two minutes after that, he evened it at 3-3. If the Panthers would've scored again, that would have crippling and probably officially ended the year for the Jackets.
When you're a team struggling to find your way, blowing big leads is the quickest way to suck the last bit of confidence out of the room.
Bju-gonna be good
I walked away from this one thinking "typical Panthers: get 55 shots and lose" but I was also left completely impressed with Nick Bjugstad. The big pivot had a bright future and has been getting talked up left and right over the last year and now I see why.
As the Panthers scored three times in the span of 4:37, it was Bjugstad taking part in every goal. He assisted on the first by Fleischmann before tallying the next two himself. He's big, he's strong and he's skilled and he might just wind up being the best of the bunch on a Panther team with a lot of quality young talent.
Follow me: @TwoPadStackRW