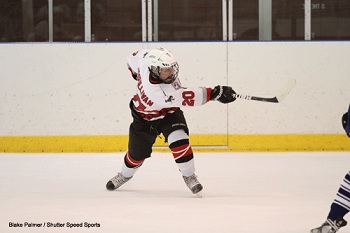 The 2012 USA Hockey National HS Championships concluded this past weekend in Salt Lake City, Utah. Eighteen teams competed from around the country in the fight for National Champion, and it was Regis Jesuit (Colorado) who defeated Waterloo (IA) 4-3 to win on Sunday March 25th.
The Brophy Broncos from Arizona finished third in the tournament, though it was forward Tanner Touhy (Junior) who earned the title as the most prolific points producer for the week with 14 points in five games- eight goals and six assists. Teammate Ryan Beneduce was fourth with 12 points.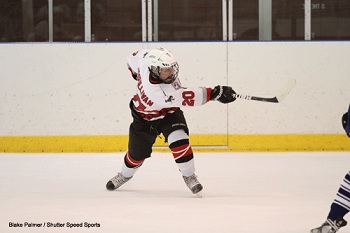 Brophy head coach Eric Murrietta was kind enough to answer some questions about Nationals.
What was the level of competition like at Nationals?

Hit and miss. The tournament had a few teams back out at the last minute and I think they would have helped the competition level.

How were the brackets determined?

Base on the strength of the individual states high school programs…I believe.

It looked like there were quite a few blow-out games in this tournament. Your boys had a 13-0 win against the Bingham Miners (UT) on the 22nd, 12-0 against the Skyhawks (NE) Saturday morning, what is it about this kind of tournament that can produce such high scoring games?

There is no way to tell how good or bad the teams from each state will be except by going on past history. With only the 3rd year of this tournament, they are still figuring out where to place teams.

Fellow Arizona high school Pinnacle played well in Salt Lake also, how big was it to have 2 Arizona teams make the semifinals?

Good. I think it shows the depth of high school hockey in AZ and that we have some programs in the state that take its high school hockey seriously.

On Saturday you lost your goalie for the quarterfinals. What happened and how did you cope with that? (Obviously it went alright for at least that first game against Skutt/Elkhorn Skyhawks (NE), your Bronchos won 12-0!).

He had a prior school commitment that he didn't want to miss. I think even we didn't know what to expect or that we would show as well as we did at the national tournament. Had we known we would excel perhaps other arrangements could have been made, then of course we had the Pinnacle debacle in the Championship and it cost is our 3A goalie as well. We dealt with the adversity well. I refused to let the boys dwell on what we were going to do without Rubey. I tried to instill in them that they were capable of playing solid defense and working together to be successful regardless of who was in net for us.

What happened in the game Saturday night against now National Champs Regis Jesuit?

Gas is expensive to come by for cars and likewise we didn't have enough at the end. We were close, so close to making that game ours and in tight games you have to convert on the Power Play to be successful and unfortunately we didn't get it done. I was and am so proud of how they handled the adversity, how they made no excuses and just worked. It's a great story either way…just too bad we didn't pull the game out.

What can be done to increase participation from other states?

I think location of the tournament has to do with a lot of the issues and competition. As much as teams want to win the tournament, they don't want to do it by killing teams. We are all competitors and want to win after a challenge. As the competition grows amongst the teams across the states the tournament will improve.
For more information on the tournament, the Girl's/Women's Nationals that are currently taking place in Marlboro, MA, and other USA news visit http://usahockey.com/2012_Nationals.aspx