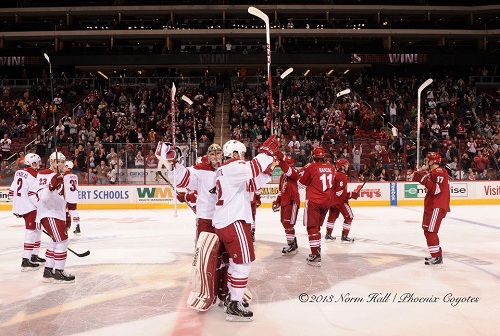 The majority of news coming out of Phoenix has been negatively focused on the team's ownership battles, but don't let that turn you off from the good that is happening on the ice. Here we look ahead to see what is in store for the Phoenix Coyotes in this short 48-game season.
For the better, the team itself hasn't much changed during this unfortunate lockout, and many of the same 'Yotes will be returning to the pack this year, meaning team chemistry should be at a high. Only 3 new faces will be introduced: Steve Sullivan, David Moss, and Nick Johnson.
Some old (and by "old" I mean previous, not elderly) faces are also returning to the desert dogs, including Zbynek Michalek (revisiting from a stint with the Pittsburgh Penguins) and Matthew Lombardi (reacquiring from Toronto).
Key to success for the Coyotes may ride heavily on being able to utilize their farm team, the AHL Portland Pirates. Thus far the Coyotes have called-up Stone, Rundblad, Bolduc and Miele to skate in training camp and be ready for games.
All eyes are on goaltender Mike Smith who had quite the impressive year in 2011-12, one that could be hard to match this season. Fortunately for Smith, he has another year to work with Sean Burke, and a stronger defense in front of him.
Last year the Coyotes made an impressive run to the Western Conference finals on the heels of winning a division championship for the first time in the franchise's 34-year history. They hope to do so again this year, and move even beyond that.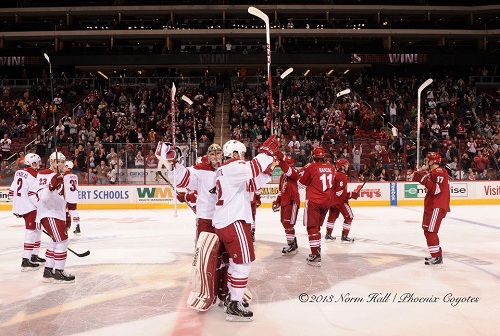 "We have a great team and all the good things with it," Coyotes President Mike Nealy said. "So we've taken the stance we want to acknowledge, yeah, there's been some disruption here, but remember where we were last year, the positive side, and let's move forward."
Unfortunately, like stated previously, most of the attention surrounding the Coyotes still deals with ownership issues. Potential buyer Greg Jamison has until Jan.31 to complete the purchase after already agreeing to an arena management deal with the City of Glendale.