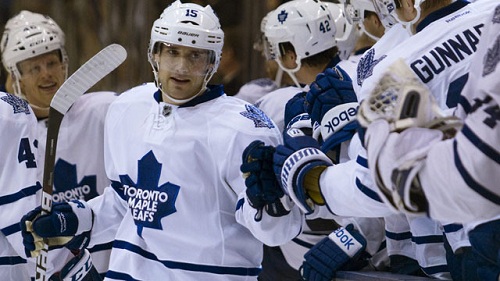 The Toronto Maple Leafs have cleared up the logjam of mediocre talent up the middle by sending Matthew Lombardi back to Phoenix Coyotes for a conditional fourth round pick in next years draft. The condition being that should the Coyotes re-sign Lombardi, the pick would turn into a third round selection. Here's what Coyotes General Manager Don Maloney said in a statement posted on the 'Yotes website:
"We are very pleased to bring a player like Matthew back to our team," said Maloney. "Matthew is a very strong skater will add quickness and skill to our lineup. He is an intelligent center who will be a great addition to our team and provides us with added depth at the center position."
Yawn.
Oh sorry, no disrespect to Lombardi, the Leafs or the Coyotes, but isn't the real news still waiting to happen? Essentially the deal is a cap clearance for the Leafs, who shed Lombardi's $3.5 million salary, and helps the Coyotes shore up the center spot. The Coyotes currently have Antoine Vermette, Martin Hanzel, Boyd Gordan and Kyle Chipchura, which is kind of like having Mikhail Grabovski, Tyler Bozak, Tim Connolly and whoever the Leafs want to play eight minutes a game on the fourth line. Mind you, I personally think Grabovski is better than all of the aboved named combined, but that's just one man's opinion.
Anyways, it's not like Toronto will greatly miss Lombardi, whose life as a Leaf consisted of a whole 62 games, 10 penalty minutes and 18 points, whoop-di-doo. The best thing Lombardi will be remembered for in Toronto is the fact that Cody Franson came over in the deal with him from Nashville. Of all the players in that deal -Brett Lebda, Robert Slaney, Franson and Lombardi- the only name ever remembered will be Franson, although the conditional pick Toronto sent might do something, some day, maybe.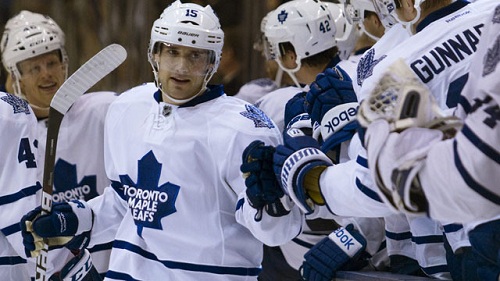 According to TSN's Darren Dreger, the Leafs will still have to pay the $500,000 signing bonus due to Lombardi, along with a portion of his salary they will pay for the year. Being able to pay part of a players salary after a trade is something that was included in the new collective bargaining agreement, and which some think Vancouver may have to do in any deal involving Luongo. Back to the Leafs though, this makes perfect sense as real money doesn't mean anything to the highest earning team in hockey (worth an estimated $1 billion by Forbes), but cap money means everything, and Toronto just freed up $3.5 million more.
While the Coyotes were barely over the cap floor of $44 million before the deal, the Leafs were close to the roof with a tad over $66 million. Now Toronto has a little bit more room with only $62.5 million committed, which means they have $9,046,667 to play with now. Not that I like to speculate (okay, maybe I do a bit), but that would leave the Leafs room to get a $5.3 million from Vancouver, not that I'm thinking of anyone in particular. Adding that $5.3 million would still give the Leafs $3,71,3334, enough to add a player of decent quality, and that number is only taking into account money coming from Vancouver, not money/players leaving Toronto in a potential deal.
Just saying it's really convenient is all.
(all figures found by using a calculator and www.gapgeek.com)