Featured
Post-Thanksgiving Reflection: Thankful or Cooked?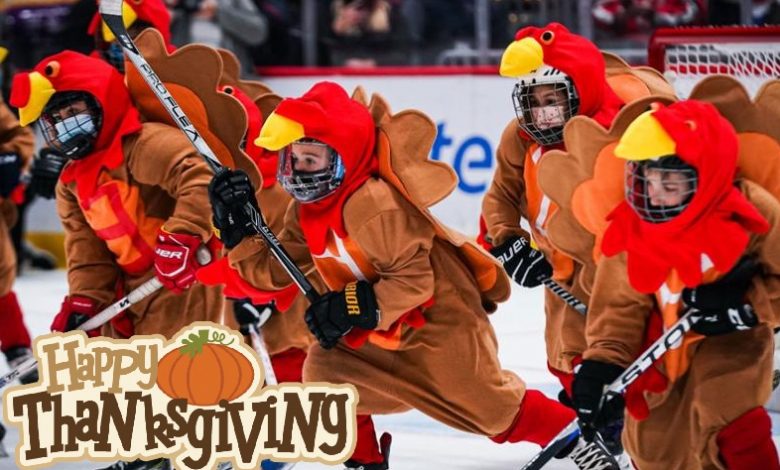 Thanksgiving is officially over.
Now that everyone has had their fill of turkey, stuffing, potatoes, and whatever ever else your family enjoys on Thanksgiving, we can start to reflect on each team's seasons so far.
Just as a fun thought exercise, we thought it would be the perfect time to review each team and see if they have something to be thankful for, or if their season is cooked.
Why is it the perfect time?
Two reasons really. For one, there's still enough teams in the race the 3/4 of the league has something to be thankful for. It's also great timing because Thanksgiving seems to be the first legitimate marker of a team's playoff chances each year. Consider this:
The Thanksgiving rule: 77% of the teams in Playoff position end up qualifying.

What team in the East may help break the rule this year?@Jackie_Redmond I @EJHradek_NHL I @mike_p_johnson I #NHLNow pic.twitter.com/e8Tu8RNzYe

— NHL Network (@NHLNetwork) November 25, 2021
So, yes, Thanksgiving is an awesome time to check in around the NHL.
We've broken down each team into the "thankful" or "cooked" category and did each category alphabetically so it will be easy to skip ahead and find your team. All stats are as of the morning of Friday, November 26th.
Is your team Thankful or Cooked?
Thankful

Anaheim Ducks: Troy Terry. What more can I say? The Ducks have come back down to earth a bit recently by losing their last three games. That said they still sit 11th overall in the league with a 10-7-3 mark. This may not last, but be thankful for the ride now!
Arizona Coyotes: The obvious choice here would be the cooked section. They are in the midst of a historically bad season. The difference is, they want to lose and be as high in the lottery as they can be. Tanking mission accomplished so far.
Boston Bruins: The Bruins are rounding into form, going 7-3-0 over their last 10 games. Yes, they currently sit two points out of a wild card spot, but they have at least two games in hand on everyone ahead of them in the standings. Oh, and they are very thankful Charlie McAvoy was fine after this:
Zemgus Girgensons ejected for boarding Charlie McAvoy. Thoughts🤔

— Everything Hockey (@EHClothing) November 25, 2021

Calgary Flames: Ever since Miikka Kiprusoff left the Flames have struggled in net. Not this year. Jacob Markstrom and Dan Vlader are the hottest tandem in the league. They are both top five league-wide in GAA, SV%, and shut outs. First in the division and fourth overall in the league isn't bad at all.
Carolina Hurricanes: 14-3-1. First in their division. 2nd in the NHL, and only two points behind Florida with a game in hand. Their defense hasn't dropped off after losing Dougie Hamilton. Their offense is steady. Frederik Andersen has been a rock in net. What's not to be thankful for?

Colorado Avalanche: This is an easy one. The Avs are quite thankful for Nazem Kadri. He's in the middle of a 21 point, 10 game point streak. Oh, and he has a five game multi-point game streak. Missing Nathan Mackinnon for three weeks is easier to swallow right now almost entirely because of Kadri's play.
Columbus Blue Jackets: The Jackets have to be thankful to be currently in the first wildcard spot in the East after an 11-6-0 start. Especially after having Patrik Laine go down for four-to-six weeks earlier in the season. Also, as much as losing Seth Jones might have hurt, Zach Werenski has stepped up big time in his absence.
Detroit Red Wings: Are the Red Wings going to make the playoffs? Probably not. That said, a .500 season (currently) is leaps and bounds ahead of their last few seasons. Moritz Seider and Lucas Raymond battling it out for the Calder Trophy is the stuffing in Detroit's season – that little bit extra to complete a thankful season.
Edmonton Oilers: The Oilers have lot to be thankful for, but Zach Hyman seems like as good a choice as any. Honestly, it feels like cheating to say Conner McDavid or Leon Draisaitl at this point (even if they;re leading the league in scoring). Hyman has lived up to his big deal so far, even if he's slowed down a bit recently (one point in his last five games). Still, Hyman's career highs are 21 goals and 41 points and he may beat those totals by the end of February at his current pace.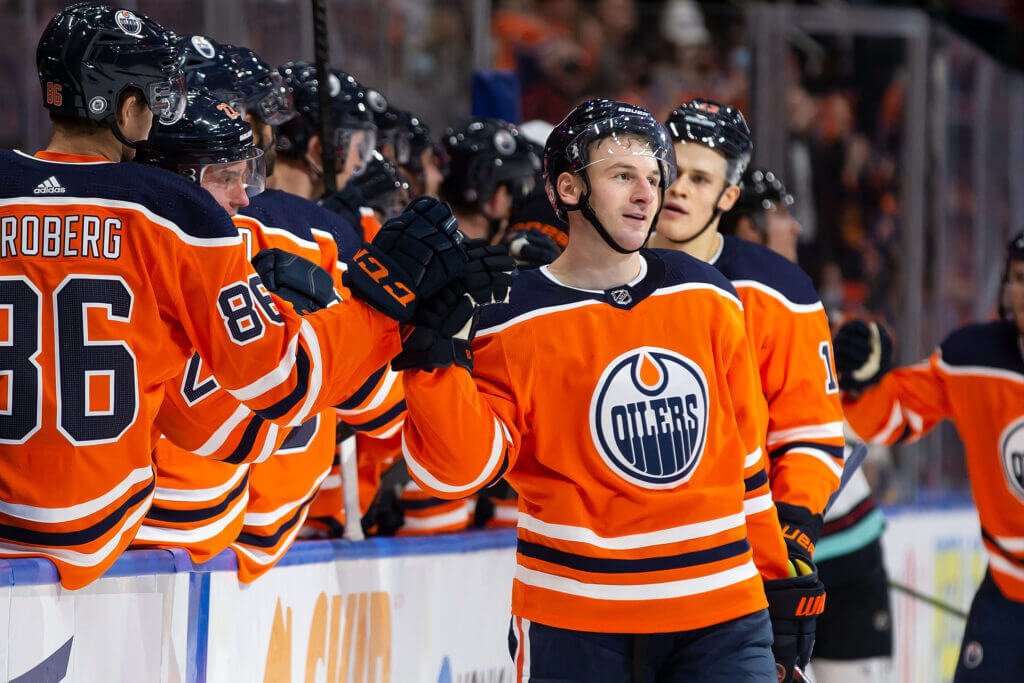 Florida Panthers: Teamwork. Florida has some star players for sure, but their first overall spot in the standings in in large part to a solid line-up top-to-bottom. This is further proven by the fact that despite leading the league in points, they only have two players in the top 40 league-wide in scoring. Plus, the team has stepped up mightily since Alexander Barkov's injury. Exhibit A: The team's current four game winning streak with Barkov out of the lineup.
Minnesota Wild: Just like the Panthers, the Wild are winning by committee. If you thought the Panthers having only two top 40 scorers was impressive, the Wild are even more impressive by comparison. That's because Kirill Kaprizov is the only Wild player in the top 70 in NHL scoring and yet the Wild still are first in the Central Division. A deep team built on playing the right way. That seems a good enough reason to be thankful this year.
Nashville Predators: I fully admit a bias when it comes to the Predators because I have Juuse Saros in my fantasy pool. Now that I have that admission out of the way, the Predators should be thankful that they still have a chance for the second wildcard spot in the West – in large part due to the play of Saros. Another reason to be thankful is the return of Filip Forsberg, who scored two goals after missing 9 games.
New Jersey Devils: The Devils have seemingly taken a step forward this season. Adding Tomas Tatar, Dougie Hamilton, and Ryan Graves will do that. Plus Dawson Mercer has proven to be fixture in the lineup with 12 points in his first 17 NHL games. The biggest thing the Devils have to be thankful for is that they currently sit only two points out of a wildcard spot with a game in hand on Pittsburgh. What's special about that? They've kept up with the competition despite missing Jack Hughes since the second game of the season – and he'll be back soon.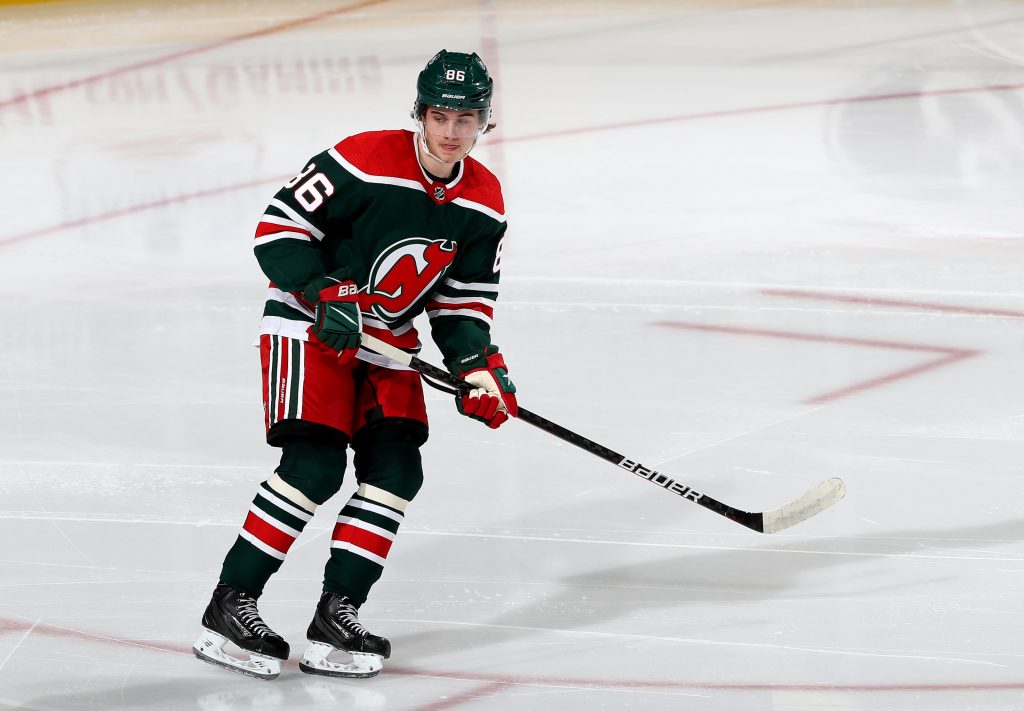 New York Rangers: There was a lot of talk that the Rangers maybe invested too much into grit after the Tom Wilson fiasco last season. The noise doesn't seem to be bothering them too much nowadays, as they sit comfortably in a playoff spot with a 12-4-3 record. The biggest reason for their hot start? Igor Shesterkin, who currently is tied for second in the league with 10 wins and has the 9th best save percentage – despite facing the sixth most shots of any goalie in the NHL.
Philadelphia Flyers: I was torn which way to go on the Flyers, but I'm going to go the optimistic route. Despite Kevin Hayes abdominal injury flaring up again and the team going 3-4-3 in their last 10 games, I have faith. Philly can be thankful their two biggest issues seem to be at least a bit resolved. The defense is improved and Carter Hart has been better this season. Plus James van Riemsdyk can't be stuck at two goals all season, can he? The Flyers are only a couple of points of out a playoff spot and have the second-most OT losses this season, meaning another bounce or two their way and all the pessimism around the team disappears.
Pittsburgh Penguins: Tristan Jarry. There's not much else to say about why the Penguins are thankful. His future was certainly in question after last season and his disastrous playoffs. This season he's top 10 in GAA and SV%, plus he's tied for third with 9 wins this season, keeping the team firmly in the playoff picture even while Evgeni Malkin continues to miss all of the season so far and Crosby is just shaking off the rust.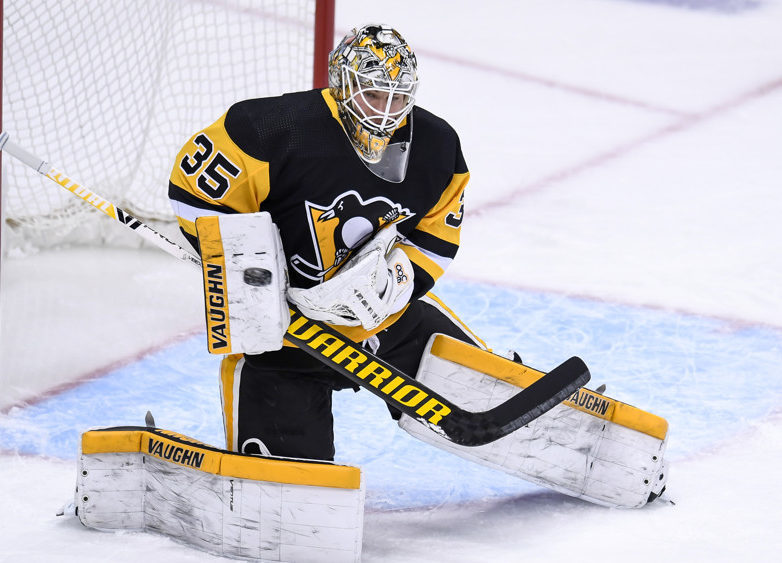 San Jose Sharks: The Sharks have played like they have a weight off of their shoulders while Evander Kane has been out during his suspension. The true test is still to come as the suspension nears its end, but the Sharks organization can be thankful the Kane era, and all of it's drama, is nearly over. And in hockey news, even though Adin Hill hasn't worked out as expected (.890 SV%), at least James Reimer has been a steadying presence in net (.936 SV%).
St. Louis Blues: Ryan O'Reilly is struggling to find his groove a bit and Brayden Schenn just returned from a nine game absence, but everything else is clicking in St. Louis. Youngsters Jordan Kyrou and Robert Thomas are first and third in team scoring respectively. Vets David Perron and Brandon Saad are chugging along. Vladimir Tarasenko has found his scoring touch again. Jordan Binnington has done well in net, but backup Ville Husso has been a bit of a revelation as well. So there's a lot to be thankful for in St. Louis right now.
Tampa Bay Lightning: Losing Nikita Kucherov and Brayden Point long-term isn't something anyone would hope for. But after two long playoff runs, maybe having a couple of your biggest stars take a breather during the grind of the season isn't such a bad deal. Plus of everyone on this list Tampa has the most to be thankful for. Back-to-back. That is all.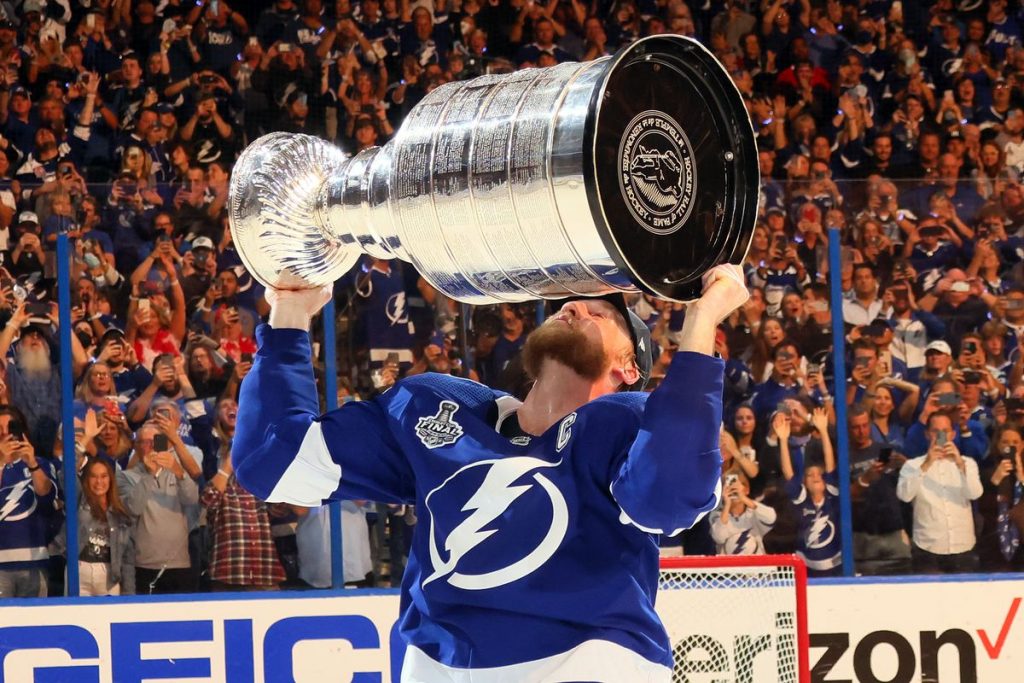 Toronto Maple Leafs: The Leafs have won 12 of 14 and sit second in the Atlantic Division and fifth in the league, so you know they had a great thanksgiving. What are they most thankful for? Jack Campbell. While the offense sputtered along (until a recent 6-2 drubbing of the Kings) and the defense was trying to get their act together, Campbell held the fort for Toronto. Amongst goalies with at least 10 games played, Campbell leads the league with 11 wins, a 1.68 GAA, and a .943 SV%. The Leafs have a legitimate Vezina candidate for the first time since Cujo.
Vegas Golden Knights: The Knights withstood the storm of having captain Mark Stone and Max Pacioretty miss large chunks of time. They are sitting in third in the Pacific after just getting those two back, and have gone 7-3-0 in their last 10 games. They are starting to look like legitimate contenders again. By the way, all of this is with Chandler Stephenson as their first line center. They'll only get better when Jack Eichel comes back sometime after the Olympics.
Washington Capitals: Holy Alex Ovechkin. The face of the franchise is not only chasing Gretzky's goal scoring record with 15 goals in 20 games, but is racking up the assists too. He as 18 assists to make his point total 33 in those 20 games, good for third overall behind Draisaitl and McDavid. Plus Evgeny Kuznetsov stopped partying and getting Covid long enough to remember to play hockey and he sits fifth in league scoring (24 points in 20 games). John Carlson happens to be only one point (18) behind Norris-winner Adam Fox (19) for the defenseman scoring lead. And all of this is without Nicklas Backstrom, who is back to skating with the team and may return sooner than later.
Winnipeg Jets: The Jets are definitely thankful for Kyle Conner. He seems to be singlehandedly willing the team to victory some nights. He sits seventh in league scoring with 22 points in 20 games. If the resurgent Pierre-Luc Dubois can keep it up (16 points in 19 games) and Mark Scheifele can stay in the lineup (he has missed games due to Covid protocols and suspension this season) the Jets have a shot to go on a run this season.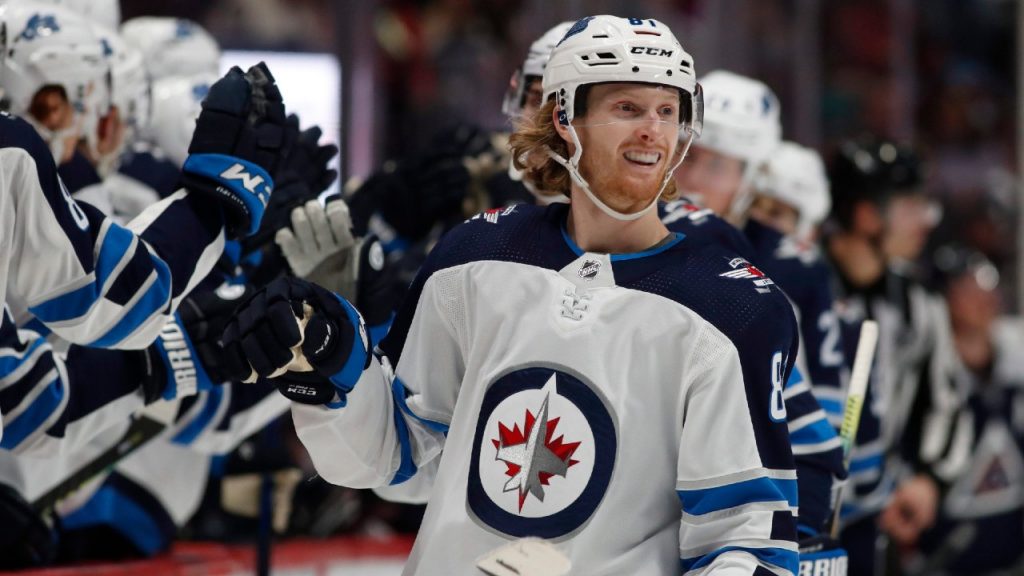 Cooked
Buffalo Sabres: They say it's the hope that kills you. The Sabres pulled a Sabres. They won five of their first seven and have since dropped 10 of their last 12. There's not much else to say, even if Don Granato at least has the team giving full effort each game.
Chicago Blackhawks: This season will always be marred by the Blackhawks scandal. Karma may be getting back at them in the form of a second-to-last place currently in the division only above the lowly Coyotes. The difference is the Coyotes are trying to be bad. You don't get Seth Jones, Tyler Johnson, and Marc-Andre Fleury to tank.
Dallas Stars: This may seem a bit premature, but remember that stat about 77% of teams in the playoffs by Thanksgiving end up making it? Ya, it doesn't look good for Dallas right now. With 11 teams ahead of them in the standings, the hole is getting deeper and deeper every day.
Los Angeles Kings: The defense seems shaky this year, partially due to the absence of Drew Doughty. In fact, until Sean Durzi scored in Wednesday's 6-2 loss to Toronto, Doughty was the only LA defenseman to score all season. And he's only played four games so far this season. Although LA seems destined to improve on their last few season, I can't justify putting them in the thankful category when Dallas is in the cooked section and they're only a couple of points behind with two games in hand. The same rules apply, there's just too many teams in front of them.
Montreal Canadiens: Carey Price might come back soon, that's about all Montreal has to be thankful for this season. Price hasn't played yet, Shea Weber is out forever most likely, and Calder hopeful Cole Caufield had to be sent to the minors. You can say your season is officially cooked when you're only two points above the hard tanking Coyotes, good enough for third worst team in the league.
New York Islanders: The New York Islanders are currently last place in the Metropolitan Division after losing 11 of their first 16 games. The Covid Protocol has cut deep on the Isles, as they are currently without captain Anders Lee, Josh Bailey, Kieffer Bellows, Ross Johnson, Adam Pelech, Zdeno Chara,and Andy Greene. Oh, and defenseman Ryan Pulock is out 4-6 weeks with a lower body injury too. It's hard to write off back-to-back Easter Conference Finalists, but the Isles may have dug themselves too deep a hole to crawl out of this season.
Ottawa Senators: Oof. That's all I can say to describe the Senators season so far. They are last in the league (albeit partially because they missed a week's worth of games) and are still dealing with a Covid outbreak that sidelined a third of the team. 4-12-1 on the season and 1-8-1 over their last 10 screams write-off season.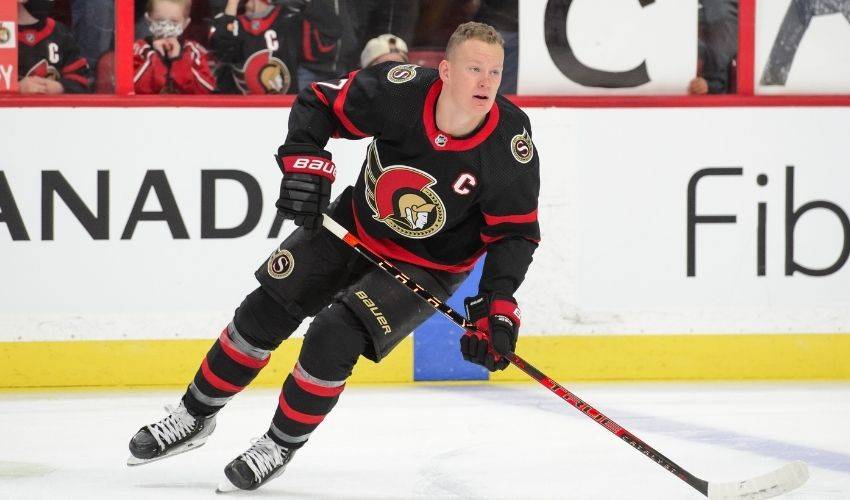 Seattle Kraken: Philipp Grubauer was a shoe-in Vezina finalist last season. This season he is full of holes, and backup Chris Driedger isn't faring much better. Seattle is further proof that Vegas was the outlier, not the norm. Expansion teams are back to sucking again, as the Kraken's 6-12-1 record (second worst in the Western Conference) shows.
Vancouver Canucks: The team is spiraling downward. The defense is shoddy at best. The offense can't score and Elias Pettersson looks like a shell of himself. Head coach Travis Green may get fired. GM Jim Benning should be fired. The owners are in disagreement as to what needs to be done. All-in-all the Canucks look like a rudderless ship and their season is not only cooked, but burnt.
Whether your team is thankful or cooked, hopefully you had a great Thanksgiving!