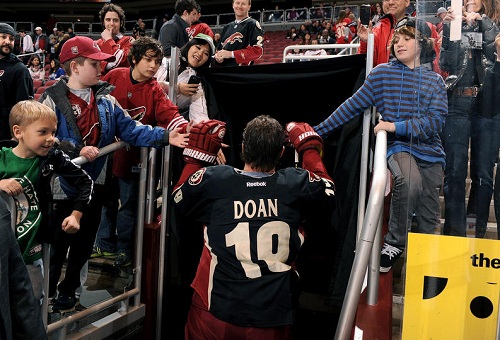 Do you remember those "Choose Your Own Adventure" books you used to read as a child that provided options for different endings? It would be up to you, the reader, to make a choice on which way you wanted the narrative to go. Well, in the latest twist to the Phoenix Coyotes story it looks like we took a wrong turn.
Before we delve into the saga of the Coyotes ownership though, let's look at the last four games that the 'Yotes have played.
Mon, Jan. 28th vs. Nashville- Monday night the Nashville Predators made a trip out to Glendale to take on the Coyotes for the first time this season. With Mike Smith still out with a pulled groin, Phoenix has been forced go with backup goaltender Jason LaBarbera and also called-up Portland Pirates Chad Johnson. Johnson started in net against the Preds last week, only the seventh appearance of his NHL career (and first start in nearly three years), and what a wonderful game he had. With his first career shutout 26-year old Johnson led the Phoenix to a 4-0 win over Nashville. Goals for the 'Yotes were scored by Antoine Vermette, Lauri Korpikoski, Nick Johnson, and Keith Yandle.
---
Wed, Jan 3oth vs. Edmonton- Coyotes Head Coach Dave Tippett decided to once again start AHL call-up goalie Chad Johnson in this last Wednesday night's game against the Edmonton Oilers. Although Johnson did not have another shutout, he played well in net and made 19 saves (21 SOG). It was in the regular, or not-so-regular, lines that the Coyotes had difficulties. Without five skaters including leading scorer Steve Sullivan (lower-body injury). Tippett was challenged with mixing and matching lines all night. Devan Dubnyk also played well in his net, standing on his head for all but a moment, and it was Edmonton left winger Lennart Petrell who scored first at 4:51 into the game. In a successful last ditch effort to tie the game Phoenix swapped one Johnson for another goaltender Chad Johnson was pulled to sub in an extra attacker, and Nick Johnson got the rebound to end the game 1-1. Three minuted into OT the Oilers earned their 2-1 victory with a swat-out-of-the-air goal by Nail Yakupov.
---
Fri, Feb 1st at Dallas- The first day in February brought about the first of back-to-back games with the Dallas Stars. Once again the Coyotes were outdone by veteran Jaromir Jagr who delivered the game-deciding goal in the fourth round of the shootout before 18,181 at American Airlines Center in Dallas. It was the Stars who led 2-0 in the first period thanks to the first NHL goals by Antoine Roussel, making his NHL debut, and rookie defenseman Brenden Dillon. After being bothered with injuries, Coyotes Martin Hanzal came back strong with two goals while Oliver Ekman-Larsson had two assists.
"He was a good player for us tonight," Coach Tippett said of Hanzal. "He was a guy that was questionable whether he'd be in the lineup or not. He gave us a heck of a game."
The additional goal scorers for each team were Radim Vrbata for the 'Yotes, his third of the season, and Michael Ryder who has been playing phenomenally for the Stars. Mike Smith rejoined his team again on this road game and after missing four games stopped 21 of 24 shots. Not too shabby. Stars goaltender Kari Lehtonen made 31 of 34 saves in the game. Pretty much all boiled down to the SO for this game. Vrbata had one for the Coyotes, but then one from Jamie Benn and the final from Jagr, and the Stars snapped a four-game losing streak by beating Phoenix 4-3.
---
Sat, Feb 2nd vs. Dallas- Both teams flew back to Phoenix for round two on Saturday, and this time the Coyotes pulled together all the pieces they needed to pull out a win. With Mike Smith back in business and Raffi Torres finally done with his 21-game suspension the team came together and took down the Stars 2-0. Highlights from the game included:
Smith stopping all 17 shots he saw and

Coyotes holding off all shots from Dallas for 17 minutes in the second period

Nick Johnson with yet another goal, this time a sweet wrister from the high slot
Power play goal from Mikkel Boedker who posted up in front of Stars goalie Richard Bachman (first start of the season)
---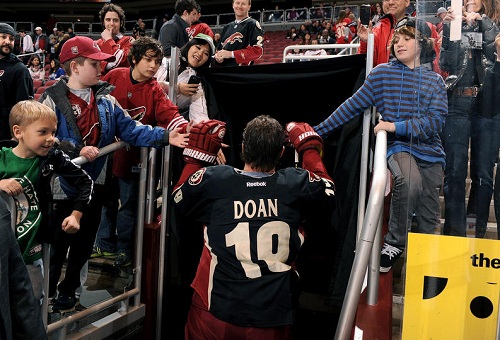 Now, let's take a look at what page of that aforementioned adventure book the Coyotes organization flipped to this week.
Last Thursday potential buyer Greg Jamison, former CEO of the San Jose Sharks hockey franchise, failed to purchase the Coyotes from the National Hockey League. The deadline passed for the lease agreement which would have secured a 20-year deal for the Coyotes use and manage the Glendale city-owned Jobing.com Arena. This has now opened the door for other possible owners to deal with Glendale or NHL. Speculation circles the media as to what will happen next. Possible scenarios include moving to a new location or, as the Coyotes announced on Friday, further conversations to keep the team in Arizona.
It seems unlikely that the city will allow any more time for a new deal to formulate, but Jamison has said he will continue his efforts to buy the team. Whispers floating around the internet mention that a new relocation bid is taking shape but again no one knows if these are facts or fiction. If the team did in fact relocate, the top picks seem to be Seattle, Quebec City, and Portland, where an NHL-ready arena waits patiently. Rose Garden Arena, home to the Portland Trail Blazers (NBA) and Portland Winterhawks (WHL) could be a potential new home for Shane Doan and his 'Yotes, as Winterhawks owner Bill Gallacher has reportedly expressed interest in the team.
---
Tonight the Coyotes take on the Minnesota Wild at Jobing.com Arena. Steve Sullivan is scheduled to be back on the ice tonight for the Coyotes. It should be an interesting evening, especially if Minnesota's newly acquired Mike Rupp plays. Tune in at 7pm (MST) to catch the action.