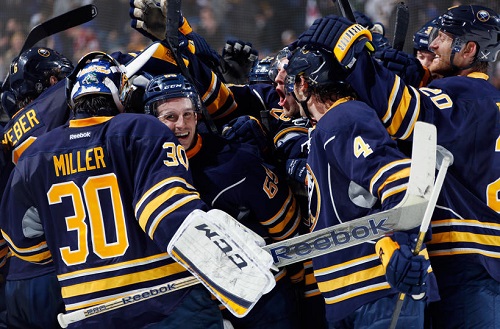 It has been an interesting 1st half of the season for the Buffalo Sabres. Buffalo didn't get a win until their 8th game of the season, almost 2 full weeks in! Then in November, the long overdue firing of GM Darcy Regier occurred. Head coach Ron Rolston was also let go and owner Terry Pegula brought back Ted Nolan to coach the team. Pegula also hired fan favorite Pat Lafontaine as President of Hockey Operations. Here is a look back of what has happened so far for the blue and gold.
Darcy Regier gone:
Darcy Regier was a fixture for the Sabres, being part of the team for over 15 seasons. In that time Regier was able to survive various owners (John Rigas and Tom Golisano). Regier has been criticized for his lack of moves and letting players go over his tenure. Players who departed under Regier include Chris Drury, Daniel Briere, Brian Campbell, Jason Pominville, and Jay Mckee just to name a few. During the early part of this season, chant of "Fire Darcy" could be heard at Sabres home games. Lafontaine is currently in the process of finding and hiring a new GM.
And Ron Rolston too:
Hired after the firing of long-time coach Lindy Ruff during the lock-out shortened season, Rolston actually posted a winning record last season of 15-11-5. However, he was 4-15-1 and lost control of his team. There seemed to be no effort from the players. He has done a good job in the past with developing younger players so perhaps a return to coaching in college would suit him well.
Ted Nolan:
Many fans thought that Ted Nolan got a raw deal back in the 90s after having one of the hardest working teams in the NHL. For him, it must have been ironic to be hired at the same time when Regier was being let go. There has been a huge change from the Sabres since Nolan's return. Buffalo is 6-9-3 in 18 games under Nolan. Players are working harder and the results are there. While goal-scoring still has been a problem, perhaps a little bit of more time of teaching his systems will allow for more scoring.
Pat Lafontaine:
Fan favorite Pat Lafontaine returned to Buffalo as President of Hockey Operations. He is currently in the process of finding a new GM. Between him and Ted Nolan, there has been a lot more energy with the team.
Forwards
Well, where to start? Thomas Vanek was traded to the New York Islanders primarily for Matt Moulson. Moulson has 17 pts in 28 games with the Sabres, which is good for 2nd on the team. The biggest issue with the Sabres has been scoring, or lack thereof. The Sabres have scored a league worst 72 goals. Not one Buffalo forward has broken the 10-goal barrier. Cody Hodgson was having a good season until he suffered an injury. Zemgus Girgensons has been one of the hardest-working players on the team. Drew Stafford and Ville Leino have a combined 4 goals (all Stafford) and make $8.5 million together. Look for one or both to be traded or bought out. Highly touted draft-pick Mikhail Grigorenko had 2 goals in 18 games before being sent back to his Juniors team.
Defensemen:
Christian Ehrhoff has been a horse, leading all Sabres skaters in minutes. He is also currently 4th on the team in points with 14. It has been interesting to see the play of Tyler Myers. While he has 12 points, he is also -15. Myers had won the Calder Trophy in his rookie season but his play has slip since. If he could get back to his play of rookie season, it would make a huge difference on the blue line.
Goaltending
Ryan Miller has been playing quite well. In fact, he played his way onto the U.S Olympic team. Miller has a 2.70 G.A.A and a .926 Save Percentage. He had 49 saves in a late December game against the Washington Capitals. There have been trade rumors about Miller but it will be up to him if the Sabres re-build will be short and he'll want to stay. He could also request a trade and go to a contending team and fulfill every player's dream of hoisting the Stanley Cup.
Jhonas Enroth's record does not reflect his play. While he is 1-8-3, he actually has a better G.A.A (2.60) than Miller and his save percentage is .910. If Miller gets traded, he most likely would be the starting goaltender. Look for Enroth to get some more playing time before the Olympic break to let Miller be fresh for the Olympic Games.
Outlook:
What started out as a dismal year is still a dismal year. However, with Nolan leading the way, the team has actually been playing better. If the team would score more goals and Miller keeps playing well, the team might actually climb out of the NHL's basement. I think the team will have a better 2nd half record than their 1st half. It will be interesting to see what happens at the trade deadline and who Lafontaine hires as GM. In the meantime, keep filling the seats and keep cheering on the Sabres!