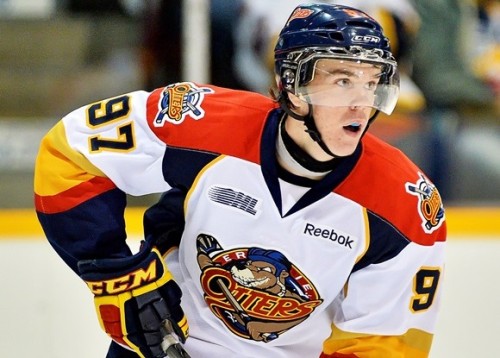 If you thought there was a lot of hype in the 2014 NHL Draft, just wait until the 2015 version. Connor McDavid is expected to be the number one overall pick in next year's draft. The Buffalo Sabres are not expected to be good this year again.
Buffalo recently announced that they will host McDavid's Erie Otters team to play against the Niagara IceDogs of the Ontario Hockey League (OHL).
Wait, an NHL team is hosting a junior game?
The Sabres might be bad again and will want McDavid?
For as long as I have been a Sabres fan, I can never remember 2 OHL teams playing at an NHL rink. The Sabres might finish with the worst record in the league for a second consecutive year. Why not showcase the best player in the upcoming draft?
The Sabres will not be particularly strong between the pipes. Jhonas Enroth and Michel Neuvirth are both good goalies, they are not elite goalies. Both will probably have a G.A.A of around 2.75 or higher this year. The Sabres don't score…period. They were shutout 10 times last season. As a team, they scored 150 goals last year. 150!! That was 38 less than the 29th ranked team in the league.
While the Edmonton Oilers had the "Fall for Hall" (Taylor Hall) and "Fail for Nail" (Nail Yakupov) campaigns, it didn't necessarily help their franchise to get to the promise land. If Buffalo is going to be terrible this year, hopefully they can draft McDavid.