Featured
2013-14 Lucky Guess—er, Prediction/Preview Thread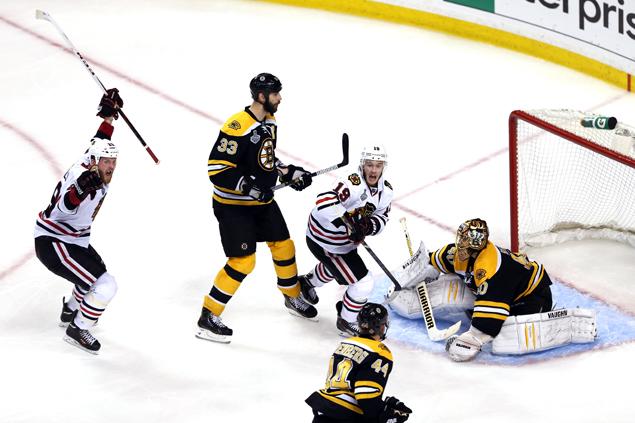 Never thought we'd all make it, but here we are: Day 1 of an 82-game regular season, set to start in a little over half an hour with the season kicking off with a good one: the Leafs vs. the Habs (so, it could be anywhere from half an hour to two hours until the season starts pending Montreal's inevitable lengthy pregame ceremony). So many things set to happen: goals to be scored, saves to be made, "so-and-so sucks!" chants to be screamed, and Bettmans to be booed. And the best part is: anything can happen, and we have no idea how the season is going to shape. It's like Christmas, or Hanukah, or whatever else you celebrate, and it lasts nine months.
Everyone loves to make predictions, and that's exactly what I'll do. So, like most "experts" out there, I'm going to pull a bunch of names and ideas from my ass and hope I'm in the general vicinity of being right, and if I end up being dead wrong, I can just say "Welp, who could have predicted this-and-that?" and if I'm right, I can gloat shamelessly. My predictions can't be any worse than Barry Melrose's…can they?
East standings (asterisk indicates playoffs; rankings in terms of points, not necessarily seedings):
1) Bruins*
2) Penguins*
3) Red Wings*
4) Rangers*
5) Blue Jackets*
6) Capitals*
7) Flyers*
8) Islanders
9) Leafs*
10) Senators
11) Canadiens
12) Lightning
13) Devils
14) Sabres
15) Hurricanes
16) Panthers
The Islanders will be the unfortunate victims of the new realignment playoff selection system, finishing eighth in the conference in points but just missing out because of a strong division that's pretty well-balanced. Conversely, the Leafs will make the playoffs on virtue of placing third in a weak division that's very top-heavy. The Bruins, Penguins, and Red Wings will claim the top three seeds with ease while the rest of the spots are up for grabs. Don't be surprised if any of my 4-8 picks miss the playoffs altogether and any of the 9-13 teams grab a spot (keeping in mind the new wild card system). Also expect teams who just miss the playoffs and their fans to complain how the system is unfair and biased towards the West (16 teams instead of 14).
West standings:
1) Blackhawks*
2) Sharks*
3) Kings*
4) Blues*
5) Wild*
6) Canucks*
7) Ducks*
8) Jets*
9) Coyotes
10) Predators
11) Stars
12) Avalanche
13) Oilers
14) Flames
I can't see the Blackhawks not destroying anyone who takes to the same ice. The Canucks will start slow and get hot midway through the season when they adapt to the new system, then start crapping out later in the year when they're hurt, tired, and sick of new coach John Tortorella's crap. They could jump up or down several spots, though. The Kings and Sharks obviously have the talent, and the goaltending apparently, to easily secure spots. The Jets should be rejuvenated by having a travel schedule that isn't the most unfair disadvantage in all of sports. My 12-14 picks are pretty self-explanatory. Can you name three players on Calgary off the top of your head?
Division Champions:
Atlantic: Penguins Bruins
Metro: Penguins
Central: Blackhawks
Pacific: Sharks
East champs (after playoffs): Boston Bruins
West champs: Chicago Blackhawks
Stanley Cup Champions: Boston Bruins
Not exactly groundbreaking picks, but I'm calling for a rematch of last year's Finals. The Blackhawks are just such a talented team in every aspect of the game and shouldn't have much trouble tearing through the West. Pittsburgh might be able to take them on if Marc-Andre Fleury's sports psychology sessions went incredibly well, but it's still very doubtful, especially considering that they scored just two goals in four games last year against a Bruins team that's only gotten better. New-guy Detroit would be the biggest challenge for Boston if that matchup ever happens. The Bruins are a better team than they were last year with the additions of Iginla and Loui Eriksson (they overcome the losses of Nathan Horton and Tyler Seguin, who was not a playoff performer), and with some promising young defensemen who might be able to help Chara and Seidenberg chew minutes. Their power play should be better with the additions. The changes should be enough to topple the Blackhawks, but it would be a great series.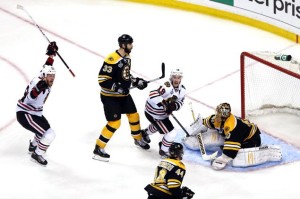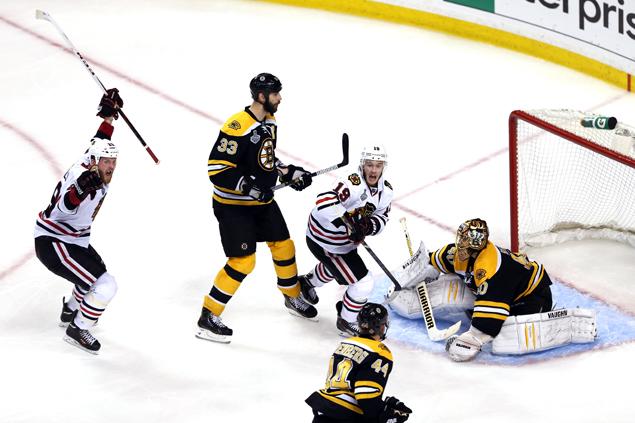 Trophies:
Art Ross: Sidney Crosby
Hart: Sidney Crosby
Rocket Richard: Patrick Kane
Norris: Duncan Keith
Selke: David Backes
Vezina: Tuukka Rask
Jack Adams: Todd Richards
Conn Smythe: Patrice Bergeron
Calder: Seth Jones? I have no idea. Playing alongside Shea Weber won't hurt.
Other predictions:
Tim Thomas plays exceptionally well for the first 10 games of the season, then mysteriously disappears, never to be heard from again.
Ray Emery plays well enough to not warrant the wrath of Flyers fans, but it's only enough to claim the seventh-best record in the East.
Martin Brodeur gets injured shortly after the season begins, and Schneider plays well enough to take over the starting role for the rest of the season by the time Marty returns.
The Senators miss the playoffs, which is worth mentioning only because it seems like people think they are going to do well.
The NHL revokes the rule in which players are forbidden from removing their helmets during fights because those crafty bastards find legal ways to do it anyway.
The Sharks, with the second-best record in the West and the #2 seed, lose in five games in the first round of the postseason.
The newly named Arizona Coyotes draw fans at a more respectable rate thanks to some solid marketing efforts.
24/7: Road to the Winter Classic is more awesome than ever. Phil Kessel turns out to be likeable guy, or at least is portrayed in that manner.
The league immediately realizes its mistake to have so many outdoor games when their ratings are crap.
Torts tries to get Luongo (@Strombone1) to lock his Twitter account when he struggles, but Roberto claims that there's really no way of knowing who owns or controls that handle, citing his avatar, a shadowy goalie figure with a question mark on it, as evidence.
The Oilers, with the fourth-worst record in the league, find a way to return to their glory days and snag the #1 overall pick in the 2014 entry draft.
Ranger fans call for Alain Vigneault's head after the Rangers go down 1-0 in the first period in their season opener.
For no reason in particular, the league sees a noticeable decline in dirty plays and cheap shots. It just feels like that kind of year…maybe my optimism is fueled by the ecstasy of a brand new year, but let's hope.
Also, as a bonus, here's a list of Cup predictions from the rest of our staff (including me). The first number is the amount of times they were picked to win it all, and the italicized numbers following represent the amount of runner-up/loser votes that team received:
Bruins: 6,1
Penguins: 2,1
Sharks: 2,0
Blues: 1,5
Senators: 1,1
Red Wings: 1,0
Blackhawks: 0,4
Kings: 0,1
What did we learn from these numbers? Well, for one, our staff is a bunch of homers. Also, while people expect the Hawks to be great, nobody thinks they can repeat, and we think that the team they beat last year, the Bruins, will make up for last year's disappointment; in fact, 3 of 13 of the people who voted picked the Bruins to win a rematch against the Hawks this year. Additionally, we think the Blues are choke artists.
What do you think? Who's your pick to win it all? To finish dead last? Any crazy predictions you want to throw our way? Don't worry, you won't be judge, anything goes!