Featured
Possible destinations for players on the block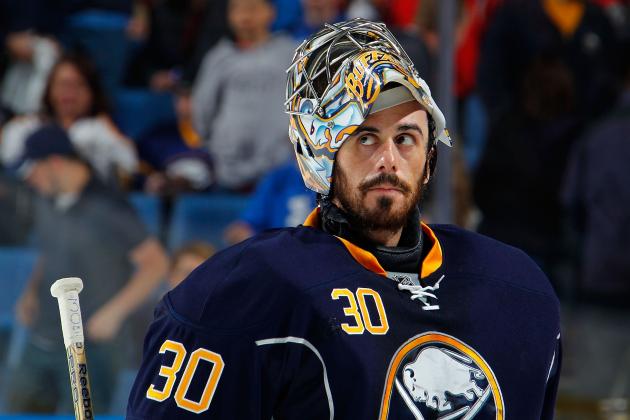 With the trade deadline just eight days away (as of Feb. 25), we're nearing one of the most exciting segments of the season. Prepare to have your message boards filled with rumors, Twitter flooded with premature "done deal" claims, and hearts filled with sadness about all the desperate people out there vying for attention by making stuff up. Here are the noteworthy players that have a high chance of being moved (per rumors) by the deadline, and where they should go as well as my prediction to where they will probably* end up.
*"Probably" is used here the same way "literally" means "figuratively."
Ryan Miller (Buffalo Sabres)
As the most notable soon-to-be-moved-if-management-doesn't-blow-it player, Miller is one of the best goalies in the league, stuck with an atrocious team. The Sabres are dead last in the league in scoring, averaging an embarrassing 1.82 goals per game while allowing 2.95 goals per game, meaning they average a negative-one goal differential every single game. But that's not Miller's fault. Buffalo has just 15 wins in 57 games, and what's worse is that only nine of them have not come the shootout: that means they win just 15.9% of their games in regulation or overtime. Also, fun fact: the Sabres have just one other goaltender who has recorded a win this year…Jhonas Enroth with a whopping one win…he's started in 18 games thus far. Still don't think Miller makes a difference? The Sabres are all but mathematically eliminated, and at 33 years old, Miller has no reason to stay on this awful team. He'll warrant a high return.
Where he should go: It's hard to find many contenders that need goaltending, but St. Louis comes to mind – not immediately, since the Blues are third in goals against per game at 2.32, but that's more the product of team defense than goaltending. Jaroslav Halak and Brian Eliott have shared the role over the past few years, each winning the Jennings Trophy for goalies that let up the fewest regular season goals, but that tandem could use improvement. Philadelphia is also viable, but they probably aren't serious contenders this year, so an expensive rental doesn't make sense.
Where he will probably go: This is a tough one. I'll stick with St. Louis since that's the only serious contender that could use an improvement in net. The Blues could move the odd man out (probably Eliott) and get a decent return for him as well. They just have to hope that Miller can perform like he did in his latest real playoff test, which happens to have been four years ago in Vancouver that earned him a silver.
Where the funniest would be: Buffalo. Poor Ryan Miller. He wants nothing else than to get as far away from Buffalo as possible, but the incompetency of Sabres management keeps him around as if he did something terrible to the owner to deserve such a cruel fate.
Thomas Vanek (NY Islanders)
Having turned down a $50 million, seven-year extension from the struggling Islanders whose season was ended with captain John Tavares's injury in Sochi, this scorer is likely to be moved for the second time in one season. The Islanders can't risk letting him walk for nothing with high odds of him not re-signing in the offseason.
Where he should go: Vanek's talent is a great addition to any contender that needs top-line help. So, anyone but the Penguins.
Where he will probably go: Los Angeles. The Kings are contenders once again, but seriously lack offensive talent on the wings. In fact, their highest-scoring left winger, Dwight King, has just 23 points in 59 games! Despite being currently sixth in the East, they're actually 29th in goals per game (2.25), which is essentially last since the Sabres don't count. Vanek immediately makes the defensively strong Kings (first at 2.10 goals against/game) a threat to come out of the West.
Where the funniest would be: Back to Buffalo. Also he's traded for Matt Moulson, who's also on the block (he was a part of the Vanek to the Islanders trade).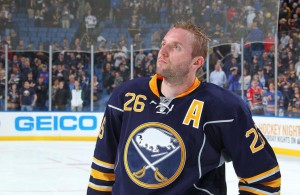 Andrew MacDonald (NY Islanders)
Similarly to his current teammate, MacDonald turned down an offer from Isles' GM Garth Snow to stay with the team, reportedly rejecting a deal that would pay him $4 million a year over four years. What's going on with the Islande—oh, never mind.
Where he should go: MacDonald can eat up minutes; he's currently eighth in the league in average TOI per game (25:33). That sounds like a perfect match for the Bruins, who have lost workhorse Dennis Seidenberg for the season. His -16 might be the second worst on the Islanders, but let's ignore that for now. The Bruins may instead go after someone not obviously on the block, but MacDonald probably won't cost much, and would add some much-needed depth to a team looking to make another Cup run.
Where he will probably go: Tampa Bay. The Lightning are looking to make some noise this year, and they could sure use some support on the back end. They currently don't have any players averaging more than 22 minutes per game, and adding extra minutes on the blueline would help ease the pressure off some of their young D, especially come playoff time.
Where the funniest would be: Edmonton, because the notion of the Oilers playing defense is comical.
Ryan Callahan (NY Rangers)
A UFA at season's end, Callahan is reportedly asking the Rangers for seven years at $6.5 million, and there's no way the Rangers can afford to pay someone like Callahan that much money with their current cap situation. While Callahan is the captain and fan favorite, he's injury prone and is not the best offensive powerhouse. The Rangers are better off spending money on a defender like Dan Girardi.
Where he should go: Tampa Bay. Not because of the St. Louis for Callahan rumors, but the Bolts are missing that effective jack-of-all-trades grinder that can shut down opponents while providing a physical presence (sorry Ryan Malone, you don't count), and Callahan would sure up a poor penalty kill. He'd be a good leader on a young team that's soon to lose its veteran captain.
Where he will probably go: Nowhere. It's hard to see the Rangers moving their captain, even if it makes the most sense.
Where the funniest would be: Vancouver. I'm sure Callahan loved being freed from the tyrannical block-shots-or-die mentality of John Tortorella, so holding out for a better deal only to be moved back to the reins of his former coach would be horribly amazing.
Martin St. Louis (Tampa Bay Lightning)
He's only mentioned here because his name was brought up in rumors. But does it make sense for Tampa to trade the 38-year old?
Where he should go: Nowhere. There's no reason for a young team on the rise to trade the franchise's best all-time player. Stamkos is coming back and the team can make some noise, now that they have solid goaltending with Ben Bishop.
Where he will probably go: Nowhere. The rumors started when St. Louis was [justifiably] upset after being snubbed for Team Canada's Olympic roster in favor of players like Chris "Captain Chemistry" Kunitz, but it seems cooler heads will prevail.
Where the funniest would be: Boston, so he can play together with resident giant Zdeno Chara and have adorable goal celebrations.
Viktor Fasth (Anaheim Ducks)
After being injured, the former starting goalie for the Ducks has been usurped by the younger Frederik Andersen. Since they also have the other former starter, Jonas Hiller, who doesn't appear to be moved soon (and who had one hell of an Olympic performance), it doesn't make sense to keep two older goalies (31 and 32) when Andersen is just 24.
Where he should go: He's no Ryan Miller, but any playoff team short on goaltending could use Fasth.
Where he will probably go: Philadelphia. They can say that they're happy with Ray Emery and Steve Mason all they want, but the reality is that neither is going to get the team very far into the playoffs, assuming they make it. Fasth is signed through the next year as well for a relatively cheap $2.9M cap hit, so it makes sense to acquire him, who will be much cheaper than Miller, and move/demote Emery or Mason.
Where the funniest would be: Philadelphia, because any time a goalie heads to Philly, a circus ensues.
Mike Cammalleri (Calgary Flames)
High cap hit + expiring contract + solid scorer + struggling team = trade bait. He wouldn't cost much and Calgary would probably be happy just to get some prospects in return.
Where he should go: Cammalleri would be a decent fit on most teams. I know, I might as well just have said nothing.
Where the funniest would be: Montreal. Remember when he was literally traded in the middle of a Habs game and was told to leave after the second period? I'm sure he'd love to go back there.
Where he will probably go: Montreal. The Habs can use another scorer, right?
Steve Ott (Buffalo Sabres)
It doesn't seem like there's much reason to keep around anyone over the age of 30 with an expiring contract on this horrendous Buffalo team. Might as well get something while you can, and Ott would bring in a decent return.
Where he should go: He's loud, he's obnoxious, and he has a tendency to cross the line. Yep, any team would love to have Steve Ott on their squad.
Where he will probably go: The seventh circle of Hockey Hell.
Where the funniest would be: [Insert your team here]. Nothing about Steve Ott is funny unless he's wearing your favorite team's colors.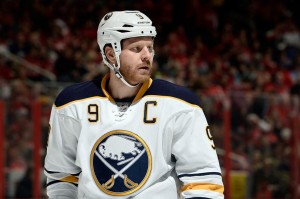 Olli Jokinen (Winnipeg Jets)
The Jets have struggled all year and it's unlikely that they keep the 35-year old with the expiring contract around.
Where he should go: A contender needing depth at center, preferably a West team, like the Wild.
Where he will probably go: Nowhere. The Jets, in a position to make the playoffs in the tight West, seem like they might just be stubborn enough to keep the goofy man on their team.
Where the funniest would be: As long as he continues to produce gems like the infamous waffle gif, anything he does would be funny.
Ales Hemsky (Edmonton Oilers)
Hemsky has been one of the quietest talented forward in the past few years, and even though it seems like he's always in the block, you kind of forget about it because nothing ever happens. He's consistently put up points on a bad team, and can score and set up teammates. His work ethic and defensive capabilities leave something to be desired, but the great players don't have time to practice defense.
Where he should go: A good time that needs an offensive threat should take a serious look at Hemsky, assuming he will have linemates that can play defense for him. Will he actually be moved this time?
Where he will probably go: St. Louis. It's a guess, but it just makes sense that the Blues, who have been one of the better teams in recent years but have failed to go deep, would want someone who can simply put up points on a stellar defensive team. Keep in mind that they probably won't target both Hemsky and Miller though (unless they have hidden assets somewhere).
Where the funniest would be: Columbus, so we can talk about all the enigmatic "Russians" the Blue Jackets have. He's from the Czech Republic, but he's Russian as far as the media is concerned.
Nail Yakupov (Edmonton Oilers)
Yakupov was one of the most touted prospects in the 2012 draft. "Fail for Nail!" was the saying among Edmontonians and other bad teams. He has disappointed on a struggling team, and with the depth of forward youths on Edmonton, it's hard to see him not being shopped.
Where he should go: Nowhere. At -29 (it was even worse a few weeks ago), he has the worst rating of all forwards in the entire league, only in front of Mike Weber on that awful Buffalo team. And it's tough to judge an individual on his rating without any context, but that -29 is nine worse than the player with the second-worst rating on the team in Sam Gagner. Just 23 points in 55 games for a supposedly offensive player who said that he doesn't like playing without the puck and doesn't like skating all the time isn't helping his case, either.
Where the funniest would be: Anyone. Any team that trades for this guy is making a huge mistake, and I will laugh at them.
Where he will probably go: Russia.