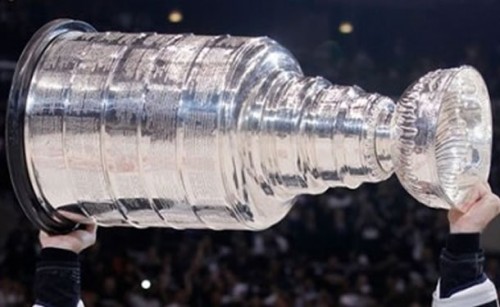 It's day 6 of the 13-day first-round. There have been exactly five game 3s played, and the teams will be gearing up for the last three game 3s, and a game 4. Since the very first series could end tonight, I'm going to update you all and remind you of my predictions, and see how they're measuring up thus far. Important note: link to my original predictions is here, though I will make extensive reference to it.
WEST:
(1) Anaheim Ducks vs. (WC2) Dallas Stars
Original Prediction: Dallas in 6
Current Status: Anaheim up 2-1
This series boils down to home sweet home. It appears as if the team at home has an uncanny advantage. My prediction hinges on the Dallas Stars remaining perfect at home, and stealing a game away from Anaheim in the Honda Center. This is all keeping in mind that every game in Anaheim so far has been all Anaheim and a comeback by the Stars that came up just short, making the Dallas win in 6 games not outside the realm of possibility.
The Anaheim Ducks, outside of Ryan Getzlaf, Corey Perry and goalie Frederik Andersen, have been underwhelming; having gone shot for shot with the Dallas stars in game 1 (35-35 in shots) and getting badly outshot in game 2 (36-19). They roared back in game three in terms of shots, but Kari Lehtonen, despite his slow starts in Anaheim, showed what amazing form he was capable of last night. All in all, the Ducks are doing well, and my prediction of a spectacular choke by Bruce Boudreau's team is looking more and more like cloudy judgment than accurate predicting.
(1) Colorado Avalanche vs. (WC1) Minnesota Wild
Original Prediction: Colorado in 6
Current Status: Colorado up 2-1
Three games in, and I am absolutely stunned by how good Nathan Mackinnon is: 1 goal and 6 assists in the first two games alone? The Cole Harbour, Nova Scotia native (a town you may recognize as being Sidney Crosby's hometown) has been absolutely stellar in the absence of Matt Duchene. The Minnesota Wild kept game 1 close, going into overtime, with game 2 allowing for one of my predictions to come alive, regarding Ilya Bryzgalov's disappearance, having gotten pulled in game 2 and relegated to backup in game 3. At least he's happy with his Thermos.
Game 3 was a different story, though. Nathan Mackinnon and the Avalanche were neutralized by the Wild, being held to just 22 shots, giving new starter Darcy Kuemper an easy enough night. It was a hard-fought game, though, going into overtime with Mikael Granlund stealing the game for the Wild. The loss of Matt Cooke is bound to hurt the Wild's penalty kill. If Semyon Varlamov keeps playing lights-out hockey, the Avalanche may just win before my predicted 6 games, having stopped a ridiculous 22 shots in the first period, and facing 46 shots by the end of the night in game 3.
(2) St. Louis Blues vs. (3) Chicago Blackhawks
Original Prediction: Chicago in 5
Current Status: St. Louis up 2-1
Well, this prediction crashed and burned, didn't it? Not only did the St. Louis Blues recover from their lengthy losing streak at the end of the regular season, but they managed to edge the Blackhawks in two consecutive overtime affairs, with game 1 going in triple overtime, and game two going in single overtime. These teams have technically played four games, all of which have been extremely close. Don't let the scores fool you, this has been a goalie showdown between the Blues' Ryan Miller and the Blackhawks' Corey Crawford.
If you take all the games together, and compare goals for and against, these teams are neck-and-neck. The telling statistic is definitely shots for and against, with the St. Louis Blues having led the Blackhawks in every single game (52-42, 31-28, and 34-25), with the Blues defense and Ryan Miller shining through and Corey Crawford being absolutely outstanding for the Blackhawks. The loss of defensive stud Brent Seabrook to a suspension for a bad hit on David Backes did not phase the Blackhawks in game 3, but it may be a factor in future games, further spoiling my original prediction.
(2) San Jose Sharks vs. (3) Los Angeles Kings
Original Prediction: Los Angeles in 7
Current Status: San Jose up 2-0
So far, this series has been all San Jose at all times of the day. Having beaten the Kings by a combined score of 13-5, the Sharks seem to have managed to not only neutralize the Kings, but to make Jonathan Quick look downright silly. A bright spot for the Kings, though, the three-goal third period in game 1, and the momentum they carried into the first period of game 2, putting two past Antti Niemi before disappearing before our very eyes and allowing the Sharks to plow right through them.
In terms of my prediction, this one is healthy, still. The Kings are a team that cannot be easily counted out come playoff time. In terms of it being a low-scoring affair, I was very clearly mistaken, as it is was the highest-scoring series through 2 games. My bad.
EAST:
(1) Boston Bruins vs. (WC2) Detroit Red Wings
Original Prediction: Detroit in 7
Current Status: Series tied 1-1
To say that I did not see this coming is a bit of a modest statement. I did choose the Red Wings to win over the Bruins in 7 games, and if the Bruins show the same form they showed in game 2, I'm also still writing a formal apology to Bruins fans; however, it's what I saw in game 1 that led me to choose the Red Wings in 7 games. This series is poised to be scrappy, with flashes of brilliance and less than highlight-worthy moments. From Datsyuk's game-stealing goal to Detroit's neutralizing all-around game, game 1 showed me and many others who chose the Red Wings that we, as a collective, are not crazy. In spite of game 1, the Bruins came roaring back, proving that if you poke the bear, you're going to have a bad time.
There is a precedent to the Boston Bruins (almost) falling to lesser opponents; and one need not look further than last year, as the Toronto Maple Leafs almost got the job done. The Detroit Red Wings are a group that are much more poised, and justify my prediction a little more.
(1) Pittsburgh Penguins vs. (WC1) Columbus Blue Jackets
Original Prediction: Pittsburgh in 5
Current Status: Pittsburgh up 2-1
If this series keeps going the way it is, you may not get a round 2 prediction on account of my heart giving out. This series has had more surprisingly back-and-forth hockey than I originally predicted, with the Blue Jackets going measure for measure with the Pittsburgh Penguins. Taking a page out of the New York Islanders' playbook, the Blue Jackets are playing the Penguins' stars hard, frustrating them and forcing mistakes on their part. In addition to their offensive capabilities, reigning Vezina trophy winner Sergei Bobrovsky has been playing relatively well.
As predicted, Marc-Andre Fleury has not been too much of a problem for the Penguins, with most of their goals against coming in defensive faux pas rather than Fleury's play. In addition, the predicted slow start has already happened, with Pittsburgh having to mount a comeback in game 1, and playing from behind for games 1 and 3. A pleasant surprise has been the offensive contribution of Matt Niskanen in the first two games, as well as the brief but incredible contributions of rookie Brian Gibbons in game 2.
Furthermore, the comeback staged by the Penguins in game 3, with 3 goals coming in a 2-minute span, shows that the Penguins are still a dominant team, even if they don't show it every game. Here's hoping that the bad game in Columbus I had predicted was game 3 and not the next game…
(2) Tampa Bay Lightning vs. (3) Montreal Canadiens
Original Prediction: Montreal in 6
Current Status: Montreal up 3-0
Game 1 had so much promise of this series being a back-and-forth series, with the Canadiens eventually coming out on top in overtime by a score of 5-4. Steven Stamkos practically disappeared in game 2, and now the series could end tonight. How did we get here? Simple, really: the Canadiens have been playing a defensively sound game, limiting Steven Stamkos's puck time, holding him to two goals in game 1, and two assists in game 3. In addition, they have been getting scoring from places other than the big line of Pacioretty, Vanek, and Desharnais.
In regards to my prediction, Carey Price and P.K. Subban have been playing incredibly, with Subban proving to be a blue-line stud, and an offensive contributor, while Carey Price has been playing very well (goals disallowed on technicalities aside). Furthermore, the absence of Ben Bishop has been felt by the Lightning; but Max "Patches" Pacioretty and company have not been able to outscore Steven Stamkos individually, with Brendan Gallagher and Lars Eller tying Stamkos in terms of points.
(2) New York Rangers vs. (3) Philadelphia Flyers
Original Prediction: New York in 7
Current Status: Series tied 1-1
Forgive me, Mario, for I have sinned. Here we go. I didn't make an in-depth analysis to justify my prediction the last time around, so I really can't say "I told you so," or "I was wrong." This series has, so far, been two teams slugging at each other, with the Rangers dominating the shot category (36-15 in game 1, 33-25 in game 2), and the Flyers making the most of their chances, surprisingly enough getting some pucks behind Henrik Lundqvist. Look for Brad Richards to come back after getting neutralized in game 2, and Rick Nash to finally beat Ray Emery after putting 13 shots on net the past two games.