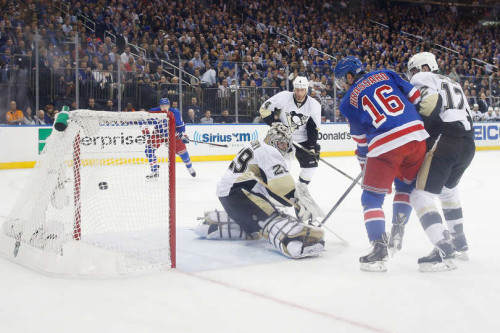 -Rangers lead Penguins 1-0 (Game 2 @ Madison Square Garden Saturday night at 8PM) – Almost everyone thought the Rangers would run away with their first round series against Pittsburgh, and they would have run away with Game 1 if it wasn't for some top notch saves from Pens Goalie Marc-Andre Fleury. The only goal Pittsburgh scored in the 2-1 loss came from a tough to handle rebound right by the net. If Pittsburgh wants to steal home ice, they'll need to go to the dirty areas more and make it tough on Henrik Lundqvist. The Rangers had good puck possession in the opening game of the series, and the Pens don't stand a chance if they try and turn this in to a track meet. It wouldn't hurt to hear Sidney Crosby's name a little more in Game Two either.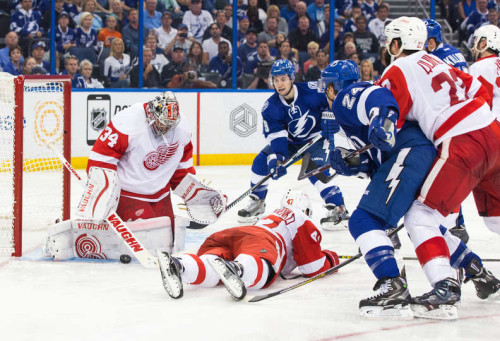 -Red Wings lead Lightning 1-0 (Game 2 @ Amalie Arena Saturday afternoon at 3PM) – Detroit successfully stole home ice from the Lightning in Game One, but they'll need to cut down on Tampa Bay's opportunities if they hope to steal the series. When Red Wings Head Coach Mike Babcock went with Pete Mrazek over Jimmy Howard to start the series, it raised some eye brows. Mrazek stood tall, turning away 44 of 46 shots, but expecting him to be the hero every game won't work. Detroit also needs to do more in the Tampa end of the ice. Getting three pucks behind Ben Bishop on 14 shots isn't going to happen often.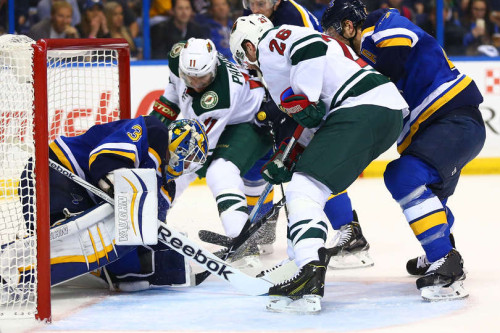 -Wild lead Blues 1-0 (Game Two at Scottrade Center Saturday afternoon at 3PM) – It's a shame that this is a first round series and not a meeting later on in the playoffs. Minnesota was the fifth road team to win game one in the 2015 playoffs, and they needed to get at least one on the road to win the series. St. Louis needs to be better in Game Two in order to avoid having to go back to St. Paul down 0-2. Jake Allen has already been announced as the Blues starter for tonight's game. While St. Louis is a deep squad and a favorite in the West,  teams generally don't go far in the playoffs when there's not a clear-cut top guy between the pipes. The Blues Penalty Kill unit was ranked 7th in the league during the regular season, but gave up two PP goals to a team whose ranked 27th in the league with the extra man. That can't happen again.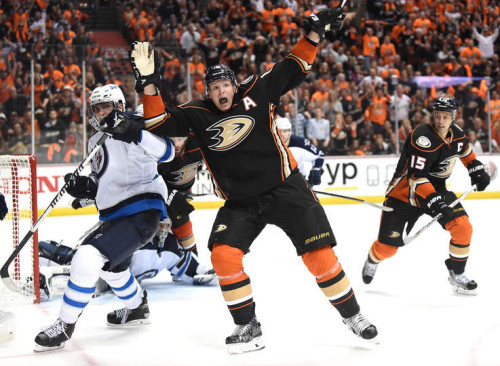 -Ducks lead Jets 1-0 (Game Two @ the Honda Center Saturday night at 10:30PM) – There was a lot of Winnipeg Jets Kool-Aid going around in people's NHL brackets, but the West's top team did what they were supposed to in the series opening game. Ducks' Right Wing Corey Perry (two goals, two assists) and Defenseman Sami Vatanen (one goal, two assists) lead the way offensively for Anaheim. The Jets had the lead after two periods, but the Ducks kicked it up a notch and dominated the last frame with three goals. Both of Winnipeg's special teams units need to step-up.
Love Reading About Hockey?

Subscribe to keep up-to-date with the latest and most interesting hockey news!
| | |
| --- | --- |
| | We hate spam just as much as you |