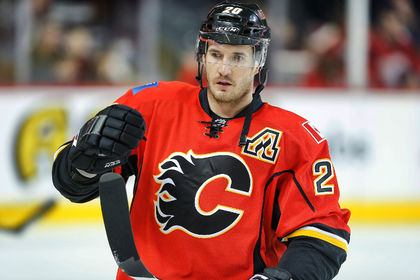 Perhaps Brad Treliving had a plan all along.
With the extent of the injury to his captain Mark Giordano still unclear – at least to the outside world – and one of the team's key veterans, Curtis Glencross, ready to leave, Treliving had to figure out what direction to take the Flames for the remainder of the season. After having some time to reflect on the day's events, Treliving should be satisfied.
He was able to leverage the useful quality that it Glencross' veteran experience and shop him to playoff teams looking to make a serious push for the Cup. Enter: The Washington Capitals, who only had to sacrifice a second and a third round pick in this year's draft to acquire him.
Then, in a surprising but not shocking move, Treliving swapped 22-year-old Sven Baertschi to the Vancouver Canucks, also for a second round pick in this year's draft. Baertschi, a former 13th overall pick in the 2011 Entry Draft, never stuck with the Flames, appearing in the NHL only sporadically – 66 games across four seasons, totalling 28 points.
In short, Treliving helped build for the future and didn't have to sacrifice much in the process. His work now puts the Flames in the enviable situation of having six picks in the first three rounds of the 2015 Entry Draft – three in the second round alone. Adding more prospects to an organization already full of young talent should leave little to be desired for the future.
Of course, the team also has to deal with the present, one that doesn't include Mark Giordano. In the midst of all the hoopla that is trade deadline day, the Flames announced the team's leading scorer and top minute eater would be out for the remainder of the season (torn biceps tendon).
The absence of Giordano means the Flames will now have to fight for their playoff lives without arguably their best player (but no doubt their best defenceman). Whether it was restraint or not liking any offers on the table, the fact Treliving didn't fill the void left by Giordano at the expense of the team's future was probably the smartest move he made all day.
The road to the playoffs may be (okay, will be) tougher without him in the lineup, but for a team that has played above its head for much of the season, missing the playoff by a few points can still be considered a tremendous success.