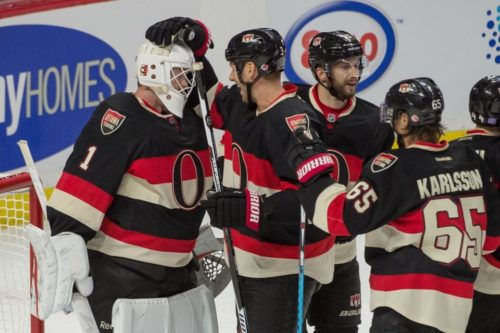 He started the year as a third-stringer, has appeared in only 19 games (starting 17 of them) and has just nine wins, but he has been arguably as important to the success of the Sens as has Mark Stone or Kyle Turris.
Yes, 2016-17 has been a mixed bag for Mike Condon, who started the season unsure of when, where or if he would find playing time behind Marc-Andre Fleury and Matt Murray in Pittsburgh. Then, as so often happens early in the year, injuries hit, goalies struggled, teams were in search of help in the crease and in swooped…the Senators?
Ahead of other teams whose goaltending needs were more obviously desperate – most notably the Los Angeles Kings, who received some less-than-optimistic news re: Jonathan Quick's injury – the Sens made a successful last minute push to land the 26-year-old in early November.
The surprising move came after Ottawa learned that starter Craig Anderson would need indeterminate amounts of time away from the team to tend to his wife's cancer diagnosis and Andrew Hammond was felled by injury. Little could they know Condon, who made his name as Carey Price's injury replacement in 2015-16, would go from stopgap to saviour (of sorts).
All he's done since coming to Ottawa is put up a 9-6-3 record in 19 games, taking 21 of a possible 38 points in the process. More importantly, he's added some much-needed stability to a position that requires copious amounts of it and has filled in admirably in the midst of Anderson's absences and Hammond's struggle to stay healthy.
Despite being tied for 39th in games played, Condon still ranks tied for 16th with a .919 save percentage and 15th with a 2.32 GAA (among goalies with a minimum 17 games played), plus his two shutouts are just behind the three goalies who share the lead with five. And his nine wins amount to half of the Sens' total in their 21-14-4 record.
His time in Ottawa hasn't been short of clunkers – he allowed a combined seven goals on just 32 shots in back-to-back games in California in early December – but for the most part he has done yeoman's work. Without the added stress of finding a suitable replacement for Anderson, Guy Boucher and co. have been able to focus their energy on continually refining other aspects of the team.
Unfortunately for Condon, his success hasn't solidified his standing within the organization any more beyond supplanting Hammond as the backup. This is still Anderson's team, and when he eventually returns to the team and gets himself back in game shape the net will be his again, but Condon certainly isn't hurting his stock by keeping the Sens in the playoff hunt.
Love Reading About Hockey?

Subscribe to keep up-to-date with the latest and most interesting hockey news!
| | |
| --- | --- |
| | We hate spam just as much as you |