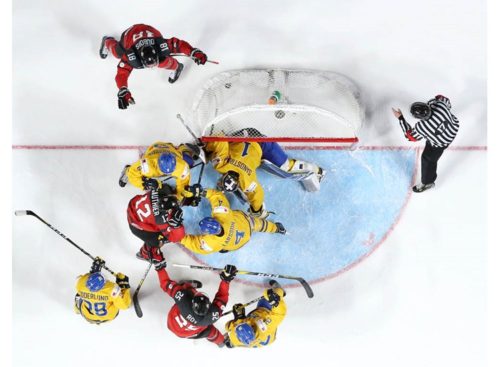 The fans wanted a show, the players delivered and the tantalizing matchup of Canada vs. USA round two is now set.
Little could anyone have known it would be Carter Hart – relegated to the role of backup after Connor Ingram turned in a few solid starts – who would lead his team to the gold medal game. But after the latter allowed two (weak) goals on just three shots before the first period was 10 minutes old, Hart was thrust into action.
The move came with Sweden holding a 2-1 lead and head coach Dominique Ducharme wanting to re-ignite his team after it had started the game with an energy the fans haven't been accustomed to.
The switch didn't pay immediate dividends, but Canada continued to wear the Swedes down with a relentless physical style of play that eventually led to a late power play. After cycling around the Swedish zone Anthony Cirelli got the puck in the high slot, firing a shot that went bar down to knot the game at two apiece.
The second period saw much of the same energy – and physical play from the Canadians – as did the first, with both teams continuing to trade chances. But neither team was able to break through until just under eight minutes remaining in the period when Julien Gauthier jammed the puck past Felix Sandstrom in the Swedish net to give Canada its first lead of the game.
Not to be forgotten, Hart came up with another couple of huge saves later on to preserve his team's lead, including saving a sure goal by pulling the puck off the goal line with some help from Dante Fabbro. His work would be minimal in the third, however, as Canada limited Sweden to just four shots.
Perhaps frustrated from a number of factors – being stymied by Hart at every turn, having to face a barrage of hits every period or realizing they were on track to leave the tournament without a gold medal yet again – the Swedes turned chippy in the final frame.
Post-whistle scrums were a common occurrence, especially as the period wore on and the inevitable fate of losing took hold of the Swedes. Compounding matters was a goal from Dylan Strome 7:38 into the period that widened the gap further and made a comeback even less likely.
Now all that stands between Canada and another gold medal on home ice is the American team that defeated them New Year's Eve.