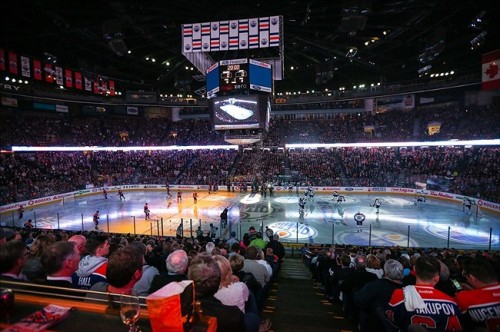 2015-16 Season Review
Record: 31-43-8 70 pts, 7th in Pacific, 14th in West, 29th in NHL.
Leading Scorers: | Goals: 26 – Taylor Hall
Assists: 39 – Taylor Hall
Points: 65 – Taylor Hall
Powerplay: 18.1% (18th in NHL)
Penalty Kill: 81.1% (T- 17th in NHL)
2015-16 was more of the same for the Edmonton Oilers. They entered the season with many top end forwards, led by phenom Connor McDavid, and a suspect defense corps. They had just acquired Cam Talbot, hoping he could take the reigns as the team's bonafide #1 goaltender. However, injuries and poor starts derailed their season quickly. The Oilers suffered major injuries to important players in McDavid, Klefbom, Nugent-Hopkins, Eberle, Pouliot and Davidson. Talbot had a slow start to the season and briefly lost the #1 job to Anders Nilsson before regaining it in mid December.
The injuries exposed Edmonton's lack of depth and once again forced players to play higher up the line up than desired. However, they still lacked a reliable defence with Andrej Sekera being the only healthy puck moving defenseman, and legitimate top 4 option. Even with all the injuries, Todd McLellan was able to improve the Oilers despite what their record shows. Their goal differential improved from -83 to -43 this past season, which is substantial considering they lost their best forward and best defenseman for the better part of the season.
The Offseason
After spending another season in the basement, everyone knew changes had to happen for the Oilers to take a step forward. All the Oilers top forwards except for McDavid were named as possibilities to be leaving town along with their #4 overall draft pick for defensive help and there was plenty of smoke leading up to the draft. However, once one of the big 3 fell to them at the draft, all talks involving that pick ceased and the Oilers stepped up to draft big finn Jesse Puljujarvi. With the pick off the table, people wondered how Chiarelli was going to get the top defenseman he coveted. In the end, Peter Chiarelli continued his overhaul of the roster by surprising everyone and trading their second best forward, Taylor Hall, for Adam Larsson. In doing so, Chiarelli got a top defensive defenseman, but many considered it too much of a price to pay for a defenseman with seemingly no offensive upside. With their leading scorer shipped out, Chiarelli went to free agency to try to replace Hall with top free agent Milan Lucic who landed a 7 year $49M deal with the club. Chiarelli also added a couple college free agents in highly touted Drake Caggiula and RHD Matthew Benning and brought in Kris Versteeg and Eric Gryba on PTO's to create a more balanced roster with more competition for roster spots.
More recently, he sent off controversial #1 overall pick Nail Yakupov to the St. Louis Blues for a pick and ECHL prospect, and added LHD Kris Russell on a one year deal to bolster the blue line.
Unfortunately, Versteeg signed with the Flames on Tuesday, weakening Edmonton's projected right side depth.
There has been a lot of change again this season, but the Oilers are a more well rounded team and have more depth than they used to, which should translate to more wins this season.
Key Additions: Adam Larsson, Milan Lucic, Jesse Puljujarvi, Drake Caggiula, Kris Russell, Matthew Benning, Mark Fraser, Jonas Gustavsson
Key Departures: Taylor Hall, Nail Yakupov, Anders Nilsson, Nikita Nikitin, Adam Clendening, Adam Pardy, Rob Kilinkhammer
Forwards
Connor McDavid leads this group of forwards and is today one of the best players in the NHL. The Oilers have better forward depth than last year with mid season acquisitions from last year and free agent signings from over the summer. They are very strong down the middle, but weak on right wing, so Todd McLellan is sending Leon Draisaitl to play beside RNH on the 2nd line to start this season and Drake Caggiula playing the 3rd line center role.
It'll be difficult for the Oilers to replace Taylor Hall's offence as he was able to drive a line all on his own, but they are hoping RNH can take a step forward offensively after working on his two way game for the past few years, and if Draisaitl spends significant time on his wing it may just happen.
Despite the loss of Taylor Hall and Nail Yakupov, Chiarelli still has put together a good top 6, the 3rd line is a bit of a concern as the Oilers are once again leaning on rookies to be able to compete at the NHL level, but if played against soft competition they may tread water. Overall, the Oilers forwards should be better if they can remain healthy and key young players take a step forward, they have more size and should be harder play against and most importantly they have skill throughout the lineup.
Defense
The defense is immediately better with the addition of Adam Larsson, however it will not take a big step forward unless Oscar Klefbom can stay healthy this season. If that is the case, the Oilers have 3 bonafide top 4 defenseman for the first time in years. Kris Russell is a very controversial player as the analytics crowd don't like him but he adds a veteran presence that should help and continued development of Davidson and Nurse will go a long way to improving the Oilers back end. Mark Fayne has struggled again this preseason and his spot in the Oilers top 6 is not guaranteed, and the Oilers have kept Matt Benning, who had a good preseason, clouding exactly what the top 6 will look like.
The problem with the Kris Russell signing is that it now means that the Oilers 2nd and 3rd pairings are exclusively left handed defensmen. In the majority of cases, defensemen struggle on their off side as puck retrieval and puck movement becomes that much more difficult for them. I assume both Sekera and Davidson will be tasked with playing on their offside, in Sekera's case he played on his offside in the World Cup and performed well. However, with a young developing defenseman like Davidson, the Oilers are not setting him up for success which is not a good choice by the coaching staff.
The Oilers blueline has the most depth it's had in a long time, but it remains the biggest problem with the Oilers roster.
Goaltending
Cam Talbot comes back as the Oilers started and should start somewhere around 65 games this year. Jonas Gustavsson is not the best choice as a backup as he has a career 0.902 save percentage, so there are still some question marks in goal.
Talbot needs to take that step forward and prove he can be the starting goalie by having a strong start. If he doesn't the Oilers season may be lost in October once again.
Predictions
Todd McLellan has stated that the Oilers need to improve their goal differential by another 45 goals if they want a chance at making the playoffs. They improved by 40 last year, and that was with McDavid, Klefbom, Eberle, RNH and Pouliot all on the shelf for significant amounts of time. If all those players stay healthy, combined with the additions of Lucic and Larsson it's possible they do improve enough to make the playoffs if everything goes right. However, with the Oilers it's hard to see everything going right, especially with injuries already piling up for their depth forwards.
I do believe McDavid, the new top pairing on defense and Talbot have the ability to steal the Oilers some games this year and their added size will help them compete and win more games against the bigger teams in the Pacific Division and the Western Conference as a whole.
I predict that the Oilers will finally make the playoffs, ending the 10 year playoff drought by finishing 4th in the Pacific Division, taking the second wild card spot with the Western Conference.