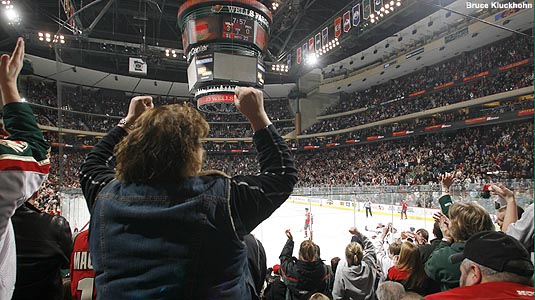 After a long few months of summer, the leaves have now changed and colder air is on it's way, which means that hockey is back and the Wild are ready to hit the ice for the 2016-17 season.
The regular season got underway yesterday, and the Wild get things going tonight in St. Louis against the Blues.
The Blues have gone through quite a bit of changes this offseason, the most notable of them being their acquisition of Nail Yakupov from the Edmonton Oilers. Amongst other changes they went through, another one of them was naming former Wild head coach Mike Yeo an associate coach for the team after having him replaced by now former Anaheim Ducks coach Bruce Boudreau.
Speaking of Boudreau, perhaps the biggest change the Wild went through this offseason was naming him the new coach for the team. Unlike previous head coach Mike Yeo, Boudreau plays with a more offensive minded strategy, which should prove to be very helpful. Over his tenure as head coach, he led the Capitals to 4 division titles, and then the same number for the Ducks as well. His only downfall is when it comes to the playoffs, as he's only gotten a team as far as the conference finals, and only once. That was back in the 2014-15 season as the Ducks lost a close, competitive series to the Blackhawks 4-3.
Some other big changes the Wild went through were the signing of Carolina Hurricanes forward Eric Staal, San Jose Sharks goalie Alex Stalock, and Nashville Predators defenseman Victor Bartley. Other than that, the lineup is pretty much identical to what it has been for the past few seasons.
After their season opener tomorrow night, the Wild will have their home opener against the Winnipeg Jets on Saturday.
Here's to another great season, Wild fans!