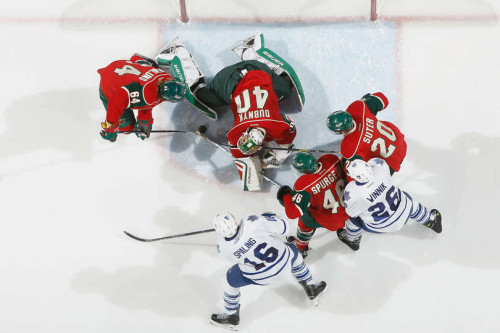 Hello again, Wild fans!
We are now over 2 months into the season, and things have been kind of up and down lately for the Wild. This is why I feel like it's been like a wild (no pun intended) roller coaster ride for them. We started off with a bang in October, but November was kind of a whimper.
The month of November was a rough one for the Wild, as they lost 7 of their 11 games that month. Ouch! This could have been due in part to Zach Parise being out for almost the entire month (thanks a lot, James Neal!), but I'm not going to be playing the blame game here. Somehow, they just forgot how to hockey during a good portion of the month. Easiest way to put it.
On the bright side though, it's now a new month, Parise is back, and the Wild have started this month off with a bang by winning their 1st 2 games of the month. Those wins came against the Blackhawks in Chicago this past Tuesday (2-1 win), and the Maple Leafs at home (1-0 shutout). So needless to say, this is exactly the start us Wild fans were looking for this month.
As many of us Wild fans know, December hasn't been the kindest month for us, as this is the month that we have our slump. But I'm not going to get into that…
Hopefully they have bucked that trend because of what happened last month and got that bad play out of their systems. The central division is the most competitive in all of the NHL, so a good month of December is going to be what the Wild need to stay in the thick of things because things are really going to start heating up leading up to and after the all star weekend.