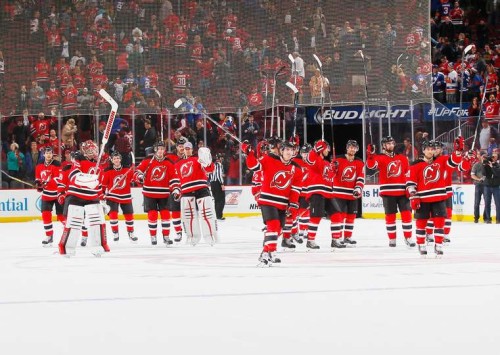 2015-16 Season: 38-36-8, for 84 points.
Standing: Seventh in the Metropolitan division, twelfth in the Eastern conference, and twentieth in the league.
OFFSEASON MOVES:
1. Trade: Taylor Hall for Adam Larsson
In what will probably go down as one of the weirdest trades in NHL history, ex-Oilers captain and 2010 first overall pick Taylor Hall was shipped to the Garden State for defenseman Adam Larsson, the fourth overall pick from the 2011 draft. Larsson was a solid defensive presence for the Devils and played good hockey alongside veteran Andy Greene, but the general consensus suggests that the trade tilted heavily in New Jersey's favour. In 381 career games, Hall racked up 132 goals and 196 assists for an impressive 328 points, an even more impressive stat when you factor in Edmonton's less than stellar record for the past six years. Hall will start the season on the top line, alongside his former Windsor Spitfire teammate Adam Henrique.
2. Acquisitions: Ben Lovejoy, Kyle Quincey, Luke Gazdic, Beau Bennett, P.A. Parenteau, Vernon Fiddler, Yohann Auvitu
Auvitu, Quincey and Lovejoy are the three blue line additions to make up for the loss of Larsson, strengthening the defensive corps and allowing the Devils more versatility in shuffling pairings and healthy scratches. Even with Quincey and Jon Merrill injured prior to the start of the regular season, John Hynes still has plenty of bodies to choose from, enjoying a defensive depth that is relatively new to his New Jersey Devils. Gazdic (another former Oiler), Bennett, Parenteau and Fiddler are the offensive acquisitions, with Bennett bringing youth, Gazdic bringing grit, and Fiddler and Parenteau providing a much-needed veteran presence up front. Gazdic broke his foot in preseason, though, and the Devils also acquired the contract of Marc Savard, who will most likely spend the season on the injured reserve list.
3. Losses: Jordin Tootoo, David Schlemko, Stephen Gionta, Bobby Farnham, Tuomo Ruutu, David Warsofsky,
Tootoo was the grit for the Devils last season, but was limited to 66 games and was a -26, generating only 9 points (4G-5A). He signed a one year contract with the Chicago Blackhawks. David Schlemko was a solid defenseman in his single season in New Jersey, playing consistently solid defensive hockey and stepping up to the plate offensively when necessary. The San Jose Sharks picked him up via free agency. Stephen Gionta was a third/fourth line forward who often saw ice time on the penalty kill, but averaged less than 10 minutes a night. After spending 10 years in the Devils organization, he signed a one year contract with the New York Islanders farm team, after signing a professional tryout (PTO) contract with the NHL club. Fighter Bobby "Wild Thing" Farnham went on a bit of an offensive streak last season and added some toughness to the Devils' forward corps last season, but ultimately chose to spend this season with the Montreal Canadiens instead. Tuomo Ruutu was released from his PTO by the Vancouver Canucks and, at the time of writing, is an unrestricted free agent. Finally, David Warsofsky was acquired on waivers last season and spent very limited time with the Devils, but signed with the Stanley Cup defending champions, the Pittsburgh Penguins.
4. Re-signings: Kyle Palmieri, Devante Smith-Pelly, Jon Merrill, Jacob Josefson
Palmieri and Smith-Pelly were offensive forces for the Devils last season, with the former recording a 30 goal season and the latter recording an impressive 13 points in 18 games after being traded to New Jersey. He played his first 46 games of the season in Montreal, recording only 12 points. Merrill is a developing young defenseman who shows signs of solid play, but definitely has room for growth. Finally, Josefson is a former first round pick, having been selected 20th overall in 2009. He tends to find himself on the third line, and Devils fans everywhere are hoping he will finally develop into an offensive presence.
The consensus across the NHL is that the Devils have drastically improved their roster in the offseason, resigning key pieces to their offensive groups, bringing in an elite player in Hall, adding depth defensively, and bringing in veterans in Parenteau and Fiddler. Barring drastic injuries to seriously underrated but extremely talented goaltender Cory Schneider and cornerstone players like Adam Henrique, Hall, Michael Cammalleri, Andy Greene and Ben Lovejoy, it isn't a stretch to imagine the Devils seeing some post-season action come April.