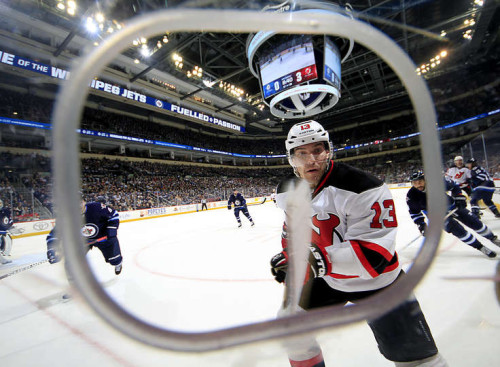 It is a good week to be a New Jersey Devils fan, thanks to Taylor Hall, Mike Cammalleri and Miles Wood.
After missing four games due to a family emergency (his daughter had a pneumonia scare), Cammalleri came back with style. Last week, he led the NHL with four goals and eight points. In his first game since November 8, Cammalleri racked up four points (1G-3A) against the Toronto Maple Leafs on November 23. It was his first four-point game since February 13, 2008, and his sixth career four-point outing. He then put up two more multi-point appearances, scoring a goal and an assist in an overtime loss to the Detroit Red Wings, and scoring twice in a shootout loss to the Penguins. These impressive stats catapult Cammalleri to the top of the Devils stats sheet. He now leads the team with seven goals and is second on the team in points with 14, despite missing six of 22 games.
Taylor Hall also brings good news to Devils fans. After he underwent surgery on November 16 to deal with a torn meniscus on his left knee, Hall expected to miss three to four weeks. But, he returned to practice just 12 days after the operation. He even joined the team on their current road trip, which started two nights ago in Winnipeg. "It was fun to be back out there with the guys," Hall said. "I'm in no rush at all. When I feel good enough and the medical staff agrees, that's when I'll be ready to return." Check out his interview with Julie Robenhymer below.
UPDATE: Taylor Hall will suit up tonight against the Chicago Blackhawks.
Finally, rookie Miles Wood brings more positive signs to New Jersey this week. After being called up to play in Winnipeg, his appearance gives fans something to cheer about. Despite the team's loss, the 21-year old played with poise, persistence and strength, and received a great reward. After missing a penalty shot, Wood took a puck from the boards and shot it at Jets goalie Connor Hellebuyck. Even from a sharp angle, the puck found the back of the net. The impressive individual effort gives Wood his first NHL goal. Check it out here:
The Devils head to Chicago tonight to take on the Blackhawks at 8:30 pm EST. They then complete their road trip in Nashville on Saturday. In 22 games, they are now 10-7-5, giving them 25 points this season.
Check out the Devils full schedule here.