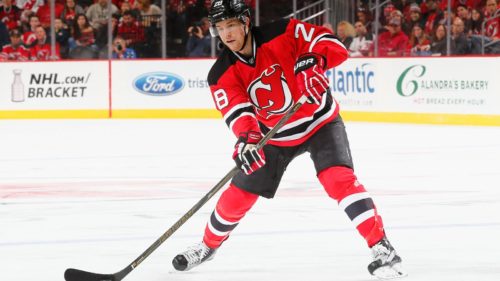 Right in the middle of a five game win streak, the New Jersey Devils caught an unlucky break: left winger Taylor Hall suffered a torn meniscus.
On November 16th, the first liner and off-season acquisition underwent successful arthroscopic surgery, after not playing in the November 12th and 15th games against Buffalo and Dallas, respectively. Hall is expected to be out for three to four weeks to recover from the surgery, and the Devils have placed him on injured reserve.
In 14 games with his new club, Hall tallied an impressive 14 points in 12 games (5G-7A). This injury is a devastating blow to the Devils roster, as Hall is undoubtedly one of the best offensive talents on the team. In his place is Beau Bennett, another offseason acquisition who has yet to record a goal as a New Jersey Devil. He has performed well so far in Hall's absence, but only time will tell if his solid play can continue under pressure.
A bright spot in the Devils' season so far, though, has been the impressive play of Damon Severson. The 22-year old defenseman racked up 12 points in 17 games, nine of which are assists. He often runs the point on the power-play, making nifty passes at crucial times to help lead the Devils to their nine wins this season. His defensive play has also been impressive, blocking shots and backing Schneider up when necessary. Needless to say, Severson has definitely stepped up to the plate this season.
Behold, Severson blocking an Alex Ovechkin shot with his skate, then breaking up a threatening Capitals power play:
And, check out this wrist shot goal (after a pretty play from Bennett and PA Parenteau) to give the Devils a 1-0 lead over the Stars:
The Devils won five straight games before dropping two against Anaheim and Los Angeles. To finish up the California road trip, the Devils take on the San Jose Sharks tonight at 10:30pm EST.