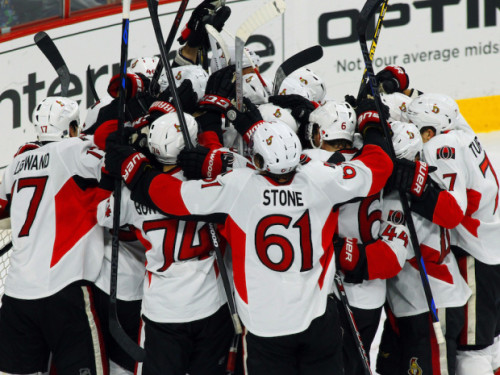 There's a sense of optimism in Ottawa, even after an off-season in which the Sens didn't do a whole lot to drastically increase their chances of returning to the post-season.
But that positivity is not unfounded: The team is (relatively) healthy, there's a brand new coaching staff behind the bench and an in-his-prime Erik Karlsson looks to be on an upward trajectory. Before diving into this season's expectations, though, let's take a look back at the season that was.
Recap of last season: 38-35-9 (85 points); 5th in Atlantic Division
The Sens were unable to ride the high of their historic finish from the 2014-15 season into 2015-16, largely due to the same issues that nearly offset their magical run in the first place. Chief among those issues was inconsistency: Lengthy losing streaks were interspersed with victories, but not enough to put the Sens within realistic shot of making the post-season.
Shaky goaltending from Craig Anderson and Andrew Hammond – playing his first full season in the NHL – didn't help either as both netminders posted sub-.920 save percentages. Neither was helped by the inability of the team in front of him to prevent shots from getting to the net, but there's no questioning the fact their play left something to be desired.
While the team's collective disappointing performance put a damper on the accomplishments of individual players, there were some achievements worthy of praise. Erik Karlsson continued to dazzle us, putting up a career-high 82 points in 82 games to finish fourth in league scoring and first in assists (the first d-man to do so since Paul Coffey and Bobby Orr respectively).
Aside from a career-best, record-making, Norris-worthy-but-somehow-Norris-less season from Karlsson, there were positives from other Senators, too. Mike Hoffman led the team in goals for a second consecutive season with 29, proving his 27-goal rookie season was no fluke; and Mark Stone proved a true two-way threat, potting 23 goals to go along with 128 takeaways.
2015-16 season in a word: Corsi
It doesn't take a John Chayka to know the Sens need help improving on their 47.5 CF per cent – a figure that tied them for 24th a year ago – even if you're part of the throng of fans that haven't bought into the merits of advanced stats. But if pure shot totals are more your things, the Sens surrendered a league-worst average of 32.8 shots per game – a factor that played no small part in their lack of success and consequential failure to make the playoffs.
Notable additions: F Derick Brassard, F Chris Kelly
Notable subtractions: F Mika Zibanejad, F Alex Chiasson, D Chris Phillips, D Patrick Wiercioch
With everything that happened on the ice last season, it's easy to forget the major front office shakeup that occurred following the team's final game. Long-time Sens front office staffer Pierre Dorion took the reigns from Bryan Murray and subsequently fired Dave Cameron and his entire staff, then brought in Guy Boucher to be the next head coach.
Independent of his own objectives and goals for the team, Boucher's first big task will undoubtedly be rectifying Ottawa's dismal shot differential. With an offence that can and has produced among the best in the league the past two seasons, the secret could be as simple as being a bit stingier in the defensive zone at the expense of creating scoring chances.
Dorion's work didn't finish their, however, as the new GM pulled the trigger on a couple of trades shortly after stepping into his new role. He sent an underachieving Chiasson to the Calgary Flames in one deal, then swapped Zibanejad and all his inconsistency to the New York Rangers for the more experienced Brassard.
The Sens make the playoffs if…
There are plenty of factors that will influence the Senators' success in 2016-17, but – at the expense of being too repetitive – the most important will be limiting opponents' shots. Playing more responsibly and cohesively as a unit will undoubtedly help the team be more successful, but just as important will be staying healthy.
The Sens have dealt with numerous crippling injuries the past two seasons – Anderson, Phillips, Clarke MacArthur, Kyle Turris, Marc Methot – and the effect on their success has been noticeable. Curtis Lazar (mono), Stone (concussion) and MacArthur (concussion) have already been bitten by the injury bug, so the plan hasn't exactly started off well.
Ottawa's special teams will also need improvement if it has any hopes of making a return to the post-season. The team's power play ranked 26th, operating at 15.8 per cent, while its shorthanded unit didn't perform much better, killing off 75.8 per cent of penalties to rank 29th – two areas in which the new coaching staff (Marc Crawford, Rob Cookson, etc.) can make strides.
The Sens miss the playoffs if…
Ottawa's success, more than most teams, starts and ends in the crease: Anderson and Hammond almost singlehandedly led the Sens to their last two post-season appearances, but the former has been just as responsible for Ottawa's most recent playoff misses. If the mediocre goaltending of seasons past returns, there will be no summer hockey for the Sens.
Losing is a fact of life in any sport, but the for the Sens it was an all-too-common sight in 2015-16 and ultimately led to their undoing. Worst-case scenario: The Sens learned nothing from their multi-game losing streaks last year, continue to struggle with breaking out of them and miss the post-season for the second straight year and third time in four years.
Photo link: http://www.reviewjournal.com/sports/hockey-vegas/bill-foley-s-frustration-grows-over-lack-name-las-vegas-nhl-team
Caption: Las Vegas hockey team owner Bill Foley, left, shakes hands with NHL commissioner Gary Bettman at a press conference to announce the expansion franchise.
Credit: (Jeff Scheid/Las Vegas Review-Journal)
Biggest storyline of 2016-17: Expansion draft-eligible players
With Las Vegas entering the league in 2017-18, next summer's expansion draft will steal increasingly more headlines as the season progresses. In Ottawa, as in many other cities, there remain big decisions to make regarding who to protect and what strategy to take (leave a player unprotected at the expansion draft, or trade him while he can still get you something?).
Marc Methot is perhaps the most intriguing name on the Sens roster for this very reason. A top-four defenceman, Methot in all likelihood will be left exposed in favour of keeping Karlsson, Cody Ceci and Dion Phaneuf (who has a no movement clause). Methot could be a valuable trade chip come the trade deadline, or the Sens could take their chances and hope he goes unselected.
2016-17 prediction: 44-31-7 (95 points); 3rd in Atlantic