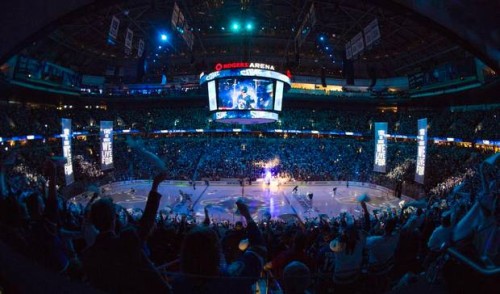 Who do we lie too most often? Family? Friends? Co-Workers? Nope, nope, nope. Who we lie too most often is ourselves. Its one of our defects of human beings that we hate to admit the truth to ourselves and one place this is so prevalent is the sports field. It's hard to look at other teams and say, "Wow, they're better than we are" but if you want to get better that's what you have to do. Recognizing our weaknesses is key to improving and this is just as essential for a sports franchise. Therefore I watch what the Canucks did in the offseason and I say to myself, "Ummmm what?" Upper management is trying to do what so many other teams have tried which is rebuild while trying to still be competitive and win. This team thinks they are a contender. They aren't. They think they have a shot at the playoffs. They probably don't. I argued quite vehemently last year (and really for the past 3-4 years) that this team should rebuild. This offseason has done nothing but assure me they're "going for it". I'm not a fortuneteller but I don't think it's too hard to look at this situation and see failure in this teams future.
Lets talk about the offseason moves that this team made and my feelings on some of them.
LOVED:
Drafting Olli Juolevi was a really nice pick. The Finnish defence really caught eyes at the world juniors with his play on a gold medal squad and I loved what he brought to the table. Very offensively gifted with nice size he figures to be the number 1 defencemen on this team, albeit it not now. He's likely to not make the roster this season and will probably head back down to the London Knights but he is a solid prospect. Given the right moves over the coming years hopefully this team will be a strong contender right when Juolevi is blossoming into the player he is projected to be.
LIKED:
Resigning Jacob Markstrom to back up Ryan Miller is a subtle but nice move. Markstrom has seemed to make improvement every year and if for any reason Miller isn't around Markstrom can carry the load. He had 33 starts last year and would love to see him get even more time this year so the team can see what they have with this kid. If you think he can be the starter, now is the time to start evolving him into that role
DISLIKED:
While signing Loui Ericksson looks like a nice addition on the surface, it continues to make me question what the plan is for this team. Loui is a top 6 forward who has had some pretty extensive injury issues throughout his career so it makes me wonder why you would add him. I doubt he will have good trade value if you want to move him and he's probably not likely to play more than 60 games so he will help you move up slightly in the standings which this team should not be looking to do. Ericksson may move this team from a bottom five team to a bottom ten team but I don't see it being much more substantial than that.
HATED:
I'm still trying to figure this one out. The Canucks sent 1st round pick Jared McCann to Florida along with picks for Erik Gudbranson and a late pick. I like Gudbranson, who is a big hulking defenceman, and although he is only 24 they did trade a young forward with talent in McCann in the process which makes me, again, fearful that this team will forget about a rebuild and falsefully try to pursue a Stanley Cup that isn't in this teams immediate future. Whether or not this is a good deal or bad deal will come down to McCann's development. We know what Gudbrandson is. If McCann develops into a good player than this is a terrible deal but if he flops then the deal will be considered a smart one. Only time will tell.
UMMM WHY:
They invited Tuomo Ruutu to tryout at camp. I don't know why and am going to store this into the useless moves that will probably be forgotten quite quickly when Ruutu doesn't make the team.
 Season Outlook:
I like the defence core of this team, and if Juolevi progresses and can find his way onto this roster within the next two years it could be a really solid unit. Fans can find minor solace watching Ericksson play with the Sedins and they could have some magical games together but given the injury bug plaguing Ericksson don't expect to see it for 80+ games or anywhere close to that. There aren't too many other story lines to watch for with this group but I hope to see major progression from Bo Horvat to become a top thirty player in the league.
This team finished second last in goals last year, the bottom ten in goals against and last in goal differential. Obviously these are not good stats to support a team having a good season. They addressed these issues by trading away a young talented forward for a defenceman and signing an oft-injured underachieving forward. The division and conference are still incredibly competitive and finishing in the top four doesn't seem to be realistic at this point. When I last checked the odds for this team to win the Stanley Cup, they were easily the worst of all 30 clubs in the NHL so Vegas is telling you what they think about the upcoming season (FYI when Vegas talks you listen. They're right more than they're wrong). This team is going to finish in the bottom half of the league, probably in the bottom five. All Canuck fans should just hope that the team doesn't mortgage any of the future and lie to themselves about where this team realistically is.
Love Reading About Hockey?

Subscribe to keep up-to-date with the latest and most interesting hockey news!
| | |
| --- | --- |
| | We hate spam just as much as you |