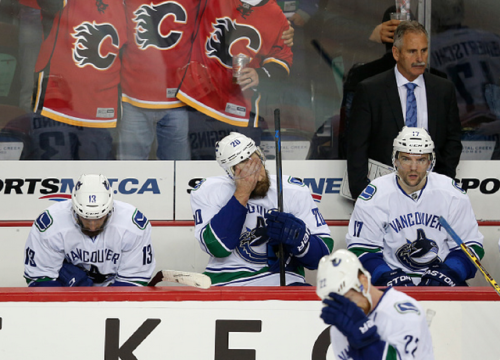 Roughly four years ago the Canucks were coming off their 2nd consecutive presidents' trophy when they matched up against the 8th seeded LA Kings. They ran into a tough situation with injuries and poor puck luck and were upset in 5 games to the eventually Stanley Cup Champions. After that game I looked around the league, especially the Western Conference, and realized it was the time to rebuild. The Kings had a good young talented core; Chicago was reloading and primed to jump back into mix as a powerhouse; those two along with other threats made winning a Stanley Cup even tougher. The Canucks core was aging but did have lots of desirable pieces. Ryan Kesler, Roberto Luongo, Kevin Bieksa, the Sedins, and others were all pieces that had substantial value at the time. It was a great time to maximize the return on your assets.
Why didn't they do it? The same reason most teams don't rebuild; Its difficult and nowhere near a guarantee it will work out. Not only do you have to acquire draft picks, you have to pick the right guys. Just ask Edmonton about that. Not only do you have to trade for prospects but you better make sure that they can play in the NHL. As easy as it is to ask for a rebuild, it's not exactly easy and it's not exactly popular.
Fast forward to today and the need for a rebuild isn't just a desire, it's essential and appears to be in motion as we speak. This team isn't going to win a Stanley Cup this year or next (sorry for a spoiler alert) so why not try and build for 2-3 years down the road? They are currently in the bottom 6 in terms of winning percentage but still have a decent team that can win games and move up in the standings. Shouldn't that be considered a bad thing as it can hurt them getting a higher draft pick? Addition by subtraction should be used by Vancouver so that they get rid of players that can help them win now which will drop them in the standings. They don't have the assets that they had from a few years ago but there is still value here. Let's take a look at a few of them.
Brandon Prust- When Vancouver traded for him it didn't make much sense to me to be perfectly honest. Once again I didn't see this as a Stanley cup team and they went and traded a young talent in Kassian for a guy who can potentially help a team win a cup. Looking back now it seems like a very good deal as Kassian has had his issues off the ice and didn't even suit up for Montreal at all this year. While I do like Prust's game, it hasn't suited this team since he is more of a depth guy for a serious cup contender. His services could be valued by a team with a legitimate Cup contending roster and with an expiring contract with a low cap hit he should be a piece moved by trade deadline time.
Radim Vrbata- Here's another guy with an expiring contract who does have a higher cap hit at 5 million a season and a modified no trade clause. Radim hasn't had an overwhelming season but has put up decent numbers with a very poor plus minus. However, he could be viewed as a guy who can provide depth scoring on a 2nd or 3rd line which could yield a mid to late round pick.
Alex Edler- Here's a big defencemen whose point production has been on the decline since he put up 49 points in 2011-2012. His value was never higher than that point and as someone who was never a huge fan of his play it would have been nice to see him moved at that point. At this point I'm not sure how much he will return in a trade but with a 5 million dollar cap hit and a no trade clause I'm not sure how likely it is he will be moved if they wanted.
Ryan Miller- At 35 years old he wouldn't be picked up by a team to be a number 1 goalie for a playoff run but he could be a decent back up and a great backup plan if anything happens to your starting goalie. He does have a modified no trade clause with 5 teams he would be willing to be traded to so again I'm not sure how likely it is he will be moved. Even if he is moved I wouldn't expect much of a return for him but anything that is received should be viewed as a positive.
The Sedins- This wouldn't be a popular move by any stretch of the imagination and it's probably the most unlikely of all these potential deals but this would help the Canucks the most on many levels. These 2 have the highest trade value of anyone on the roster because their productivity is still incredibly high. Trading them would make this team significantly worse which will push the Canucks potentially into a better draft position. As much as a trade could help the team in the future it's not likely to get done as they have no movement clauses. They have played together their whole lives and it's doubtful that they will want to split up now so their 7 million dollar cap hits collectively become 14 million which will put most teams over the cap and a deal extremely unlikely.
Along with these potential trade bait guys, there are others that should be moved if possible like Burrows and Hamhuis. It may be tough to move some of these players due to contractual reasons, on ice reasons and other reasons but you have to do everything you can to better this team for the coming seasons. The upcoming 2016 draft is looking like it could be a really strong talent pool so acquiring as many picks as possible should be a priority. The beauty of this is it isn't a full rebuild because of the good young pieces this team already has. Bo Horvat, Jared McCann and Jake Virtanen are all good young building blocks under 21 years old so they will be here in the future. Whether or not Vancouver can pull off some moves before the trade deadline, hopefully the upper brass will have this rebuild mentality in mind.