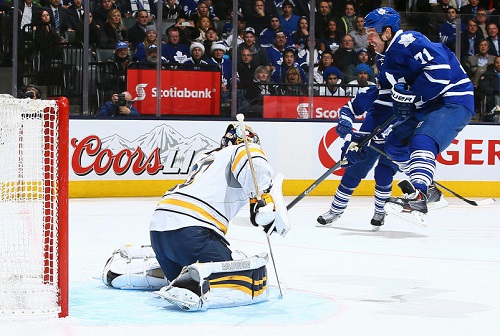 Well folks, they've finally done it. The Leafs won a game in regulation, against the Boston Bruins no less. Then, just to rub it in critic's faces even more, they beat the Buffalo Sabres in a shootout on Wednesday. Somebody alert the press… oh wait, that's me isn't it?
OK, so they won, but the question is: how did they win? While I'm sure many people are inclined to say it was some sort of black magic, I'm a bit more of an optimist than that. Only a bit, though, I am a Leafs fan after all.
Based off of the games Tuesday and Wednesday, there are 5 elements in the team's play that gave them the upper hand.
5. They're good on the PP.
The Leafs are 5th in the league on the power play, and 6th in power play goals (and they have a 1st class penalty drawer in Kadri), which makes it one of their best goal scoring opportunities.
In the last 3 games they've had 11 power play opportunities, 3 of which turned into goals. It's one of the more consistently positive aspects of their game, but it's nice to know that it's starting to pay off again with some wins on the board.
4. Tyler Bozak.
Say what you will about Bozak as a top line centre, but there is no denying he's been on fire for the Leafs lately.
He has 11 points in the last 10 games, and when he's not scoring, he's making smart passing plays, and creating opportunities for his line-mates. Best of all, he has been getting across the opponent's net and snagging rebounds, something which has seriously lowered my blood-pressure back down. Speaking of pressure…
3. They kept the pressure on.
The Leafs may not have lead either of their last 2 games in hits (27-22 for Boston and 45-37 for Buffalo) but they still had enough to maintain pressure. As I've mentioned before, the team hasn't been able to find their rhythm together for the better part of the season, and as a result they don't put enough pressure on opposing teams. Their 3 consecutive wins saw better split-second decisions, better play off the boards, and lots of energy right into the 3rd period, OT, and shootout.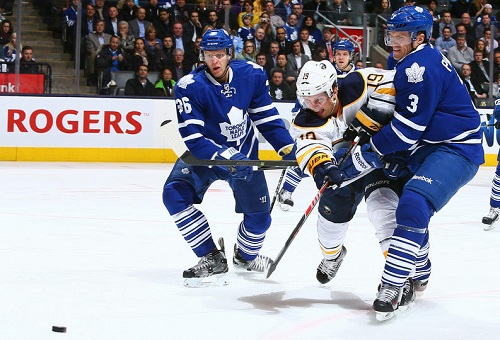 2. They took fewer penalties.
For a team who plays an admittedly physical game, being shorthanded is not anything out of the ordinary. They're 27th in the league on the PK, so the unnecessary penalties hurt their chances of getting 2 points at the end of the night more than most other teams.
Can you defend your teammates? Absolutely. In fact, the more loyalty the better. Can you play a physical game? Definitely. It's one of their defining factors as a team, and it gives them an edge, especially when playing other physical teams. The issue lies in starting unnecessary fights because temper gets in the way of professionalism. When your team is close to the bottom of the barrel in the PK, and has notable defence issues in general, the best thing to do for your teammates, coaches, and fans, is to learn when to back away. Sure, the ACC crowd might get riled up as soon as the gloves come off, but they get even more riled up after a win.
The last few games have been physical in a smarter way, ensuring more time with 5 Leaf players on the ice.
1. They actually shot the puck.
Not only did they shoot it, they shot it more than Buffalo (they did get outshot by Boston but let's just sidestep that little factoid for a moment).
Look at the individual player stats for the entire team. Who are the top three goal scorers? Kessel, Van Riemsdyk, and Lupul. Who has the most shots on net this season? Kessel, Van Riemsdyk and Lupul. It doesn't take a pro sports analyst to realize that the more you shoot the puck at the net, the more chances it has of going in the net, which is the whole idea after all. Seeing as "Shoot the puck!" is the unofficial war-cry of Leafs Nation, it's about time the message got through.
They may be on a streak right now, but any true Leafs fan knows how quickly that can change. There are some good things going here, but some things also need to change between now and April.
The team always tends to coast once they have a lead, which is why more often than not, and their goals are answered within one, instead of continuing to keep pressure on and securing a more comfortable 2 or 3 goal lead. A similar style of play can be seen in the Anaheim Ducks when they were coached by Carlyle. Coincidence? I think not. While the theory is that he wants a team to protect their lead rather than increase it, I think it's safe to say it hasn't been working out very well so far this season.
At this point, it's difficult to say whether they'll make the playoffs or not, but a winning streak is definitely a step in the right direction.